This week Martin Tyler's stats and facts column looks at those players who have scored a perfect hat-trick, dismal away records and teams who can rely on many players to get on the scoresheet.
Send your questions to Martin
1. Use the feedback form at the bottom of this page.
2. Tweet @SkyFootball using the hashtag #TylersTeasers
This week Martin Tyler's stats and facts column looks at those players who have scored a perfect hat-trick, dismal away records and teams who can rely on many players to get on the scoresheet. 
Send your questions to Martin
1. Use the feedback form at the bottom of this page.
2. Tweet @SkyFootball using the hashtag #TylersTeasers
Martin's Starting Stats
I was at Stamford Bridge on Saturday night, where David Silva scored his seventh Premier League goal of the season, equalling his best season tally for Man City (he scored seven last season). It was his second on that ground, having scored for Valencia there in a Champions League quarter-final in 2007.
Silva became first non Englishman to score against Chelsea at Stamford Bridge in the Premier League this season. The others were Jonjo Shelvey and a John Terry own goal for Swansea in September and Charlie Austin for QPR in November.
Loic Remy scored his fifth goal for Chelsea, all at home. This was only his second Premier League start, having also started against Crystal Palace.
Branislav Ivanovic made his 300th Chelsea appearance and his 200th in the Premier League. John Terry made his 450th league appearance – 444 for Chelsea and six for Nottingham Forest.
Frank Lampard played at Stamford Bridge 19 years to day after making his Premier League debut for West Ham on Jan 31st 1996 as a substitute (like Saturday) in a 3-2 home win over Coventry. He didn't add to his 119 Stamford Bridge goals – which is the highest by any player on the ground.
City still haven't won a Premier League game without Yaya Toure this season, while this was Chelsea's first Premier League game this season without both Cesc Fabregas and Diego Costa.
The perfect hat-trick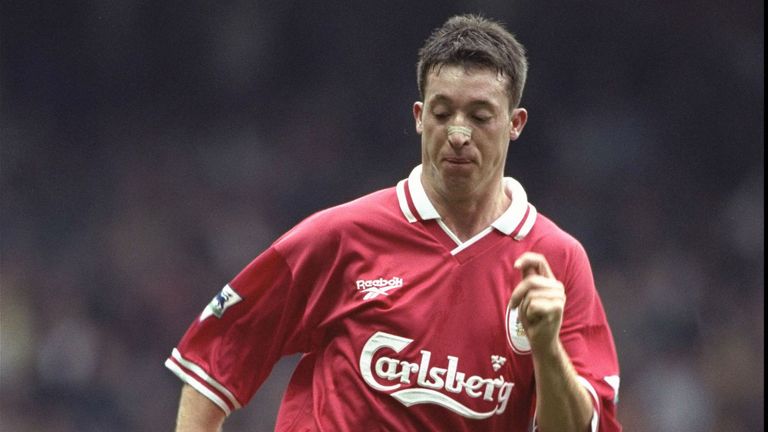 Jonathan Walters scored a 'perfect' hat-trick on Saturday – left foot, right foot and header. How many other players have done this in the Premier League? It surely can't be many? Lucas (Stoke fan)
MARTIN SAYS: Jon Walters epitomises the effort that goes with skill at the top level. He does so much for the team – and for him to have a day of his own was well deserved. He did it in front of Roy Keane as well, who was watching in his role for the Republic of Ireland, and used to manage him at Ipswich.
A perfect hat-trick is more common than you might imagine, Lucas. In fact, 31 perfect hat-tricks have been scored in the Premier League era - by 28 different players for 18 different clubs.
There are only two players to feature on the list more than once; the first is the former Liverpool striker Robbie Fowler, who scored three perfect hat-tricks – in a 4-2 win over Southampton in 1993, in a 3-1 win over Arsenal in 1995 and a 7-1 win over Southampton in 1999.
The other player to do it more than once is Yakubu – who has just returned to English football with Reading in the Championship. He scored one each at Everton (in a 3-0 win over Fulham in 2007) and Blackburn Rovers (in a 4-2 win over Swansea in 2011).
Of the 31 occasions, six involved players scoring more than three goals in that particular game. For example, Andy Cole scored five goals for Manchester United in their 9-1 win over Ipswich Town in 1995 and those five goals included a perfect hat-trick. Walters finds himself in good company with Sky Sports pundits Thierry Henry and Matt Le Tissier among the 28 players.
Players to have scored a perfect Premier League hat-trick (thanks to Opta):
Jonathan Walters, Romelu Lukaku, Kevin Nolan, Jordi Gomez, Pavel Pogrebnyak, Yakubu (2), Demba Ba, Edin Dzeko, Louis Saha, Didier Drogba, Salomon Kalou, Emmanuel Adebayor, Gabriel Agbonlahor, Mikael Forssell, Peter Crouch, Thierry Henry, Jimmy Floyd Hasselbaink, Les Ferdinand, Emile Heskey, Ole Gunnar Solskjaer, Robbie Fowler (3), Gianluca Vialli, Andrew Cole, Tommy Johnson, Chris Sutton, Matt Le Tissier, Efan Ekoku, Mark Robins. 
A rare treble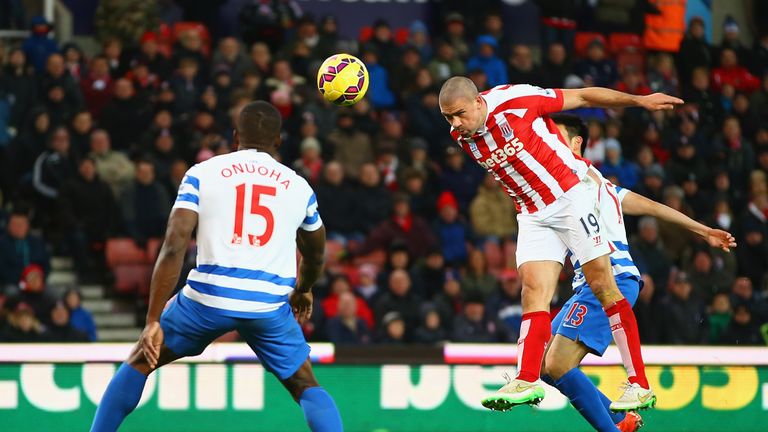 I heard Stoke hadn't scored a hat-trick before Saturday. Which other teams have never scored one and who has the most? Ricky
MARTIN SAYS: Sticking with hat-tricks, it is no surprise to see that Liverpool, Arsenal, Manchester United and Chelsea top the list for the most hat-tricks in the Premier League era.
Liverpool have scored a total of 36, with Arsenal just behind them on 34. United are in third, having scored 32 and Chelsea are 10 behind them, with 22.
There are nine clubs with just a single hat-trick and 12 sides who never got one during their time in the top flight – including current Premier League clubs Burnley, Crystal Palace, Hull and Swansea.
Hat-tricks per club in the Premier League
36 – Liverpool
34 – Arsenal
32 – Manchester United
22 – Chelsea
17 - Blackburn Rovers
15 – Tottenham
12 – Manchester City, Newcastle United
10 – Everton, Leeds United
9 – Aston Villa
6 – Coventry City, Portsmouth
5 – Middlesbrough, Queens Park Rangers, Southampton, West Ham,
4 – Sunderland, West Bromwich Albion
3 – Fulham, Norwich, Wigan
2 – Charlton, Leicester City, Sheffield Wednesday
1 – Birmingham City, Bolton, Bradford, Ipswich, Nottingham Forest, Sheffield United, Stoke City, Swindon Town, Wimbledon
0 – Barnsley, Blackpool, Burnley, Cardiff City, Crystal Palace, Derby County, Hull City, Oldham Athletic, Reading, Swansea City, Watford, Wolverhampton Wanderers
Stoke may have netted their first treble, but their manager has a Premier League hat-trick to his name (for Chelsea against Leeds in 1996) and striker Peter Crouch scored one for Liverpool against Arsenal in 2007.
Away day blues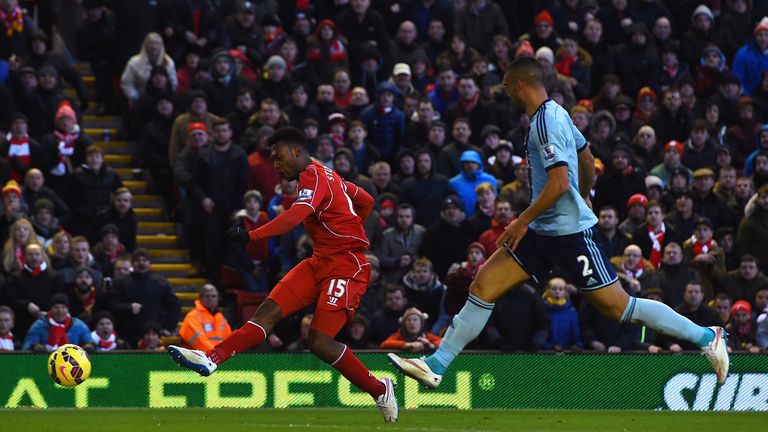 Arsenal haven't lost at home to West Ham in more than 50 years. Are there any current Premier League clubs who have a longer winless run away against another Premier League club? Mark
MARTIN SAYS: Of the current Premier League teams West Ham do indeed have the worst away record at any individual club, as they haven't won at Anfield in 42 games during a period of 52 years. 
Stoke City also don't have much fun visiting Liverpool, as they haven't won there in 30 games.
Tottenham haven't had any luck at neighbours Chelsea in 25 games, while Aston Villa aren't far behind with their record at Burnley of no wins in 24 games.
Meanwhile, Southampton haven't won away at Arsenal – either at Highbury or the Emirates – for 20 games – but did win there in the League Cup this season.
Five different scorers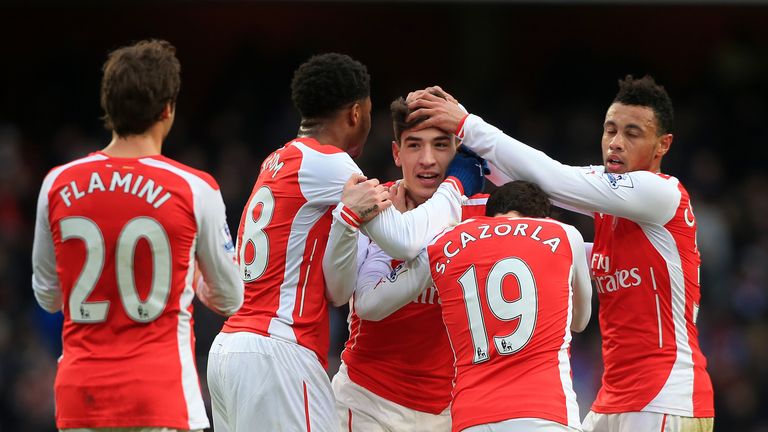 After watching Arsenal beat Aston Villa 5-0 with five different players scoring, I wondered how many times five or more players have scored in a top flight match?
MARTIN SAYS: Chelsea hold the current Premier League record for the number of individual players to score in one game, with seven after their win 8-0 win over Villa at Stamford Bridge in December 2012.
Six other teams have seen more than five scorers in the same Premier League game. As you can see from the list below, Leeds, Blackburn, Arsenal (twice), Derby and Manchester City have all done it.
I remember commentating on Tottenham 4-5 Arsenal when there were nine different scorers, which is even more remarkable.
More than five scorers in the same Premier League game:
23/12/12: 7 – Chelsea v Aston Villa; 8-0; (Torres, Luiz, Ivanovic, Lampard, Ramires 2, Oscar, Hazard )
13/05/01: 6 – Leeds United v Bradford City; 6-1; (Viduka, Harte, Bakke, Smith, Kewell, Bowyer – Ward)
14/10/01: 6 – Blackburn Rovers v West Ham; 7-1; (Flitcroft, Dunn, Johnson, McCann OG, Kerimoglu, Jansen, Hignett – Carrick)
11/05/05: 6 – Arsenal v Everton; 7-0; (van Persie, Pires 2, Vieira, Edu, Bergkamp, Flamini)
12/04/08: 6 – Derby v Aston Villa; 0-6; (Young, Carew, Petrov, Barry, Agbonlahor, Harewood)
21/09/08: 6- Manchester City v Portsmouth; 6-0; (Jo, Dunne, robinho, Shaun Wright Phillips, Evans, Gelson)
04/10/09: 6- Arsenal v Blackburn; 6-2; (Vermaelen, van Persie, Arsharvin, Fabregas, Walcott, Bendtner – N'Zonzi, Dunn)