Gary Neville has urged Joe Hart to stay at Manchester City and fight for his first-team place.
Pep Guardiola dropped Hart in favour of Willy Caballero for City's 2-1 victory over Sunderland on the opening day of the Premier League season.
The new City boss has admitted Hart is unhappy at the decision, but Neville believes England's No. 1 should work to adapt to Guardiola's tactics rather than seek a transfer.
"Pep Guardiola has been around the block and I'm sure he would have understood the significance of leaving Hart out of his team," Neville said on Monday Night Football.
"He would have known the repercussions when it comes to England's No.1 and Man City's No.1 for many years. It will be a decision he won't have taken lightly, but he hit it head on.
"He's given Joe a little whack, there's no doubt about that.
"The fallout since is that Joe has to consider leaving and there will be a lot of noise, there always is around a big England player, about who is going to buy Joe Hart. He was linked this morning [Monday] with numerous clubs.
"I think my advice to Joe would be to stay exactly where he is."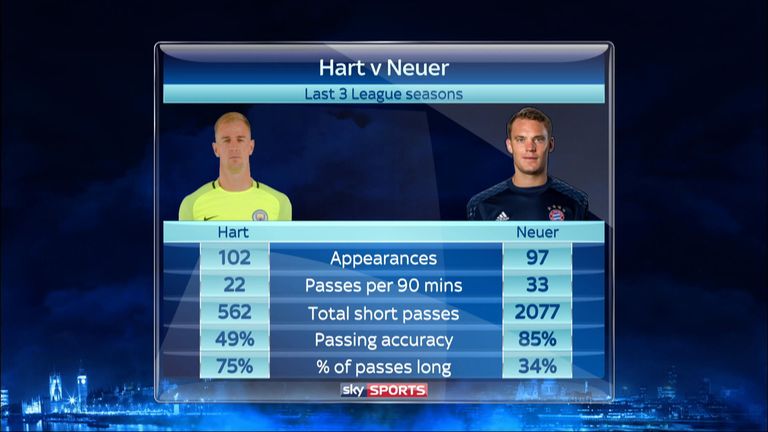 Guardiola's style of play requires his goalkeeper to be comfortable in possession, and Manuel Neuer made more than 2,000 short passes over three seasons under the Spaniard at Bayern Munich. 
Neville believes Hart, who made 562 short passes over the same time period for City, should work on the training ground to improve that side of his game.
"It's nothing to do with Joe's style over the last three years, it's been Man City's style," Neville continued. "Pep's complete and total belief is to play out from the back at all costs.
"That's not how Joe has been doing it and it's not the strongest part of his game. He's not incapable, but it's not the strongest part.
"The easy thing would be to throw your toys out of the pram, to create a problem with the manager and say, 'we will part company'. I say he should stay for a year or two and get his head down and work to transform himself.
"He has 10 years left at the top of his game, and from my point of view, he should fight to get back into the team, to transform his game with Pep into someone who can play 2,000 passes rather than 500, and to be what Pep wants him to be.
"I think Guardiola might be able to find a goalkeeper who is better with his feet at the moment but for attitude, work ethic and someone who loves Man City, he would be better off sticking with Joe and transforming him into what he wants."