Gary Neville urges Ed Woodward to adopt modern boardroom strategy at Man Utd
'Manchester United have been bouncing from strategy to strategy'
Last Updated: 21/08/18 9:14am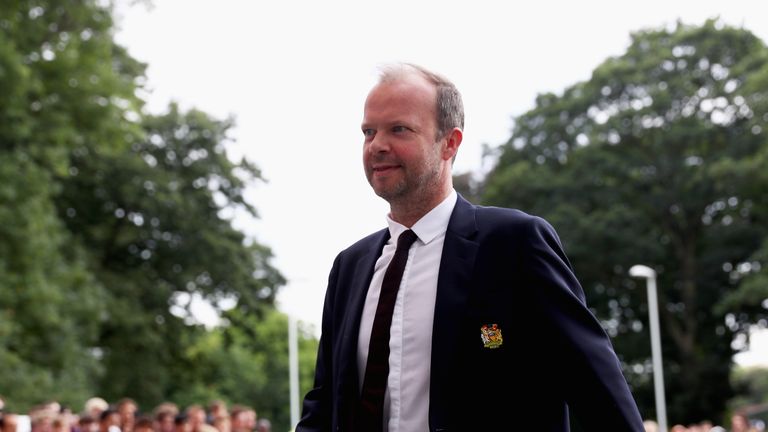 Gary Neville has called on Ed Woodward to adopt a modern strategy at Manchester United that delivers profits on the pitch as well as off it.
After failing to back manager Jose Mourinho in the transfer market, United's executive vice-chairman drew criticism after the club's 3-2 defeat at Brighton on Super Sunday.
While United's off-the-field performance has excelled during Woodward's tenure, Neville feels the current strategy at boardroom level is culpable for the current plight on the pitch.
The former United defender believes adopting a structure similar to those in force at Manchester City and Bayern Munich could steer the club back to success on the pitch.
"Ed Woodward's job is to deliver profits on and off the pitch," he told Monday Night Football. "Profit on the pitch is performance and trophies - league titles and Champions Leagues.
"The club are delivering off the field, Ed Woodward has done an incredible job in terms of the commercial operation and the way in which the club makes an operating profit, but there is no doubt he should put a footballing structure underneath him that his extremely serious and can go and deliver for him on the pitch.
"Football has changed, gone are the days of a chairman and manager. Now there are heads of recruitment, sporting directors and a series of people that are operating at the best football clubs in the world, like Bayern Munich and, unfortunately Manchester City, whose operating structure and people are fantastic.
"Manchester United now have to do the same. Ed Woodward can then sit there as executive vice-chairman and make sure the commercial side and the footballing side deliver profit on and off the pitch.
"United need serious football people to be able to guide the club because they've been bouncing from strategy to strategy.
"The traditions at the club went out of the window when they sacked David Moyes halfway through a season, Louis van Gaal after an FA Cup win and appointed Jose Mourinho.
"You're now in a mode of modern football, so the club needs to adapt a modern structure. The old style of principle at Manchester United, where they were patient and gave managers an opportunity over three or four seasons, is over.
"The way the club are trying to operate now is by spending serious money, £200m a season. You need serious people you can trust to spend that money for you."