Ole Gunnar Solskjaer staking Manchester United claim but faces crucial period, says Gary Neville
"Is he the man to win them the Champions League and the Premier League? If the answer is yes, they should give him the job"
Last Updated: 04/02/19 10:13am
Gary Neville says Ole Gunnar Solskjaer has overseen an "incredible turnaround" at Manchester United but now faces a crucial period of games in his bid to land the job on a permanent basis.
Solskjaer presided over eight straight wins in all competitions after taking over from Jose Mourinho, before a draw at Burnley in midweek halted his perfect streak.
Neville paid tribute to the Norwegian's role in lifting the club on and off the pitch but warned that "massive challenges" ahead - including a Champions League tie against Paris Saint-Germain, an FA Cup showdown with Chelsea and a Premier League clash against Liverpool - will likely be key for his future.
Asked if it was time to end the speculation and give Solskjaer the job now, Neville - speaking from the Sky Sports studio before United's narrow 1-0 Super Sunday win against Leicester - said: "No. I think that's far too early.
"If you'd have said to me when he got the job what the chances were as a percentage, I'd have said probably 25 per cent.
"He's had an incredible run. He's got a far greater percentage chance now - maybe 50, 60 per cent - but Chelsea away in the FA Cup, PSG in the Champions League, Liverpool, today against Leicester. There's a huge challenge coming in the next five, six weeks and I think the end of March, early April is the right time to assess the body of work that Ole's done.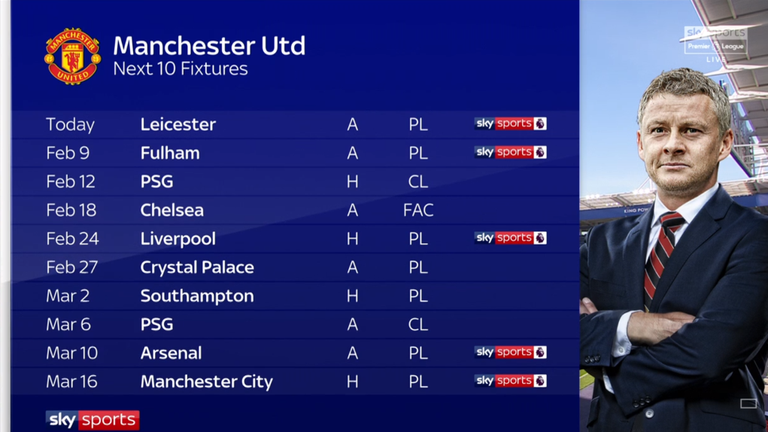 "He's lifted the club on and off the pitch. It's been an incredible turnaround, which shows you how bad the players felt before. I never realised how bad the players' mood could have been to see the response since.
"There were certain players who, under Mourinho, played the best I've seen them - the likes of (Victor) Lindelof and (Jesse) Lingard - but you've seen what's happened since. Is this the reality of what those players can achieve or are we just seeing a boost? I think the answer is somewhere in between but we'll see."
Neville believes Solskjaer himself will know the importance of the gruelling schedule ahead but says the decision by club chiefs should rest on one seemingly simple question.
"If they beat Chelsea, beat PSG, beat Liverpool, Solskjaer is absolutely in the box seat and you'd be saying, 'How can you not give it to him?'," Neville said. "The club have appointed two big names with the last two appointments and it hasn't worked out.
"The idea of Ole going through that run of fixtures and coming out of it well, you couldn't sit here conceivably and see another manager. But I think Ole himself will think, 'Let's get through February and March and if I'm doing what I'm doing now, I've staked a claim'. At this moment he is staking a claim but he knows there is massive challenges to come.
"The job that Ole is doing now is exactly what the club asked him to do - to get the club happy again on and off the pitch.
"However, is he the man to win them the Champions League and the Premier League? If the answer to that is yes, then they should give him the job."