Football Expert & Columnist
Graeme Souness 'worried' for Liverpool's title chances after Everton draw
Result means Liverpool are a point behind Premier League leaders Manchester City
Last Updated: 04/03/19 12:28pm
Graeme Souness admitted he is "worried" for Liverpool's title chances after their goalless draw against Everton and thinks they have looked nervous in their recent displays.
Liverpool were frustrated in the Merseyside derby, with Mohamed Salah spurning their best chances.
They have now drawn four of their last six Premier League games and are a point behind leaders Manchester City.
Former Liverpool manager and captain Souness said on Sky Sports: "I worry for them now. That's another kick.
"When you look at where they were, and I'm thinking in particular about the draws against Leicester and West Ham, and when Newcastle beat City, that was Liverpool's opportunity to really put a marker down and kick on and say this is ours this year.
"They have allowed City back into it and City are now in the driving seat."
Liverpool are playing with a nervousness that wasn't there for the vast majority of the season
Graeme Souness
While Salah was wasteful in front of goal against Everton, Souness said he thinks Liverpool need more from their midfield in terms of creativity and goals.
"I felt Liverpool huffed and puffed for the majority of the game. You have to get more from your midfield in terms of creativity.
"We point the finger at the front three when they don't win games, but I would look further than that. They have a fabulous midfield and if you are playing in Liverpool's back four that is the midfield you want, but if you are playing up front then maybe it's not the midfield you want.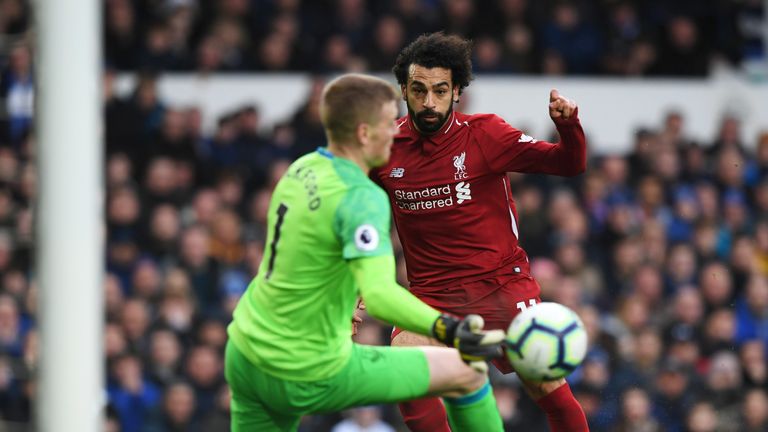 "They don't create too much and they don't slip clever and cute passes in and I think that's where they are coming unstuck. Six goals from five out-and-out midfielders is not enough."
Both Liverpool and City have nine matches left to play this season.
Liverpool's run-in includes games against Tottenham and Chelsea while City's toughest-looking fixtures are against Tottenham and Manchester United.
"They know they are coming to the business end of the season where they can't afford any slip-ups," said Souness.
"Liverpool are playing with a nervousness that wasn't there for the vast majority of the season. They are not the same creative force. They were coming into this game having won 5-0 so you thought their tails would be up, but they didn't come up with enough quality.
"As a team they didn't create enough and the people who had half chances, the very best players come up with answers at difficult times, and Liverpool have not done that today. This is a blow for Liverpool."