Serie A: Andrea Belotti's last-gasp goal spoiled Roma's end-of-season party but they still finish second despite a 2-1 defeat
Last Updated: 31/05/15 10:31pm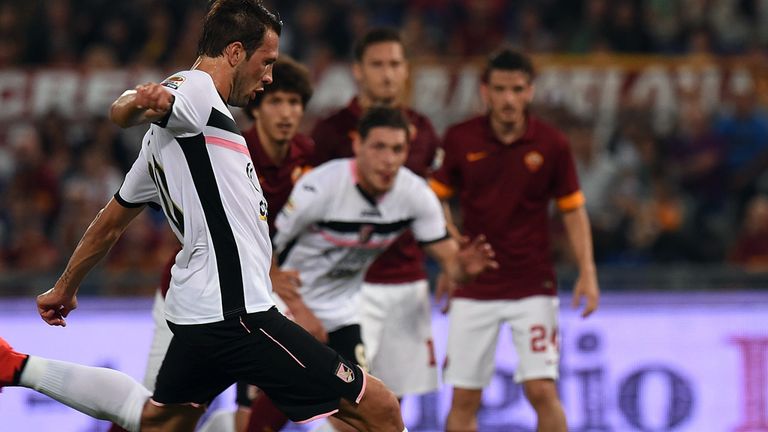 Andrea Belotti's last-gasp goal spoiled Roma's end-of-season party but the 2-1 defeat could not take away the joy of finishing second in Serie A.
Palermo have enjoyed a promising return to the top flight and proved to be unfazed by the bright lights of the Stadio Olimpico by taking the lead through a first-half Franco Vazquez penalty.
An under-par Roma looked to have salvaged a point as Francesco Totti closed to within a single goal of the 300 mark with a classy strike at the death, but Belotti had the last word.
With second place and guaranteed entry to the Champions League group stage secured with last week's derby victory over Lazio, Roma could perhaps be forgiven for relaxing on the final day.
They did not seem fully committed to the cause as captain Totti flashed an early sighter wide before Palermo were allowed to roam forward with Vazquez blasting over the bar.
The Sicilians fired a louder warning shot in the 20th minute when Enzo Maresca's header sent Lukasz Skorupski sprawling.
Roma did not listen and Nicolas Spolli's careless handball earned Palermo a penalty on 34 minutes.
Vazquez did not need to be asked twice to do the honours and he duly beat Skorupski from the spot to register his 10th goal of the season.
Despite the fact they faced the prospect of ending a successful campaign with a poor home defeat, Roma were quiet throughout the second half and Palermo were largely comfortable.
The Rosanero might have doubled their lead in the 70th minute when Francesco Della Rocca's cross found Belotti in a good position, but the Lombardian missed the mark.
Perhaps they did not deserve a point but Roma thought they had secured one with five minutes remaining at the Olimpico.
Totti's delightful touch took the ball over Stefano Sorrentino's shoulders and into the Palermo net for the 38-year-old's 299th goal in Giallorossi colours.
The smile was wiped off his face, however, when Belotti capitalised on Roma's distracted state to cut through the defence and force a winning goal over the line four minutes into stoppage time.