The first women's Ballon d'Or award has sparked a sexism row after winner Ada Hegerberg was asked if she knew how to twerk.
Host Martin Solveig, a French DJ, made the comment as Lyon striker Hegerberg collected her prize for being named the world's best female footballer.
The Norwegian, 23, said "no" and walked away.
The comment sparked outrage on social media, with many users calling the remarks "sexist", and Solveig released an apology on Twitter shortly after.
"Sincere apologies to the one I may have offended," he said. "My point was: I don't invite women to twerk but dance on a Sinatra song. Watch the full sequence, people who have followed me for 20 years know how respectful I am especially with women."
Hegerberg told reporters she accepted his apology.
"He came to me afterwards and was really sad that it went that way," she said. "I didn't really think about it at the time to be honest.
"I didn't really consider it a sexual harassment or anything in the moment. I was just happy to do the dance and win the Ballon d'Or to be honest."
The Ballon d'Or has been a yearly prize awarded to the world's best male footballer as decided by football magazine France Football since 1956.
It was the first time a separate women's trophy had been awarded.
Before the host's comment, Hegerberg had said winning the award was "unbelievable", and "a little girl's dream".
She added: "It feels like a victory for, taking a good step in the right direction for the women's football. This is a huge part they've done, France Football, and it's positive for all parts.
"We need help to develop women's football and I think this is a really positive announcement.
"We're in 2018 and we've got a historical women's Ballon d'Or, so I feel very proud. It's not that often that I use the word 'proud', but today I am really proud to be a part of it.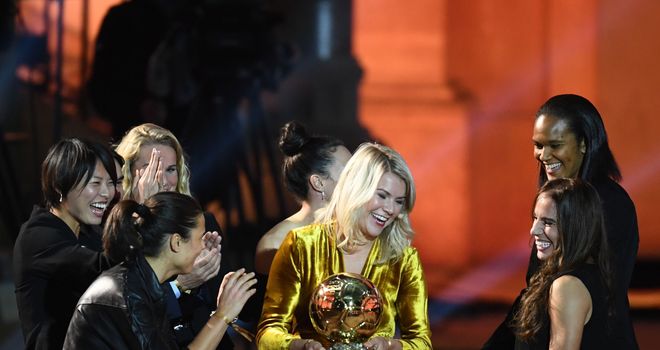 "Sometimes you have episodes or situations where you feel like 'damn, we're in such a man('s) world'.
"But at the same time, I've never looked at myself different from a man's footballer. I've always felt the same: I work hard to try to achieve my dreams like any other girl out there and, that's the way we have to look at it."
The Norway striker was the top scorer with 15 goals as Lyon won the Champions League for the third year running.
One of her goals came in the final in Kiev in May, as Lyon came from behind to beat Wolfsburg 4-1 after extra time and retain the trophy.
England's Lucy Bronze came sixth in the 15-strong shortlist for the award, with Fran Kirby 14th.