Should Sam Allardyce try to tempt John Terry out of international retirement?
The England manager hinted he would be open to the idea this week. "Maybe if I get the opportunity, I might have to give him a ring," he said, when quizzed on the Chelsea captain.
Terry hasn't played for his country since a 5-0 win over Moldova in 2012, retiring on 78 caps in the midst of an FA charge for misconduct.
Since then, while England have struggled on the international stage, Terry has won the Premier League, Europa League and League Cup and maintained his reputation as one of the country's top defenders.
Here we look at the case for and against Allardyce returning Terry to the England camp…
FOR
Experience: Jamie Redknapp described England as "overcome by fear" during their infamous defeat to Iceland at Euro 2016 and there was an obvious sense of panic when they slipped 2-1 behind their unfancied opponents. It was the reaction of the second-most inexperienced team at the tournament. Only Joe Hart and Wayne Rooney had over 50 caps to their name; England had the youngest squad at the finals.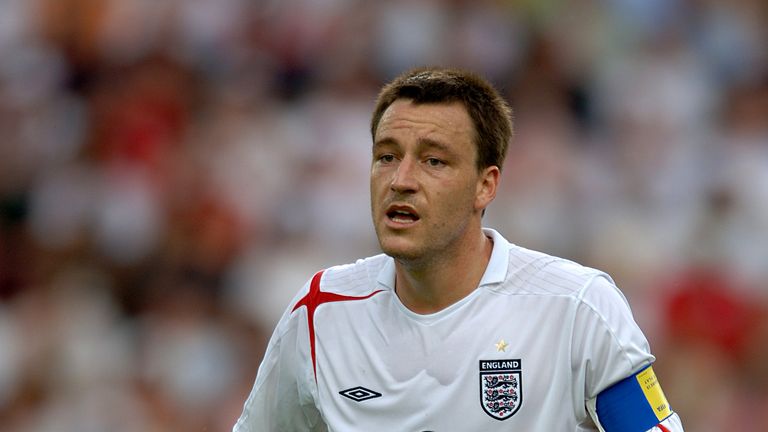 Terry, a former England captain and veteran of four major tournaments, knows all about the pressures of international duty. The four-time Premier League champion, five-time FA Cup winner and Champions League victor also brings extensive experience of winning major competitions to the table.
On the field, Terry's experience has helped him to remain one of the Premier League's top centre-backs, despite turning 35. Last season John Stones made three errors leading directly to Everton conceding a goal, according to Opta. John Terry hasn't made any such errors for the past two campaigns, an example of his knowledge of his position, honed over 17 years in the top flight.
Leadership: Terry was appointed Chelsea captain in 2004 by Jose Mourinho and has since led the team through the most successful era in their history. Upon his arrival, new manager Antonio Conte, a former Juventus captain, was struck by Terry's leadership qualities, praising his defender's "personality and charisma".
Renowned for his body-on-the-line, heart-on-his-sleeve style Terry is a leader in the traditional sense and often lifts the performances of those around him. "His charisma influences other players," said Fabio Capello after watching Terry score against USA in a 2008 friendly. "He is a natural leader."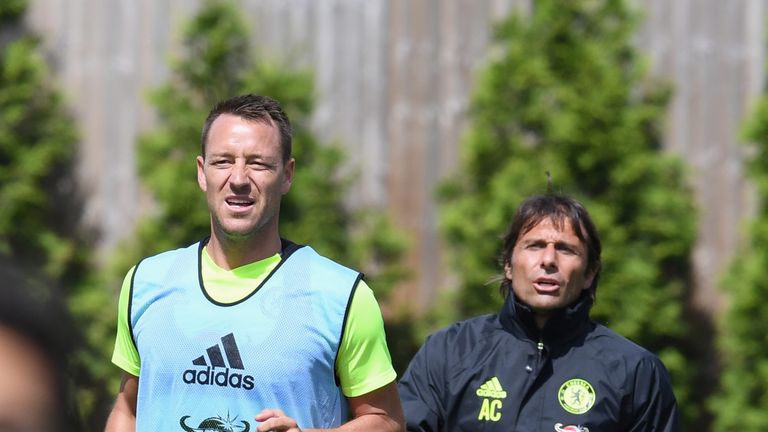 Terry is captain of this team, and a great player with a great personality and charisma.
Ability: "When I watch him play I always marvel at how technically good he is with both feet. He's a very talented defender." It's the kind of phrase that has been attributed to John Stones over the past 18 months but this was Jamie Redknapp's verdict on Terry when it was confirmed Chelsea were extending his stay at the club last season.
As well as his evident defensive skills, Terry is also one of the best central defenders on the ball in the Premier League. No English defender has come close to his passing accuracy figures of 89.59 per cent and 89.83 per cent over the past two seasons and Terry remains an accomplished player in possession, helping his team build from the back.
AGAINST
History with the FA: A clear stumbling block to any Terry retirement U-turn is the very reason he ended his international career in the first place. Terry retired from international football in September 2012, four days before he was suspended for four matches by the Football Association for misconduct during a match against Queens Park Rangers, when he abused opponent Anton Ferdinand.
Terry had previously been acquitted by a criminal court of any wrongdoing and declared his position as an England player as "untenable" following the FA charge.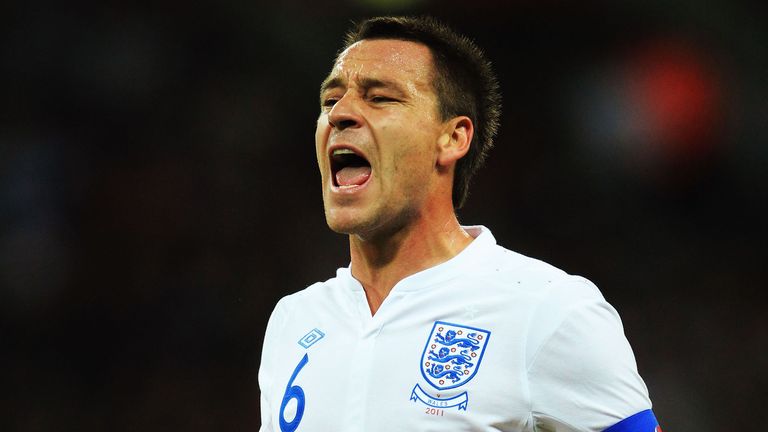 Since that time there have been major personnel changes at the FA but it remains unclear whether Terry - who former England boss Roy Hodgson did not attempt to lure out of retirement - would be inclined to reverse his decision. "I don't know what the political side of that might mean, if there is a political side," said Allardyce this week.
Age: England entered Euro 2016 with the youngest squad at the tournament with a view to handing those players invaluable experience ahead of the 2018 World Cup. After repeated tournament failures, the move - although perhaps ultimately costly to England's chances in France - was about long-term success.
A return to Terry would counter that notion of developing a side for the future. The Chelsea skipper will be 37 by the time the Russia World Cup comes around.
Would he still be in a position to start for his country at that age? Fabio Cannavaro was 36 when Italy finished bottom of their 2010 World Cup pool, but 38-year-old Mario Yepes played a key role in Colombia's run to the quarter-finals of the 2014 showpiece, where they lost out 2-1 to Brazil.
With sports science playing a greater role in football than ever before, age need not be as restrictive as it once was. And Terry has never relied on pace anyway. Besides, Allardyce has emphasised he's not worried about "potential" but focused on the here and now. With that short-term view Terry's age becomes less of a factor.
Decline in performance?: After a stellar 2014/15, in which Terry led Chelsea to not only the Premier League title but also the best defensive record in the division, both player and club suffered a significant drop-off in performance last season.
Terry was subbed off at half-time during Chelsea's 3-0 defeat at Manchester City - the first time Jose Mourinho had removed his captain - and the defender, who had been ever-present during the Blues' march to glory the previous year, was out of the team for significant periods through form or injury as Chelsea mounted the worst-ever Premier League title defence.   
Terry's tough 2015/16
| | | |
| --- | --- | --- |
| 3420 | Minutes played | 1989 |
| 73.95% (1st) | Duel success | 64.71% (18th) |
| 86.05% (1st) | Tackle success | 80.95% (21st) |
| 30 (12th) | Blocks | 19 (28th) |
| 217 (15th) | Clearances | 88 (61st) |
| 89.59% (2nd) | Passing accuracy | 89.83% (2nd) |
The stats reflect the drop-off, with Terry falling behind the likes of Joleon Lescott (85.71 per cent), Gary Cahill (81.82) and Ryan Shawcross (81.4) with his tackle success mark of 80.95 per cent. His duel success of 64.71 per cent also trails Micah Richards' and John Stones' figures.
Terry remains one of the league's most accomplished defenders but Chelsea supporters will hope he can stave off any decline and re-find his best form this season.
THE PUNDIT VIEW
Matt Le Tissier's verdict: "I think Big Sam is just keeping all of his options open and not dismissing anything. It's an interesting one because on ability and form alone he still is one of the best four centre-backs in the country so you can understand why Allardyce would want to explore the options.
"However, the reality is John is going to be 36 in December. Is it a backwards step? I'd suggest it is in the long-term, but why not consider it? If he gets to a stage where he's short of players for a World Cup qualifier then he'd certainly be a useful option.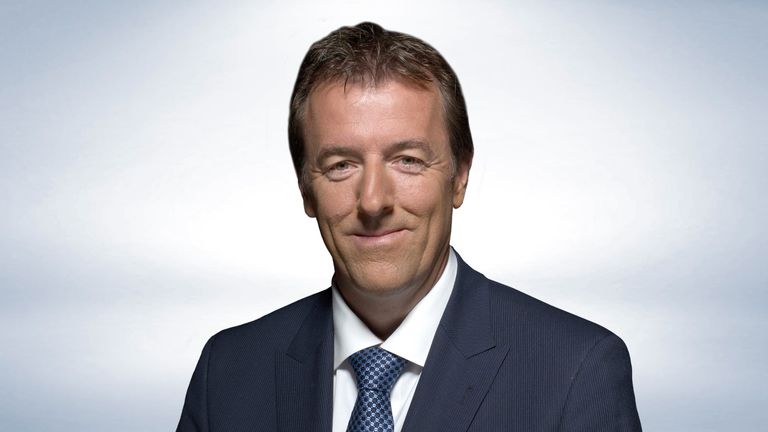 I don't think Terry would refuse Sam's call if it came, although it might take a call from the FA to build bridges.
"I think it will ultimately be down to the FA whether he is available for selection. I don't think he'd refuse Sam's call if it came, although it might take a call from the FA to build bridges. He seems like the character who would like to help out his country. There's a different person at the head of the organisation and it's a question as to whether they're willing to wipe the slate clean."