Chelsea and Antonio Conte are in limbo regarding the manager's future at Stamford Bridge, says Sunday Supplement panel.
Having won the Premier League in his first season at Chelsea, Conte's side now find themselves fifth in the table, five points behind fourth-placed Tottenham with eight games to go, while Chelsea also exited the Champions League at the last-16 stage to Barcelona.
Though an FA Cup semi-final against Southampton awaits, Conte's future remains unclear, and a strained relationship with the board this season has seen the 48-year-old linked with a move away from Chelsea.
In light of the Guardian's report that Paris Saint-Germain have held talks with Conte's representatives regarding a summer move, The Times' columnist Gabriele Marcotti admitted a departure from Stamford Bridge looks likely, though he believes neither party is willing to blink first.
"I think as everybody knows, he's got another year left on his contract," Marcotti told the Sunday Supplement. "I don't think he wants to resign, but I don't think he necessarily wants to stay either, and I don't think the club wants him to stay either, but they don't want to sack him.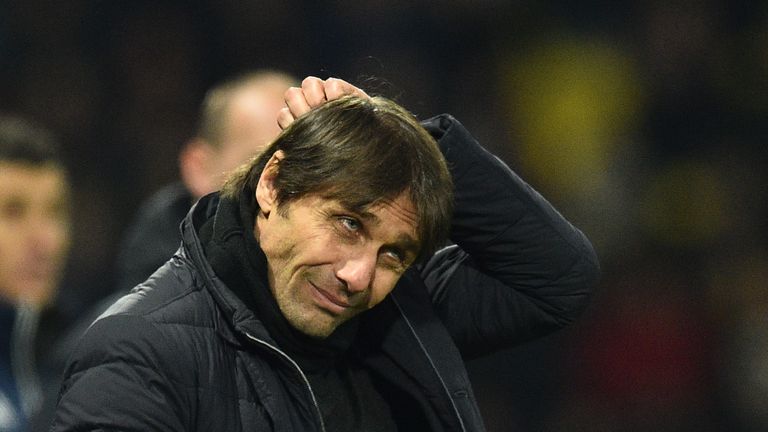 "Once that whole thing gets cleared up, he's going to need a home, a place to go. Given the type of guy he is, he wants another top club, and in that sense Paris Saint-Germain would make sense if Unai Emery goes - which we sort of expect will happen.
"There's a huge question mark, which I know everybody giggles and laughs at, and which is very boring so I won't get into it too much, but this Financial Fair Play issue with PSG is not resolved.
"They [UEFA] have made it pretty clear they're going to give the thumbs up or thumbs down in the summer. [UEFA president Aleksander] Ceferin has said, 'I will apply the rules, otherwise vote me out in 2019' - we'll see if they call his bluff.
"I think that's going to have a huge impact on who PSG get next."
Conte's spell at Chelsea is his first outside of Italy, having managed Arezzo, Bari, Atalanta and Siena before taking charge of Juventus in 2011.
Juve won three straight Serie A titles under Conte before he took charge of Italy in 2014 - a tenure which ended with a Euro 2016 quarter-final exit to Germany - and Marcotti highlighted how there were similar tensions with the board of the Italian champions with regards to transfer funds.
"He's remembered, pretty much as he will be at Chelsea, somebody who's hugely intense, who gets the fans on his side, who wins things, who tactically will throw people a curve-ball or a googly," Marcotti added.
"But by the same token he wears his players out, I think maybe more so at Juve than Chelsea, because they had an older squad. And also somebody who at Juventus spent the better part of the last two years saying, 'We need to spend more', saying if it's a 100-euro restaurant you can't go in there with 10 euros in your pocket, and ultimately that grates on clubs."