Ref Watch: Was Eden Hazard denied a penalty and should Marouane Fellaini have seen red?
Last Updated: 26/11/18 3:28pm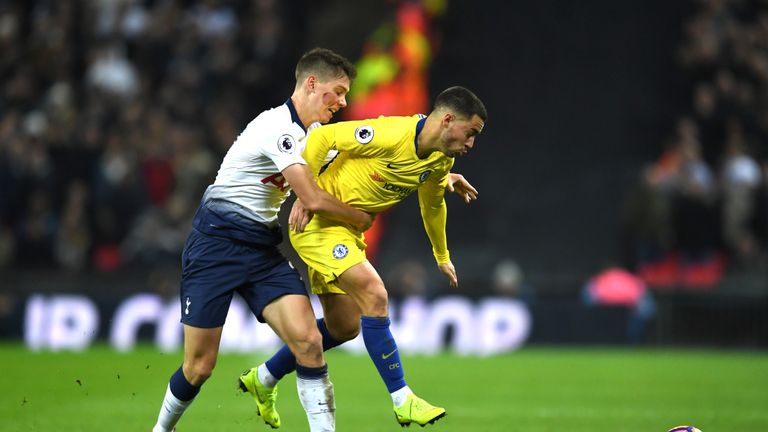 Were Tottenham fortunate against Chelsea on Saturday? Should Manchester United have been reduced to 10 men in their draw with Crystal Palace? Former Premier League referee Dermot Gallagher tells us...
As always, there were a whole host of hotly disputed decisions in the Premier League over the weekend. So whether it was red cards not given, questionable offside goals, or debate penalty calls, Dermot spoke to Sky Sports News to give his verdict on all those big incidents...
INCIDENT: Juan Foyth trips Eden Hazard in the box, but referee Martin Atkinson says 'no penalty'.
VERDICT: Wrong decision, penalty.
DERMOT SAYS: The referee just does not think it is a penalty. I think it is, he gets the wrong side of his man. In that situation, if you make a tackle like that, you must get the ball. Whether he looks at the legs, I am not sure as it is definitely an upper-body foul.
INCIDENT: Bournemouth winger David Brooks has a goal ruled out for offside.
VERDICT: Wrong decision, onside.
DERMOT SAYS: What you would say in defence of (referee's assistant) Ian Hussin is this was a very, very tight call - with Shkodran Mustafi on the floor, it makes it harder for him as he is watching it come to Brooks. And it is only when you slow it down that you can see he [Mustafi] has just kept him onside, but only just.
INCIDENT: Crystal Palace midfielder Cheikhou Kouyate has a goal ruled out for offside.
VERDICT: Correct decision, offside.
DERMOT SAYS: An absolutely great spot as when the free kick is taken, he [Kouyate] has just gone slightly early. Mark Perry, one of the best referee's assistant the Premier League has ever seen, has made his mind up and what a great spot.
INCIDENT: United midfielder Marouane Fellaini goes in late on Luka Milivojevic, but the referee waves play on.
VERDICT: Wrong decision, red card.
DERMOT SAYS: When you see what we see, it is a red card. Here is the key to the issue - Wilfried Zaha comes across (referee) Lee Mason and you have to believe he has not seen it as he has not even given a free kick. The players actually stopped the game as the match continued and he was forced to stop it. If he had seen it, a referee with 15-16 years' Premier League experience, then he would surely have sent him off.
INCIDENT: Watford midfielder Will Hughes goes down in the area under a challenge from Andy Robertson, only for referee Jonathan Moss to say 'no penalty'.
VERDICT: Wrong decision, penalty.
DERMOT SAYS: Initially I said 'no penalty,' he has just thrown himself, but I hold my hand up… I just thought the way he went down, it was not. But he does catch him, although what I would say in the referee's defence is he has seen Hughes go over in the day with an unnatural action and then he has forgotten to see where the contact is made.
INCIDENT: Leicester midfielder James Maddison is sent off after receiving two bookings in quick succession.
VERDICT: Correct decision, both yellow cards.
DERMOT SAYS: He stops a promising attack and knew it and accepted it (the first booking). It is a fantastic spot (the second booking for simulation) and the good thing about this was it came within two minutes (of the first booking), so he [Chris Kavanagh] was really on the button. He was so aware throughout the game and there is no doubt it was a 'dive'. And in fairness to James, he came out on Saturday night and apologised and said he had done wrong and it would not happen again. So you have to give him credit for that.
INCIDENT: Birmingham defender Michael Morrison is penalised for pulling back Tammy Abraham in the box.
VERDICT: Wrong decision, no penalty.
DERMOT SAYS: I felt a bit sorry for Birmingham as I think Tammy Abraham commits the first foul. (Referee) Robert Jones is in the wrong position, he is the wrong side and does not see Abraham push him and that is a foul. And that would then negate the second foul and the penalty.