Burnley manager Sean Dyche has questioned his players' effort levels during the club's disappointing start to the Premier League season.
An eight-match winless run, which has included six defeats in their last seven games, has seen Burnley fall to the foot of the table, where they are level with Fulham and Southampton on nine points from 15 games.
Despite a 3-1 defeat to Liverpool at Turf Moor on Wednesday, which followed worrying losses to bottom-half rivals Newcastle and Crystal Palace, Dyche believes his players are starting to show signs of the commitment that took them to a seventh-placed finish last season.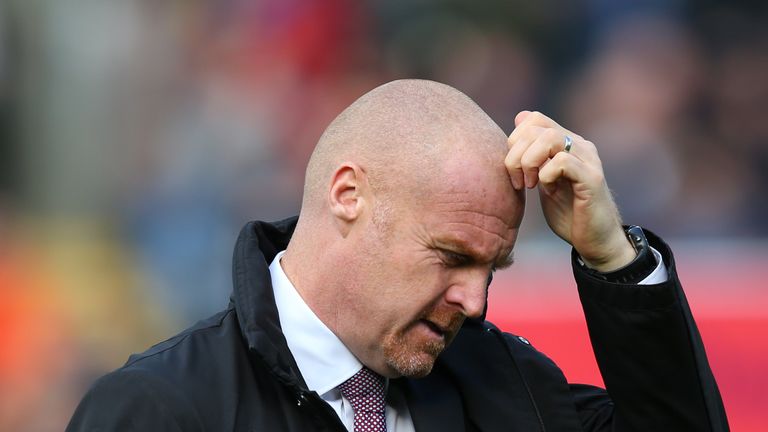 "We've set a few markers this year where we've risen back to where we think we should be and then we've come away again," Dyche said.
"So it's important to find that consistent level of performance where we're up there, we're pushing, we're relentless in our nature. Minimum requirement is maximum effort, which I always say to them, and that's a big thing for us and I think we've come away from that in spells this season.
"(There have been) other challenges, but I always believe in a no excuse environment, including my own. So we've got to get back to that because that gives us a base to work from and it gives us an increased chance of getting success."
Both Fulham and Southampton have already changed their managers this season, but there is no suggestion that Dyche, who has been in charge at Burnley since 2012, is under any severe pressure.
That is largely thanks to the credit he built up last campaign, as Burnley exceeded expectations to finish seventh in the Premier League. Much of that success was built on a defence that conceded just 39 league goals - only one more than Liverpool and Chelsea, and 11 less than Arsenal.
However, they have already conceded 32 this time around and with fixtures such as Saturday's against Brighton at Turf Moor fast becoming must-win, Dyche is is considering a change in selection policy.
"I made five changes against Liverpool and I thought there was a response," Dyche said.
"I am pretty loyal to players but there comes a time when that freshness comes from in camp."
"I thought that was a good sign but that's got to continue. Those five players now have got to go in and say 'right, I'm ready to stay.' The best way of staying is winning games."