Alexis Sanchez heads to Chile for rehab after Manchester United give permission
Sanchez not expected to be available until 2019
By Sky Sports News
Last Updated: 07/12/18 9:36pm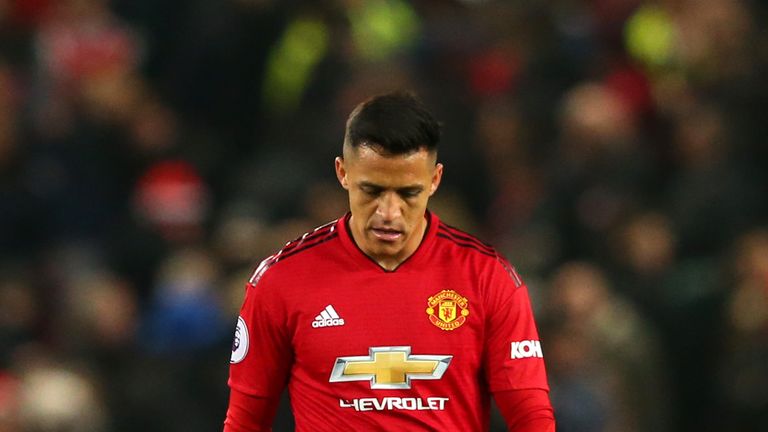 Manchester United have given Alexis Sanchez permission to return to Chile to continue rehabilitation for his hamstring injury.
Sanchez, 29, who has only started seven games for United this season, is understood to be having treatment with members of the Chilean national team's medical staff.
The forward flew into Santiago earlier this week and, according to United boss Jose Mourinho, is set to be out of action until the New Year after sustaining an "aggressive" hamstring injury in training last week.
Speaking last Friday, Mourinho said: "No scans yet but the player is experienced, the player knows what the injury is.
"And also, from the top of my experience, the painful scream, and the way the injury happened, I know that it is going to be for a long time.
"It is not a little muscular injury that, in one week or 10 days, the player is ready.
"For me and also Alexis, the feeling before the scans is that the grade is different than the (Victor) Lindelof one, and the Lindelof one was not an easy one.
"So, I think Alexis has what I used to call an aggressive muscular injury."
Before picking up the injury in training, Sanchez had been dropped from Mourinho's matchday squad for their 1-0 Champions League win over Young Boys at Old Trafford.
Mourinho, however, dismissed any suggestions Sanchez had been left out for reasons other than footballing ones.
The United manager, speaking last Friday, told MUTV: "The first thing I can say is that, in every other club, when a player is not playing, it's a simple manager's decision.
"In our club, when a player doesn't play, it's always (reportedly) because the player isn't behaving and has disciplinary issues. Of course, that's not the case again.
"He (now) has an important injury.
"I don't want to risk by saying for how long but, from the top of my experience, I would say he's not playing this year."