John Delaney to step aside from Football Association of Ireland role pending investigation
Last Updated: 16/04/19 7:29am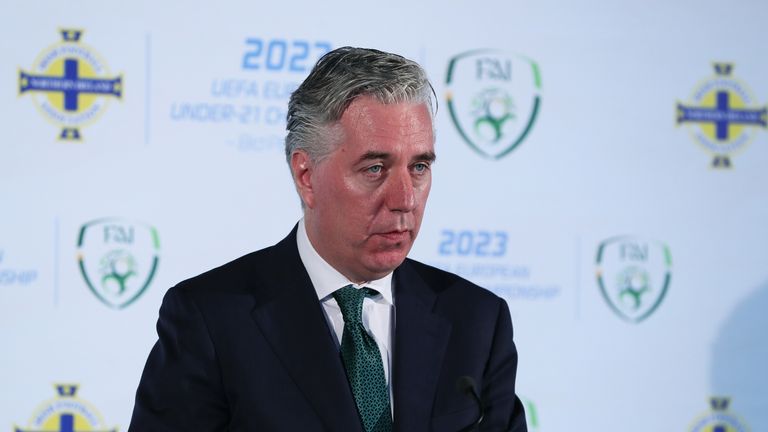 John Delaney has volunteered to step aside from his role as Football Association of Ireland (FAI) vice-chairman pending an investigation into "issues of concern" at the organisation.
The FAI has been embroiled in controversy since it emerged that ex-CEO Delaney provided it with a bridging loan in April 2017 to prevent it exceeding its €1.5m (£1.3m) bank overdraft.
On Sunday, Ireland's Minister for Sport Shane Ross warned the FAI that they risk losing out on large capital sports grants if they do not answer questions over governance.
The contentious payment, which has raised questions about the FAI's finance and governance arrangements, was not flagged to Sport Ireland, the state body that oversees the public funding of sporting organisations in the country.
Sport Ireland has temporary withheld further funding to the FAI, pending an auditors' probe.
Delaney will stand down from his position with immediate effect following a meeting with the FAI board in Dublin on Sunday.
Honorary secretary Michael Cody and honorary treasurer Eddie Murray have also both voluntarily resigned from the board.
"The Board of the Association wishes to assure members, football supporters and all stakeholders and sponsors that it is expediting all processes designed to restore faith in the Football Association of Ireland," an FAI statement read.
"The Board acknowledges all concerns raised by stakeholders and supporters and is working to ensure that all Government funding is restored to Irish football at the earliest opportunity."
A sub-committee, set up to review governance and recently publicised financial transactions, has been told to "press ahead with their work as a matter of urgency", the FAI added.
It will update Sport Ireland on all developments ahead of the meeting of the Oireachtas Committee on Sport on Tuesday.