The UK's football policing lead hopes the damning report into the Euro 2020 final "kills" recommendations to allow fans to drink alcohol at their seats inside stadiums.
As part of the recent fan-led review into football governance chaired by Conservative MP Tracey Crouch, a pilot scheme that would allow fans to drink alcohol in sight of the pitch at games in the National League and League Two has been recommended.
But concerns have been raised by Chief Constable Mark Roberts, the National Police Chiefs' lead for football policing, in light of an independent review of the Euro 2020 final commissioned by the FA.
The report, overseen by Baroness Casey of Blackstock, found that the event at Wembley was a "near miss" for fatalities and "a source of national shame", indicating that excessive alcohol and drug misuse contributed to some of the disorder outside and inside the stadium on July 11.
In a wide-ranging interview with Sky Sports News, Roberts said that legislation needs to be changed and authorities cannot be complacent when it comes to trying to prevent similar behaviour from occurring in the future.
He explained: "The key thing out of it now is that we need to do something with this report. This should be a watershed moment again. Baroness Casey refers to a number of near-misses, let's not wait for a tragedy, let's act on the near misses and I think there's a number of lessons we can take out of it that we really need to act upon.
"She highlights the abuse of alcohol being a key thing, let's hope that absolutely kills the recommendations of the Crouch Review, we do not need more alcohol in football.
"She clearly outlined the impact of drugs and cocaine, we've asked the government to update the Football Banning Order legislation so that class A drugs are treated in the same way as alcohol. If we can get things out of it like that then that's a real positive.
"I think there are wider issues in terms of how we police the area around the grounds. There is a discussion to be had as to what we deem to be unacceptable behaviour in football, we cannot pass things off as "laddish behaviour", and the way we are going to have to tackle that is by the fans as well saying it is unacceptable.
"I think we see some real positives, the vast majority of football fans are great people. I think you can see the way it has shifted with players taking the knee and how it is universally applauded now and I think that speaks to the vast majority who want to go and enjoy the national game and not be surrounded by drunken or coked-up yobs."
'If fans can drink at their seats, it will be dangerous'
Roberts warned that permitting alcohol to be drunk on stadium terraces and not just in the concourses could lead to further anti-social behaviour at games and alienate other groups from attending fixtures such as families and disabled fans.
He added: "One of the recommendations of the Crouch Review is that there should be a trial of allowing people to be able to drink alcohol [on stadium terraces] again in the lower leagues.
"One, I think that fails to grasp that we have issues at lower league grounds, even in the non-league we see quite serious disorder. When I speak to fans, and I go to football regularly, the majority of fans are quite happy having a drink in the stadium concourse.
"If you allow people to drink in the stands, in effect it is just 90 minutes of more drinking. Frankly, if you cannot go 90 minutes without a drink, you've probably got a problem. Equally, if you are sat in the stands do you want people continually going backwards and forwards?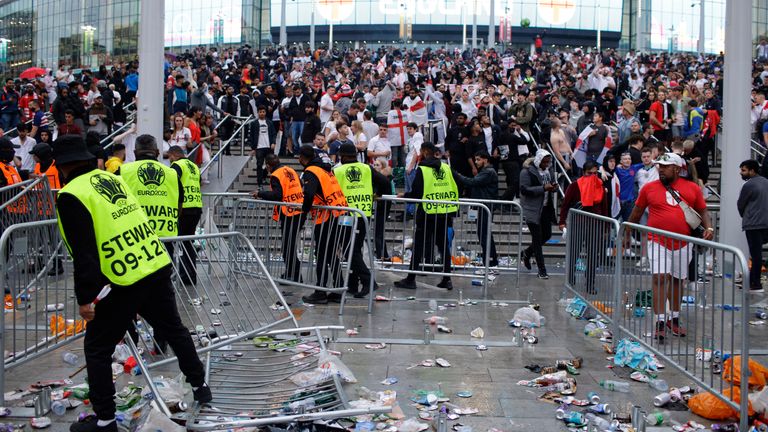 "Do we want beer chucked everywhere… is that what we want for our national game? Do we not want families to go? A lot of the problems we may see in the ground is where you get an exclusionary crowd so it all ends up being blokes.
"We want more families, we want everyone to be able to go, we want older people, people with disabilities. They have a right to a safe and secure atmosphere and I just don't get the drive to allow people to drink more.
"I think the vast majority of people are happy with the situation as it is. It's not as if you can't drink in the grounds at all, here we've got a bit of a happy medium. I just think it is candidly pandering to cheap opinion, it's really dangerous, and if it comes in there will be more disorder."
'Football does a lot of talking'
Roberts is eager to see action taken following Baroness Casey's report and believes the Premier League and EFL (English Football League) can do more to collaborate with police over enforcing punishments, identifying troublemakers, and improving stewarding at games across the country to ensure safer experiences for fans.
The Premier League announced at the start of this season it was introducing mandatory training for stewards so that they were better prepared to deal with racism and other hate crime at matches.
Roberts said: "As unpleasant and horrible as the incidents were at Wembley, it has shone a light [on these things].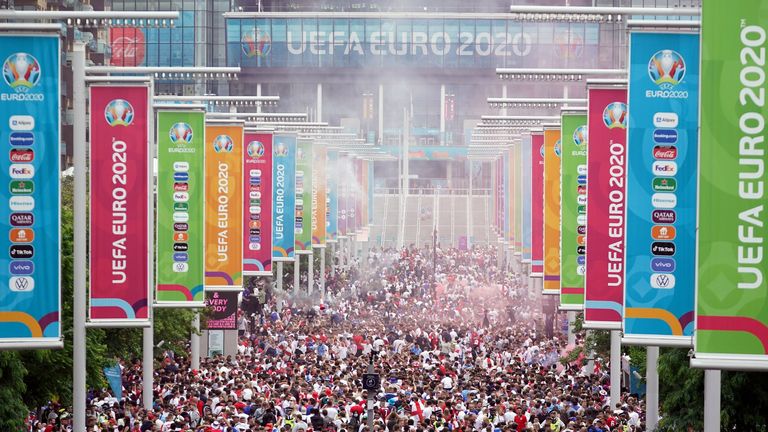 "Frankly, football does a lot of talking, there were issues with stewarding. The Premier League have heralded that they were going to professionalise stewards, it's not happened, or if it has it's been kept very quiet because none of the police know about it. Let's work on it, we're more than happy to work with anyone to give an input to that.
"I've not seen it, have you seen it? None of the safety officers I speak to have seen it. We are really willing to work with people, to show you what the police can do.
"None of the safety officers seem to be aware of it, operational leads in all the forces, we are not aware of it [any change in stewarding practices]. We have consistently asked for information-sharing agreements with the Premier League and EFL and I have written to club chief executives.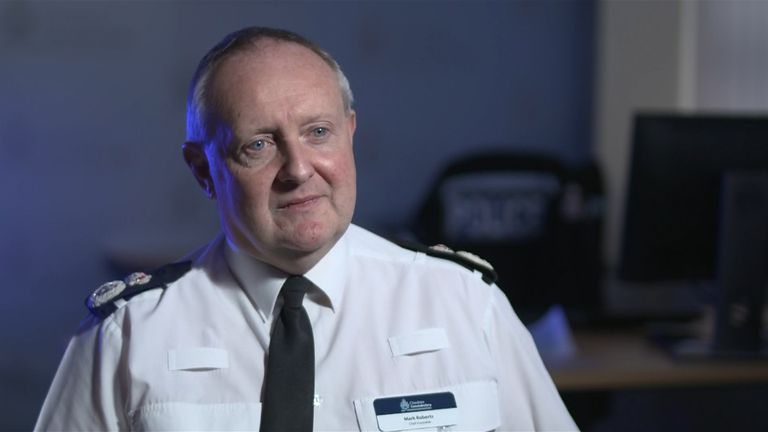 "We want to be able to exchange information, over half of games are police free and if we don't know what's going on how can we deal with it? We made a straightforward request for an information-sharing agreement which has not happened. We have offered to work with them and train stewards.
"We have said let's have a really coherent system so that can run from youth diversion with local officers, education, getting people involved, working with community programmes all the way through to individual club bans to league-wide bans.
"The Premier League have said they're going to ban people, we will work with them and assist with that. Let's have the information-sharing agreement and league-wide and national-wide banning systems where we can have a proportionate approach. Let's not just talk, let's actually do something to make the game safer."
In response, the Premier League has told Sky Sports News the training of stewards will begin in the new year.
A Premier League spokesperson said: "The Premier League announced in August a number of enhanced anti-discrimination measures that would be implemented this season as the League and our clubs continue to work together to make it clear any form of discriminatory behaviour is unacceptable in football and wider society.
"As part of these measures, from February, enhanced training for matchday stewards will be rolled out to equip them to identify and respond to discriminatory abuse and assist in gathering evidence to ban perpetrators.
"The training, which also covers education around best practice relating to equality, diversity and inclusion to support a positive matchday experience for all, will be available to all clubs by the end of the season. We have received feedback from UK Football Policing Unit, having shared these education modules with them ahead of the planned roll out with clubs.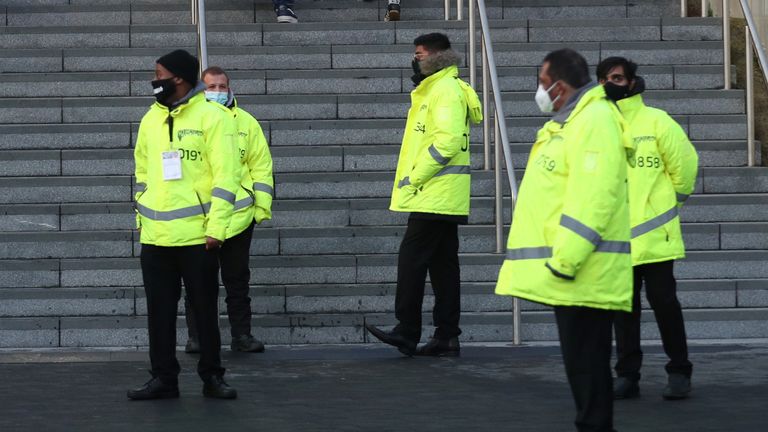 "The Premier League also introduced new League-wide punishments, including bans, for any individual found to have behaved in a discriminatory or abusive way towards any club employee, player, match official, matchday steward or fans attending a Premier League match.
"This covers behaviour conducted in-person or online. Sanctions include permanent bans from attending not just League matches at the stadium of the club they support but all Premier League matches.
"Premier League clubs have good relationships with their local police forces and it is common practice for them to share appropriate information with them."
An EFL spokesperson has also dismissed Chief Constable Roberts' criticisms, saying that the alcohol trial at lower league matches is sensible, so as to avoid the majority of law-abiding fans being banned from a pastime that is allowed at a host of other leisure events.
A statement from the League read: "With the majority of EFL matches categorised low risk, the EFL is supportive of a review into alcohol laws at football and is of the view that changes should be evidence-led rather than based on assumptions.
"Tracey Crouch's proposal of having pilots at some EFL and National League grounds is a sensible next step on an issue that should be handled responsibly. Where there is evidence of a heightened risk of disorder at matches, the EFL would not expect alcohol to be served, but that is not the case at the majority of matches and as a result millions of law abiding people are prevented from consuming alcohol as they could at virtually every other leisure activity in England.
"EFL clubs already have strong relationships with local police forces along with long standing information-sharing agreements with authorities that helps support on the ground operations.
"Furthermore, the EFL has regular engagement with a range of law enforcement agencies, including the UKFPU, covering briefing meetings, presence at EFL club training sessions and sharing of intelligence, which all helps to create robust safety and operational plans across the country.
"As part of a commitment from football to improve the supporter experience, a new accredited steward training package including detailed training on equality, diversity and inclusion, safeguarding, counter-terrorism and more, is currently being designed in partnership between the EFL, Premier League and FA - with input from the UKFPU itself."