England striker Wayne Rooney to speak to psychiatrist over World Cup scoring record
Wayne Rooney will speak to England team psychiatrist Dr Steve Peters to help improve his World Cup goalscoring record.
Last Updated: 23/05/14 8:12am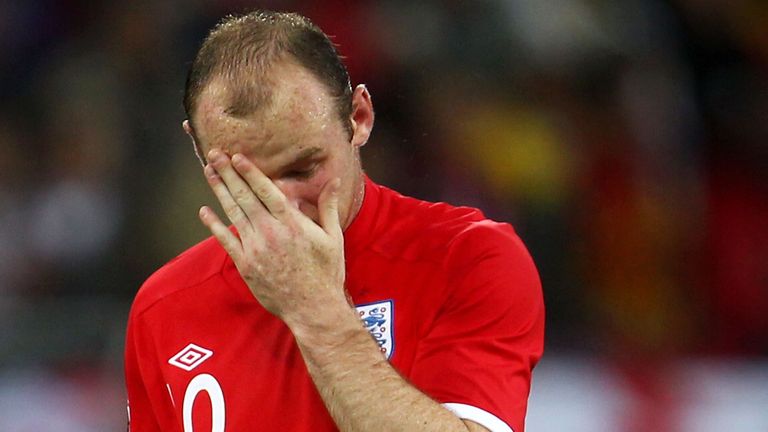 The 28-year-old recently spent a week in Portugal with two fitness coaches and has also been working on the mental side of his game as he bids to end an eight-game goalless streak in the tournament.
Rooney has never been able to recapture the international form he showed as a teenager at the 2004 European Championships, in which he scored four goals in four games before breaking a metatarsal bone in the team's exit at the hands of Portugal.
But he hopes the work he is doing with Peters, who has enjoyed success with the British cycling team, snooker player Ronnie O'Sullivan and Brendan Rodgers' Liverpool team, will help him improve his England form in Brazil.
"I'll certainly go and speak to him and see if it can benefit me," said Rooney. "There's no harm in doing that.
"I've never done something like that before but it's interesting and if it can give you an extra couple of per cent, then it's worth doing.
"When you're going into a tournament, you believe you're going to do well, so you don't really feel that pressure, but maybe inside you are feeling it, which you don't realise.
"After hearing what he (Peters) said to us, I feel it might benefit me."
The World Cup will be the last of Rooney's peak years - he will be 32 when the tournament takes place in Russia - and former Manchester United team-mate Paul Scholes commented this week that he feels the player may already be past his best.
Rooney, however, feels he can make a strong contribution despite the emergence of attacking players Daniel Sturridge, Adam Lallana and Raheem Sterling in what he accepts will be his 'last big one'.
"I've been here before and I've said I can deliver and it hasn't happened," he said.
"I want to prove myself at this level, which I haven't been able to do before. There will be no excuses this time if I don't perform.
"In 2018, I'll be a bit older then so it will be difficult to impact that the way I believe I can do.
"So this is the really last big one that I feel will probably get the best out of me.
"I'm really confident I'll be in the best shape I can when the World Cup starts."