Atletico Madrid defeated reigning champions Barcelona 2-0 on Wednesday night to complete a 3-2 aggregate win in their Champions League quarter-final. Are Atletico the toughest team in Europe? Adam Bate gives his verdict from the Vicente Calderon...
Juntos Hacia La Victoria. Together to victory. That was the message adorning the Vicente Calderon prior to their Champions League quarter-final showdown with Barcelona. And so it proved as the reigning champions were ousted from the competition thanks to a 2-0 win for the home side.
It's the second time in three seasons that Atletico Madrid have knocked them out at this stage. In between, Barca have been imperious but here they were rendered insipid at the hands of Diego Simeone's side. Atleti are surely the toughest team to play against in Europe.
The stats had indicated that the majority of teams who'd lost the away leg 2-1, as Atletico had done, went on to be eliminated - and that didn't even take into account the formidable opposition that Simeone's side were up against.
But this is Atletico Madrid and they're not a team to face knowing that a 1-0 win is enough. That had been the scoreline the last time Barca had visited the Calderon in this competition two years ago. The last time too that Barca had failed to score in a Champions League game.
Clean-sheet kings
Atletico Madrid have kept a clean sheet in 13 of their last 15 Champions League matches at the Vicente Calderon.
Ultimately, Atletico improved on that 1-0 win and netted twice, Antoine Griezmann adding a late penalty to his first-half header. And while Barca were denied their own spot-kick with moments remaining, Luis Enrique acknowledged that it would have been scarcely deserved.
"They were better than us," said the Barca coach afterwards. Perhaps he was aware that the prospect of a further 30 minutes in a throbbing Calderon would only have served to highlight the futility of their task.
It's far from a hoodoo, of course. Barca had won the previous seven meetings going into this game. But with their form having dipped, there was an air of inevitability to things from early on. Certainly, the sight of Atletico with the bit between their teeth is quite something.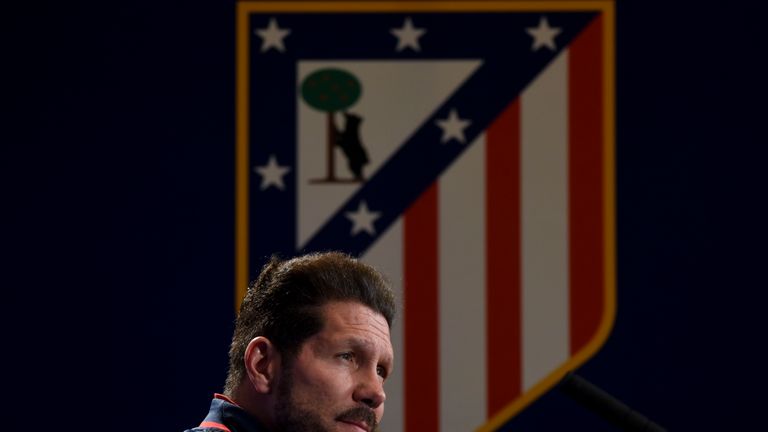 Being Atletico means being tenacious, competitive, never giving up and overcoming difficulties. We know there are better teams than us. But we know we can compete.
"Being Atletico means being tenacious, competitive, never giving up and overcoming difficulties," said Simeone on the eve of the match. "We know there are better teams than us. But we know we can compete." He revels in that carefully cultivated underdog role.
So do the fans. They cheered as Filipe Luis dispossessed Lionel Messi and the noise grew louder when Diego Godin and Juanfran each went in hard on Neymar within a minute. Luis Suarez was twice fouled in his own half as attacks were shut down before they could start.
Even the opening goal came as a result of Atletico's work when out of possession. Boxing Barca in by their own corner flag, Jordi Alba could only reach Gabi with his clearance and when the skipper fed Saul Niguez, his clever cross found Griezmann unmarked in the centre.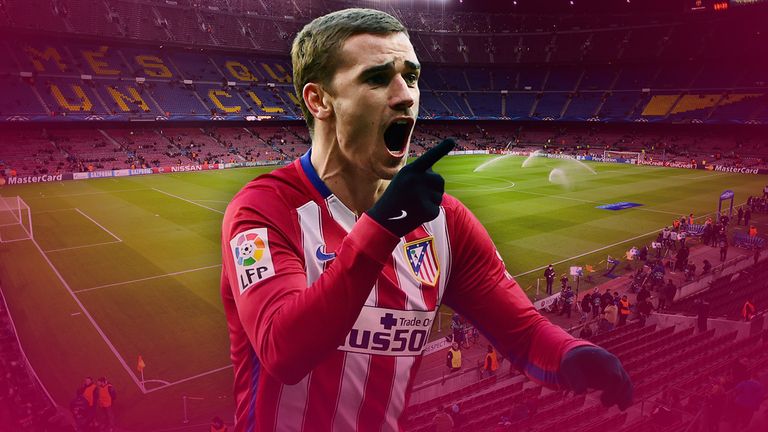 "The idea was to pull a goal back in the first half and fight for every ball," explained Simeone afterwards. Well, the idea worked perfectly. As Luis Enrique put it: "They did what they do best." Atletico had just 29 per cent of the ball in the opening 45 minutes but they also had the majority of the chances.
The numbers illustrate the obvious - Atletico really can defend. So while some mourn the exit from the competition of Europe's pass masters, arguably the easiest side on the eye, perhaps they should cherish the victory of the continent's best organised side instead.
Champions League semi-finalists
| | | | |
| --- | --- | --- | --- |
| Atletico Madrid | 245 | Atletico Madrid | 190 |
| Manchester CIty | 191 | Manchester City | 168 |
| Real Madrid | 179 | Bayern Munich | 148 |
| Bayern Munich | 169 | Real Madrid | 136 |
The team with the most interceptions in this season's Champions League? Atletico Madrid. The team with the most tackles? Atletico Madrid, with 20 per cent more than anyone else. Most aerial duels? Atletico again, with almost 25 per cent more than the other teams.
Diego Godin tops the list for clearances and interceptions. According to Opta, Godin's fellow world XI candidates David Alaba and Manuel Neuer have each made two mistakes leading to goals in this season's Champions League. Atletico's entire squad is yet to make a single one.
They have eliminated risk from their game. In fact, Godin and Atletico Madrid have turned defending into an art form. And like all art, it's done best when it's being enjoyed and under Simeone that enjoyment is evident both on the pitch and in the stands. It can seem peculiar.
There were the high fives between Koke and Filipe Luis just for forcing a goal kick; Gabi's clearance from near the goal-line and Lucas Hernandez's block from Arda Turan's shot. When midfielder Thomas Partey came on, his first contribution was to head away a cross.
The crowd embrace this approach. Most supporters chant their team's name in anticipation when they have a corner. Atletico fans chant when they are defending one, as though to emphasise the fact that their team relishes such things.


There were times when Barcelona circulated the ball - the carousel, Sir Alex Ferguson once called it - that it appeared to be at Atletico's prompting. Such was the discipline of their shape, they seemed able to funnel Barca's passes wide - right where they wanted them.
And by the end of the game, Atletico were growing in confidence rather than going into their shell in the knowledge that one mistake could be costly. In this rumble in the jungle of the Calderon, it was Barca who had punched themselves out well before the end.
Godin himself came close to administering the final blow as he uncharacteristically charged forward with five minutes to go. Instead, it was fellow defender Filipe Luis whose attacking raid proved the catalyst for Atletico's second. A defender on the attack.


And why not. Everything Atleti do is as a unit. While it was easy to see Cristiano Ronaldo's efforts in the same city the previous night as an individual triumph, Griezmann's brace didn't conjure the same emotions. Theirs is a team effort and that's understood by all.
Walking to the ground beforehand, in stark contrast to the sea of Ronaldo jerseys at the Bernabeu, there stood a child in a Griezmann top alongside a father bearing Gabi's name on his back. Koke and Fernando Torres are heroes, while Yannick Ferreira Carrasco's name was sung inside the stadium.
The popularity of the young Belgian in his first season at the Calderon highlights the fact that the names change but the principles stay the same. Indeed, only five of the 18 men in the Champions League final squad less than two years ago were named here against Barcelona.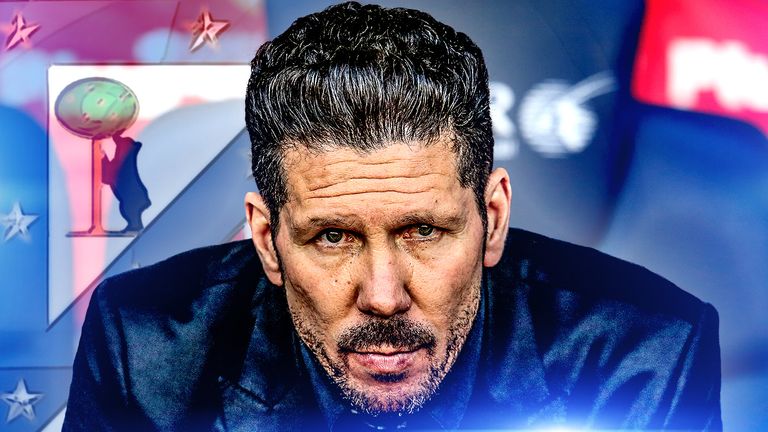 Perhaps that's why it was Simeone who was afforded the biggest cheer when those names were read out pre-match. This is his vision and, intriguingly, he's not done yet. The message was clear when he finally emerged to address the press as the clock approached midnight.
"Being among Europe's best four teams in the past three years has been an important step," he said, repeating those final two words - paso importante - four times for added emphasis. "But we hope there is more." Fit, fresh and ready to make their opponents suffer, there may well be.
So if Manchester City or anyone else believes Atletico are the team to get in Friday's semi-final draw, it's worth noting that this is precisely what they want you to think. For Atletico Madrid are together. And maybe just maybe, they'll be together all the way to victory in Milan.