In an age of global scouting networks and huge transfer fees, Athletic Club Bilbao show there is another way of doing things. How do they stay competitive with their unique philosophy? And what can be learnt from their methods? Nick Wright paid them a visit to find out.
The green hills above Bilbao make for a tranquil setting, but it is a busy morning at Athletic's Lezama headquarters. Out on the first-team training pitch, Ernesto Valverde is putting his players through their paces in front of a bank of television cameras. There is the steady thudding sound of boots connecting with balls as the rondos gather pace.
In the nearby main building, which looks more like a secondary school than a training facility, stewards in red berets oversee journalists preparing for the manager's weekly press conference. Youth coaches busily plan their afternoon sessions in a cluttered office upstairs. Local children wait for photographs with their heroes at the front gates.
It is a typical scene, but this is not your average football club. And we are not the only visitors. "We have coaches from other clubs come here practically every week," says José María Amorrortu, a former Athletic player and manager who now works as the club's sporting director.
"A coach from QPR is here right now," he continues. "Last week we had Brighton and Hove Albion, next week it's Swansea. We had Bologna from Italy here recently. Bayer Leverkusen came last year. We have people here ready to receive these kind of visitors. They come from all over the world."
They come to understand how, year after year, this proud old club competes in the top half of La Liga and challenges for trophies while only fielding players from the surrounding Basque Country. They come to learn how, despite the limitations of this philosophy, Athletic are the only Spanish club other than Barcelona and Real Madrid never to have been relegated in their 119-year history.
They come to see the inner workings of Lezama. "When these coaches are here, they wear Athletic kit," says Amorrortu. "They are out on the pitches. They are in the dressing rooms. They are seeing what happens here every day. We have open doors, there are no secrets for us. Why not explain what we do here?"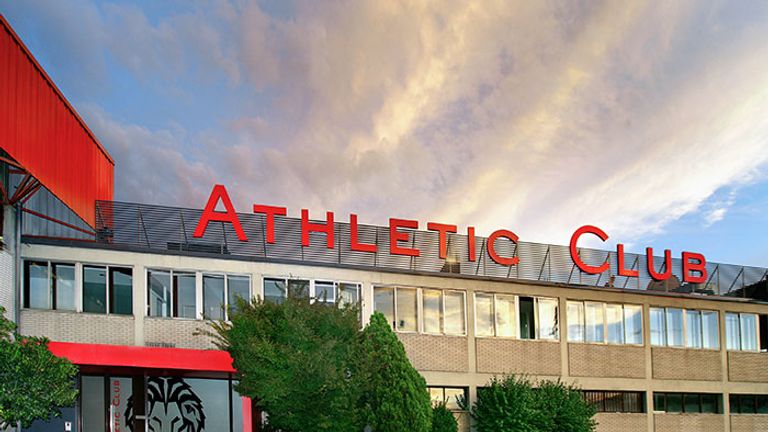 At the heart of what Athletic do is a staunch devotion to youth development. Their recruitment policy has become more flexible in recent decades, but Athletic are still dependent on producing players native to, or developed in, the autonomous communities of the Basque Country and Navarra in Spain and the Northern Basque Country in France.
In the context of modern football, their success is something close to miraculous. The title-winning glory days of the 1930s and 1980s are over, but in the last five years Athletic have reached four cup finals. They won the 2015 Spanish Super Cup with a 5-1 aggregate victory over Barcelona. This season they are on course for their fourth top-six finish in seven years.
They will achieve it with a first-team squad containing 20 players who have come through their own academy. It is the highest proportion of any club in Europe's top-five leagues, and it has drawn the likes of QPR, Brighton and Swansea to Lezama at a time when youth development is a hot topic in Britain.


According to Michael Calvin, author of No Hunger in Paradise, a new book on the many pitfalls facing young players today, only 180 of the 1.5 million boys playing organised football in England will make it to the Premier League. It is a staggering figure which highlights a growing issue in English football. It also puts Athletic's achievements into context.
"I am often asked what the difference is between the boys here and the boys in England," says Amorrortu as he takes a seat in a small classroom in Lezama. "The truth is there is no big difference. If we can produce so many players to play in our first-team at the top level, why can't they?"
In part, it is a question of how Athletic focus their resources. The club have received huge transfer fees from the sales of Ander Herrera and Javi Martinez to Manchester United and Bayern Munich in recent years, but with such a limited pool of players from which to find replacements, their profits are primarily reinvested in their academy.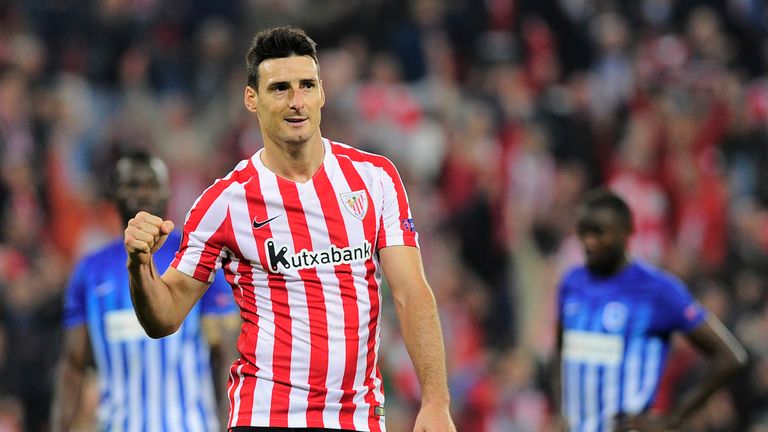 Their youth coaching set-up is finely-tuned and the training facilities at Lezama are in a constant state of improvement. Athletic are one of four Basque sides in La Liga along with Real Sociedad, Eibar and Alaves, but their regional scouting network is unrivalled. "We have eyes everywhere," says Santi Urquiaga, another ex-Athletic player now working on their technical staff.
But finding and signing the right young players is just the start of it. What's more important is the clear pathway that exists from academy to first-team. As Amorrortu explains, there is a sense of openness and opportunity you just don't get at other clubs.
"There has to be a chord that unites all of this," he says. "The boys in the youth teams have to be close to the first team. That relationship is very important to us. There is not one space for the young players and another for the seniors. Our 16, 17 and 18 year-olds co-exist with the first-team. They might not play together but they have grown up together. There are no barriers. It's all part of our philosophy.
"It's the same with the public. Every day a lot of people come here to see the boys. Go outside right now and you can see a child kicking a ball around with his father. It's normal here. There is a warmth about Lezama. It's a place where you breathe a footballing atmosphere."


That environment fosters belonging and belief from the U10s up, and there is also a defined structure in place to prepare the young players for men's football. At the age of 18 or 19, they are sent on loan to Athletic's fourth-tier feeder club Basconia. After that, they move up to Athletic's B team, Bilbao Athletic, who play in the regionalised third division.
"We know the transition from academy football to senior football is tough," says Amorrortu. "When you only play with players of your age, it's not the same. We believe the most promising boys should play with higher age groups. You learn much more by playing against men. It's not about winning, it's about preparing you for the professional game."
The current first-team squad is proof of that. In forward Iñaki Williams, centre-backs Aymeric Laporte and Yeray Alvarez and goalkeeper Kepa Arrizabalaga, Lezama has produced four of the brightest young talents in La Liga. Every one of them broke into Athletic's first team having followed that well-trodden path through Basconia and Bilbao Athletic.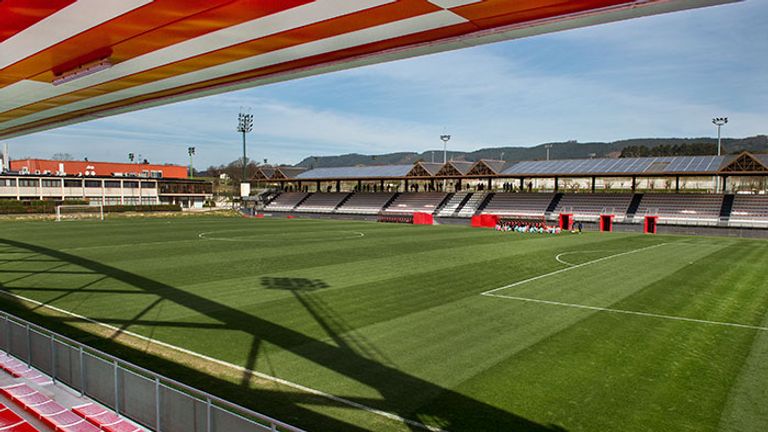 Crucially, they are also products of patience. In an age when so many young players are ruthlessly discarded by top-level clubs, Athletic are proud to take a different approach. "If I have one piece of advice for other clubs, it is to be patient with the progress of the boys," says Amorrortu. "Don't buy players instead of giving opportunities to the youth.
"In the world of football, unfortunately, there is no patience. But for our philosophy, we have to have patience and we have to have trust. It's not easy but it works. For us, every boy is a long-term project. It's about continuity, trust and a sense of belonging. They are strong values."
Fan-owned
Athletic Club Bilbao, like Real Madrid and Barcelona, is owned by its members. As of this season, the club has a total of 44,560 socios.
They are values the club's manager must adhere to, too. Valverde, who is the front-runner to take over at Barcelona in the summer, is a former Athletic player currently in his second stint in their dugout. In between the two, he had spells in charge of Espanyol, Olympiakos, Villarreal and Valencia.
"It's very different from any other job," he tells Sky Sports. "It's very different in the sense that in other teams, whenever you have a problem in the squad you can go to a very broad market to find players. You have scouts looking all over the place. Here, it's the opposite. You have to adapt to the style of players you have, because you know it's very difficult to find anyone else.
"For example, if you want to find a left-footed left winger, or any left-footed player, which we don't have many of at the moment, you know there's a chance you won't be able to. This season, in fact, we haven't signed a single player. It's something that comes with the job. Once you decide to become the Athletic manager, you accept that."
But while filling holes in the squad can be problematic, Athletic's philosophy brings other benefits that don't exist elsewhere. "In other teams you have more work to do in the dressing room because you have people from all over the place," says Valverde. "Here it's much simpler. The spirit of this team, the mentality of this team, is very difficult to recreate."
That togetherness is plain to see every time Athletic's players take to the field in the visceral atmosphere of the new San Mames, their stunning, 53,000-capacity stadium in the heart of Bilbao, and it is typified by Mikel San José, a combative midfielder who has spent his entire career at Athletic apart from a brief spell in Liverpool's academy.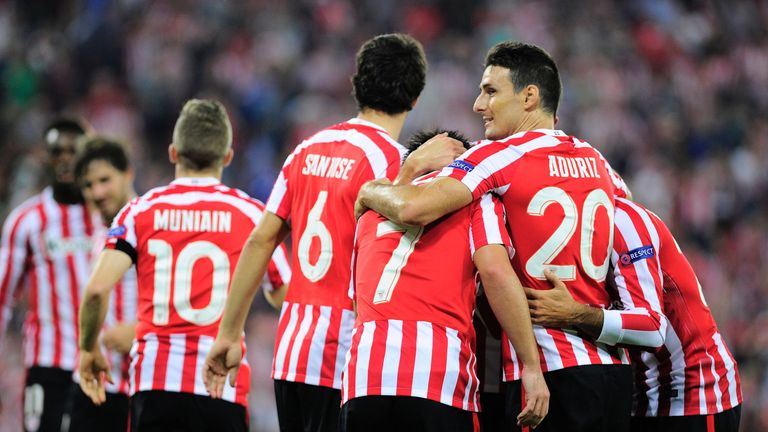 "We have a different philosophy to most clubs in the world," he tells Sky Sports. "It doesn't make us better or worse, but we are different. We fight with the weapons we have in an age where football is becoming more and more modern. There is more and more money and clubs can buy better players, but every day we are doing things better with our weapons and our ideas."
San José tasted another side of football at Liverpool, but now, at 27, he is already making plans to stay at Athletic for the rest of his career. "All of us at this club, we are people who want to be here," he says. "We want to represent this club, we want to represent the people of the club and all the people who follow us and support us."
It is rare to hear a modern footballer speak so passionately about his club, but that continuity, trust and sense of belonging are powerful tools. "Our philosophy is transmitted from generation to generation, from parents to children," says Josu Urrutia, Athletic's president since 2011 and yet another graduate of Lezama.
"If you have the whole world to choose players, you have more options. But our idea is more proud, more romántico. I am going to compete with my people, with my town, and we are going to face the difficulties as they come. We are going to invest in the complete development of people and athletes, and we are going to give them opportunities to represent us without any fear.
"That's the great strength of Athletic. In other teams you don't see it in the same way. There may be more talent and more technique in their players, but there is less heart and less feeling. We have people who are hungry and proud to wear the shirt. It puts us on the same level as our rivals."
Of course, not everyone sees the romance behind it. Athletic's philosophy has its critics as well as admirers. But what matters to Athletic is that the squad buys into it. The average stay of a first-team player at Athletic is between seven and eight years. "There is a lot more loyalty among our players than in other clubs," says Amorrortu.
Laporte is a case in point. The highly-prized defender had the chance to join Pep Guardiola's Manchester City last summer, with the Premier League giants ready to activate his £50m buy-out clause. Instead, he signed a new long-term contract with the club that has carefully nurtured his development since plucking him from the Northern Basque Country in France in 2010.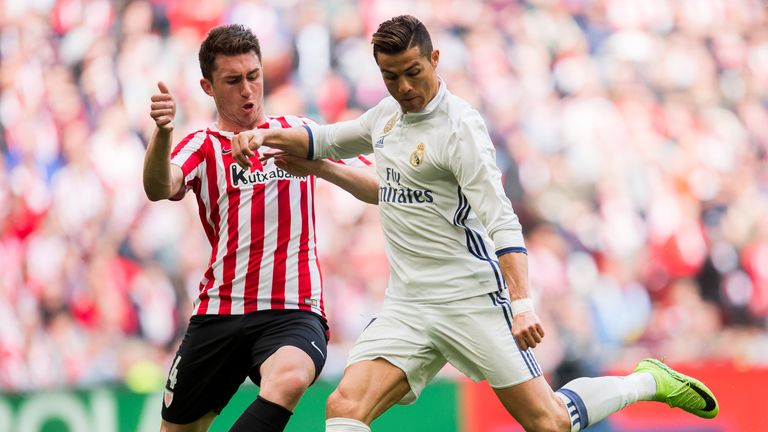 "Athletic is pretty much everything for me," the 22-year-old explained afterwards. "It was to thank them a little bit. They still needed me for a few years. I'm happy to help them in every game."
"Aymeric had the opportunity to take a different path but he's happy here," says Urrutia. "We try to make sure the players are happy and that they want to be here. It's impossible to control with release clauses because there could always be clubs willing to pay them, but if you're happy, if you can identify with our ideas, it's much more difficult to leave."
Athletic now hope Williams, a thrilling talent who became the first black goalscorer in the club's history in 2015, will display the same kind of commitment. The Spain international is wanted by Liverpool, but he is an idol and a trailblazer at his boyhood club and seems in no rush to leave. "I am where I want to be," he said recently. "The signs he is giving us are that he loves it here," says Urrutia.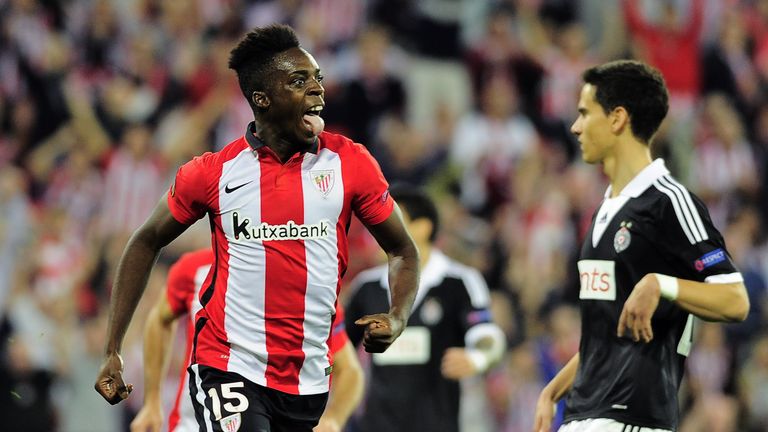 The loyalty of Laporte and Williams is yet another lesson for QPR, Brighton, Swansea and the many other clubs who come to this place in search of answers. They leave knowing it would be impossible to recreate such a deeply-ingrained philosophy, but Athletic's ideas on youth development, on belonging, provide hope that they too could do things a little differently.
Morning has turned to afternoon now at Lezama, and out at the front gates there is a clamour of activity as the first senior player makes his way towards the exit. It is veteran goalkeeper Gorka Iraizoz. He drives a grey van untypical of a top-level footballer, and instead of pausing to wind down his window, he cuts the engine and steps out to ensure every waiting child gets a photo or an autograph.
The 36-year-old recently announced he will retire at the end of this season, with Sunday's game against Atletico Madrid set to be his 391st and final appearance for the club. It will be an emotional goodbye, but Athletic will look to the future knowing that in the 22-year-old Kepa, Lezama has already delivered his successor.
That, in essence, is everything this club strives for. And so, in their own unique way, and with the continuity, trust and sense of belonging that underpins it all, Athletic Club Bilbao will march on. "It's in our blood," says Amorrortu. "That's just how it is."