How do you beat Premier League leaders Manchester City?
Last Updated: 11/01/18 8:37am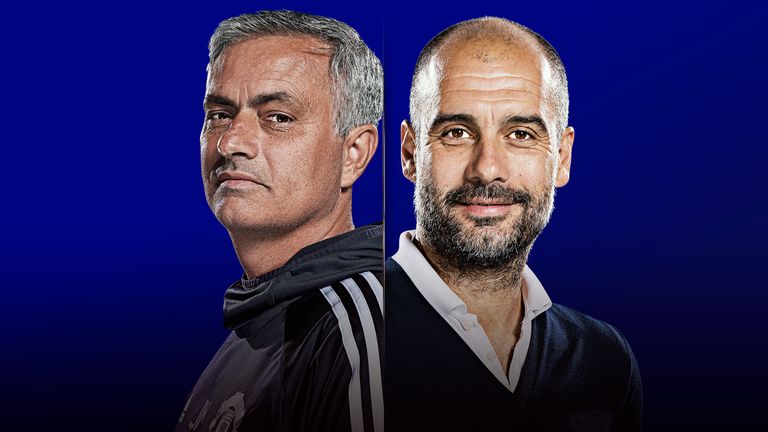 A much-changed Manchester City suffered their first defeat of the season in a 2-1 loss to Shakhtar Donetsk in the Champions League on Wednesday - but how can Manchester United beat a full-strength City team?
United host City live on Sky Sports this Sunday - but will Jose Mourinho 'park the bus' like he did against Liverpool last year, or are there weaknesses in Pep Guardiola's masterplan to exploit?
City are undefeated in the Premier League this season, having only dropped points during a 1-1 draw at Everton after Kyle Walker was sent off in the first half.
Since that draw, the current league leaders have equalled a Premier League record of 13 consecutive wins and scored a remarkable 46 goals from just 15 fixtures.
We examine City's league performances this season to determine which strengths should be nullified and which weaknesses could be exploited…
SHOOT ON SIGHT
Guardiola fielded a less familiar 3-4-3 formation against Shakhtar Donetsk and made six changes from their most recent Premier League game against West Ham.
However, despite facing an inferior City, the hosts managed six shots on target - two more than any team has managed against City in the league this term.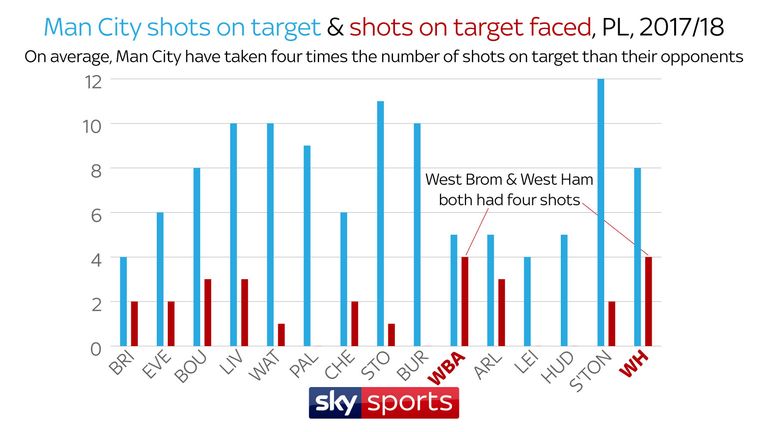 On average, one in three or four shots on target is scored - although City's league opponents have averaged fewer than two per game.
In fact, City have only faced 27 shots on target - by far the fewest faced by any Premier League team - and have only conceded 10 goals, of which two were own goals.
It won't be easy to create opportunities, but Manchester United must find a way to test goalkeeper Ederson this weekend.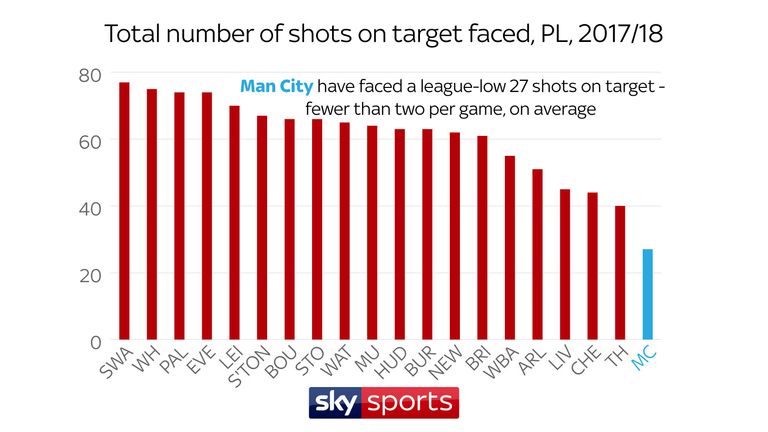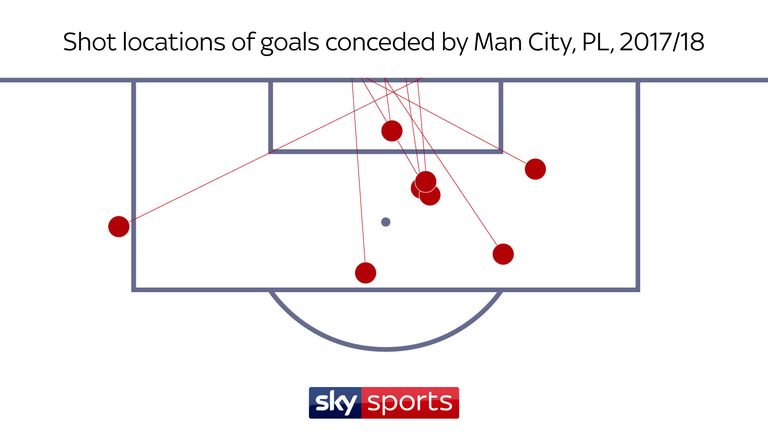 PROTECT POSSESSION
One reason for teams failing to trouble Ederson is City's superior possession, having averaged a league-high 72 per cent.
City have recorded superior possession in every game this season, claiming 80 per cent in the 2-1 win at Huddersfield and 79 per cent during a 7-2 win over Stoke.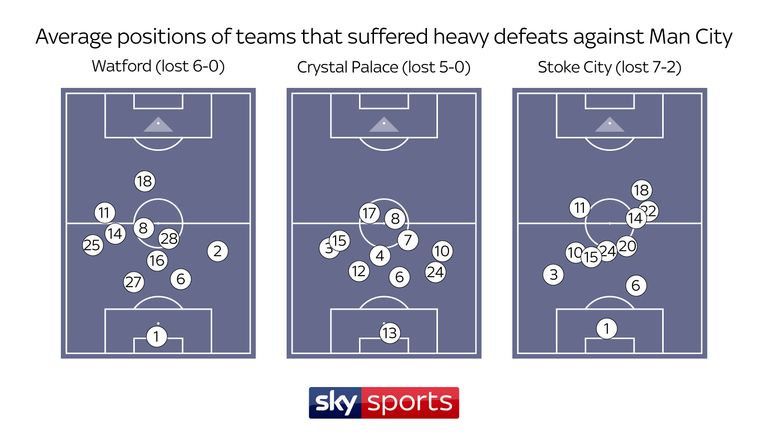 Guardiola's side have surpassed 74 per cent possession in their last four league outings. However, they have struggled to roll over teams like earlier in the season, winning their last three through late goals.
This season, teams have sought to salvage a point against the current league leaders by soaking up pressure but, ultimately, they have failed - which could be a warning for a 'park the bus' tactic.
So far, City have only faced three fellow 'big six' teams - Liverpool, Chelsea and Arsenal - with City recording below-their-average possession in each fixture, managing a season-low 58 per cent against the Gunners.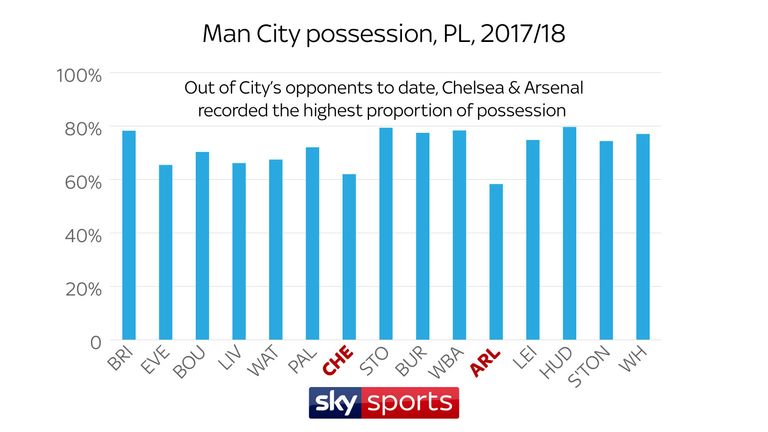 At times, City looked vulnerable in these fixtures, particularly against Liverpool before Sadio Mane was sent off in the 37th minute - which proved to be the catalyst for a 5-0 drubbing.
Against Arsenal, Nacho Monreal conceded a penalty when the visitors looked likely to score, while a sublime Kevin De Bruyne goal was the difference at his former club Chelsea.
It could be argued that fine margins have divided City and their main challengers in head-to-head contests to date - but opponents with possession in excess of 30 per cent have looked more likely to win the game.
TRACK THE RUNNERS
One of City's most notable attacking styles under Guardiola is having numerous runners breaching the opposition's defensive line.
Guardiola has used a 4-3-3 formation in 12 out of 15 Premier League games this term, with Leroy Sane and Raheem Sterling stretching defences ahead of full-backs Fabian Delph and Kyle Walker.
Having stretched the defence, Sane and Sterling typically dart from the touchline into the box, losing markers and latching onto passes, or return balls, from De Bruyne, David Silva or Fernandinho.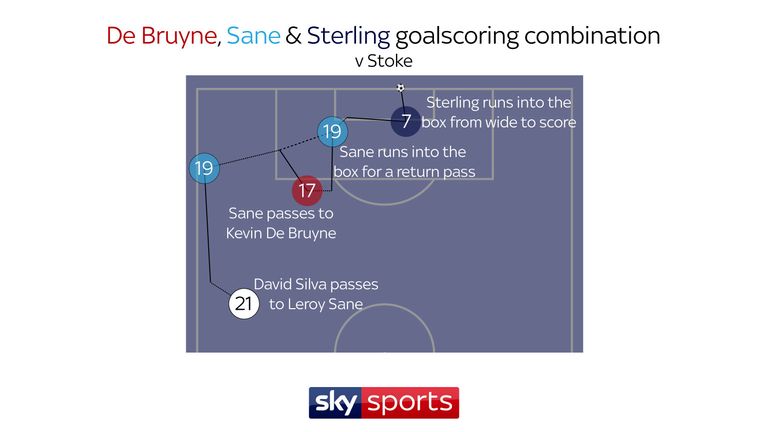 The graphic below shows how a large proportion of City's assists have come from either corner of the six-yard box - passing to additional oncoming runners.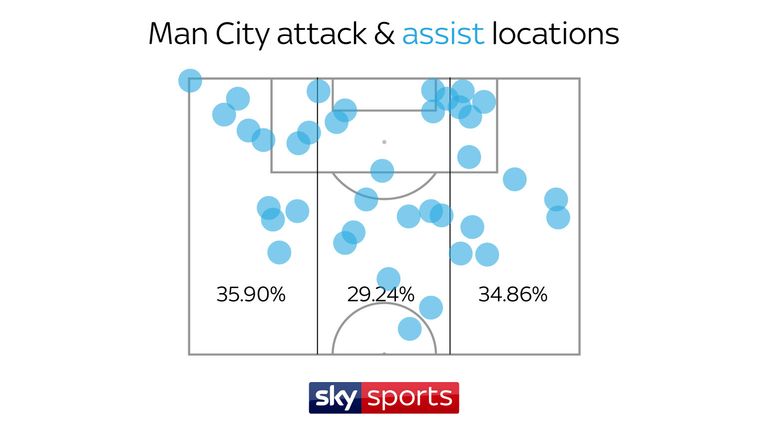 United will need extra cover to track runners when their defenders are outnumbered and maintain a solid, deep defensive line.
NULLIFY DE BRUYNE
Despite City's abundance of wide, attacking talent, De Bruyne has shone from the right of a typically more centralised midfield trio, scoring four goals and claiming eight assists to date.
The graphic below shows how De Bruyne typically patrols this right-of-centre region, primarily creating chances from just outside the box.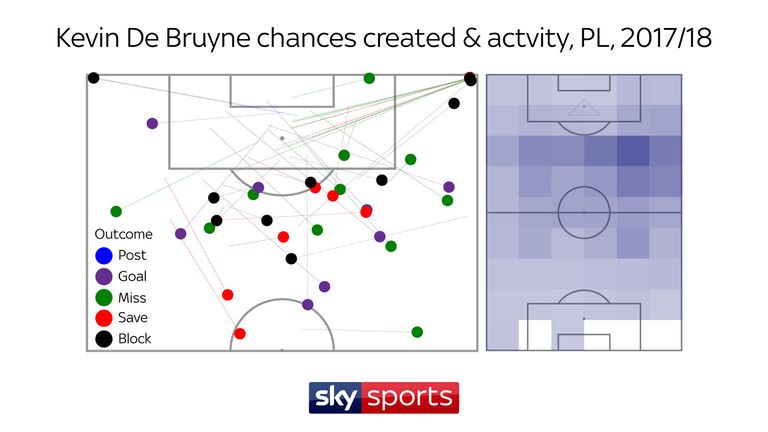 Jose Mourinho deployed Ander Herrera to nullify another one of his former players, Eden Hazard, during a 2-0 win against Chelsea in April and could task the Spaniard or Nemanja Matic to man-mark De Bruyne this weekend.
HIT THEM ON THE BREAK
The fear of City's scintillating attack has pushed opponents back, which is reflected in City's league-high possession and league-low shots faced.
As a result, the centre-back partnership of Nicolas Otamendi and the injured John Stones has been largely untested during this campaign, as has Ederson.
City have only scored one goal from a fast break, primarily due to opponents sitting deeper - they have been far more dangerous from intricate passes on the edge of the box.
Playing in a 4-3-3 formation, City's single weakness could be exposure when their full-backs push forward against teams capable of breaking quickly.
Most goals from fast breaks, PL, 2017/18
| Club | Goals from fast breaks |
| --- | --- |
| Liverpool | 7 |
| Manchester United | 4 |
| Leicester City | 2 |
| Manchester City | 1 |
| West Bromwich Albion | 1 |
| Everton | 1 |
| Huddersfield Town | 1 |
| Tottenham Hotspur | 1 |
In contrast, United have scored four goals from fast breaks - bettered only by Liverpool's seven - and Mourinho could turn to Anthony Martial and Marcus Rashford to hit City on the counter when their full-backs rampage forward. He could also instruct those attackers to stay high on the flanks, in an attempt to pin City's full-backs in a deeper position.
The graphic below reveals that United have recorded higher levels of activity down the flanks than City this season.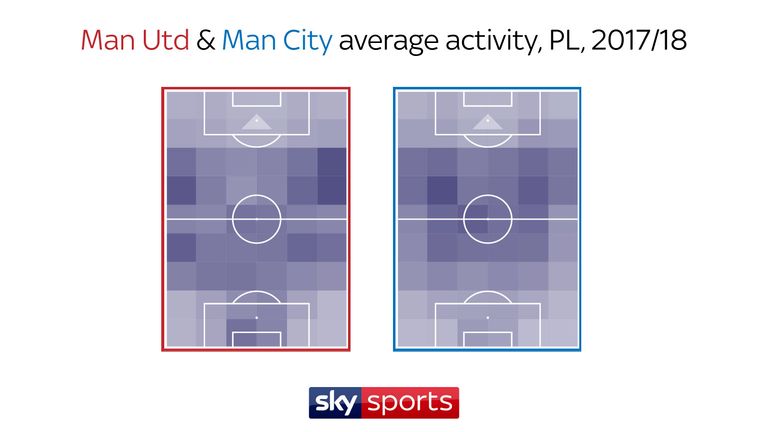 So, United should try to get more shots on target than any other club has managed in the league so far, try to maintain reasonable possession, track the runners, nullify De Bruyne and hit City on the break. Easier said than done.
But Romelu Lukaku will also need to be clinical on Sunday if United are to reduce the deficit to five points in the league table.
The Belgium international has only scored one goal in his last eight league outings, having scored seven in his first seven games. United need him to seize any chances which fall his way if they are to strike a crucial blow in the Premier League title race.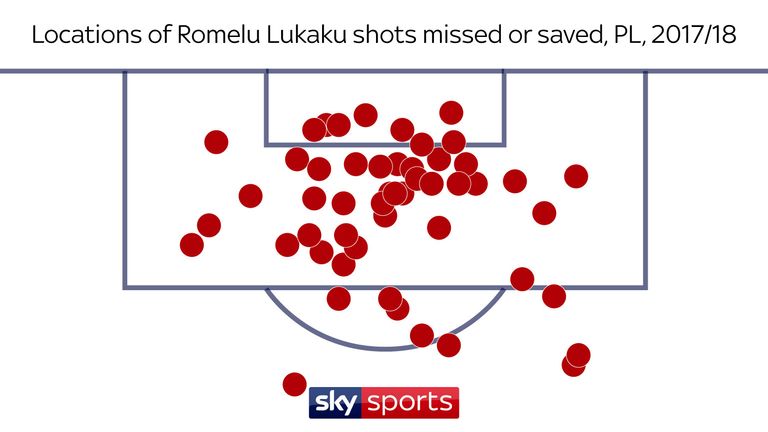 Watch Manchester United v Manchester City live on Sky Sports Premier League from 4.15pm on Sunday