Zlatan Ibrahimovic says he is raring to go again for Manchester United and believes his team-mates will claim a coveted top-four spot in the Premier League.
Ibrahimovic is expected to lead the line again against Everton on Tuesday night after serving a three-match domestic ban.
United, who lie five points behind rivals Manchester City - albeit with a game in hand, have exited the FA Cup and slipped up at home with a goalless draw against West Brom in his absence.
But the man who has netted 15 times in the top flight this season has declared himself ready to bring back "positive vibes" as the quest for Champions League qualification gathers pace.
"I feel good," he told MUTV. "I missed Old Trafford and the games with my team, but finally I am back and hopefully I come back with positive vibes.
"One game can change a lot - suddenly you can be third, fourth, fifth, sixth.
"First is too far away, second probably also, but otherwise it's very tight and if you succeed in winning two or three games in a row then you're in the Champions League spots.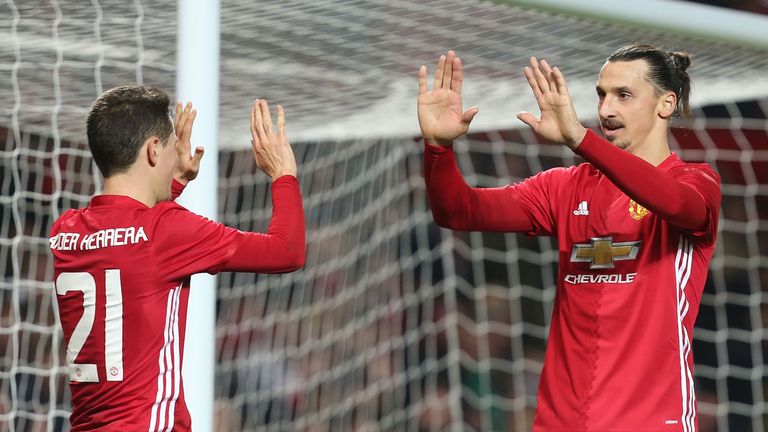 "I think we will make it and we will be there. We have gained the points we need to be in the Champions League, though we are on the limit now. A little bit more and we will reach the top four I believe."
United are in the quarter-finals of the Europa League and would secure passage to next season's Champions League if they win Europe's second-tier club competition.
But Jose Mourinho insists striving for potential passage to Europe's elite will remain his priority for now.
"Against Everton, we'll try to play our best team and try to win the match," Mourinho said after Saturday's stalemate with West Brom. "After Everton, we go to Sunderland with the same perspective. After Sunderland, comes the Europa League and then I don't know.
"It's then possible you see me play in the Premier League with a team where I'm going to protect the players I consider fundamental for the Europa League. But only if the results in the next matches put us in the situation where mathematically it becomes almost impossible to [finish in the top four].
"I go with mathematics. Until it's mathematically impossible, we keep trying and, because this week is a week without the Europa League, we have nothing to think about Europe so this week is easy from the focus point of view.

"We're thinking about the Premier League and nothing else."
Watch in-game goals and highlights from Manchester United v Everton - as well as all the midweek Premier League games - on mobile and via the Score Centre app.