Manchester United host Liverpool at Old Trafford live on Sky Sports this Saturday in one of the standout fixtures in the English football calendar.
The old foes - separated by just two points - clash on Saturday lunchtime as part of a bumper 'Rivalry Weekend' and what better duo to preview the contest than Gary Neville and Jamie Carragher - two men with a combined 59 appearances in the fixture?
From the significance of the result and the global reach of the rivalry, to a trip down memory lane, Nev and Carra dissect the showdown...


'Season defining'
Nev: "I always fancy United at home. With Liverpool you have to get through that first half an hour, especially at Anfield, where they are a completely different proposition.
"I've always thought that for Liverpool away from home they struggled with the size of the pitch, despite them not being hugely different on paper.
"It's a lot harder for United to play at Anfield and a lot harder for Liverpool to play at Old Trafford, so I fancy United to win.
"Jose Mourinho has two big games in four days that will define the rest of the season - against Liverpool and Sevilla. How strong he goes in both remains to be seen."
Unwavering Liverpool
Carra: "Not many teams win at Old Trafford against Jose Mourinho's Manchester United. Manchester City are the only team over the last couple of years. It's going to be a really tough game but Liverpool are confident.
"I don't think we'll see what Chelsea did at Manchester City, Liverpool will not change because they are away from home.
"Mourinho will have some sort of plan to nullify Liverpool and hurt them where he can, so it should be a good game."
Plenty to play for
Nev: "This is an historical rivalry between the two cities. Both clubs are successful and won the most titles. It always helps when something is on in these games and there is something on it.
"Both teams would like to be nearer to Manchester City but they can get closer to second place, which will be big progress for Liverpool and United this season compared to last.
"They are still not where they want to be but it's a big game and it's important we acknowledge the importance it has for both clubs in terms finishing the season."
The world is watching
Carra: The rivalry with United was instilled in us at Liverpool, along with Everton. I'm sure Gary will say the same about Manchester City. When I came into the Liverpool team, United were the team to beat.
"As a Liverpool player you want to beat the best. They were our rivals as well so our desire to get results and overcome the psychological barrier when I was a player ensured it was the game we looked at.
"We sometimes question whether foreign players understand the significance of games like these but Liverpool vs Manchester United is world renowned."
Nev: "The support for these two clubs is unbelievable, staggering. There would be 10-15,000 greeting us at airports, 40-50,000 watching us train in different parts of the world.
"If you come from this country and have never travelled on pre-season tours, you don't understand how big this fixture is.
"That doesn't only apply to Africa, Asia or America, the importance of the fixture is felt in Scandinavia, Malta and Ireland to name but a few. The rivalry that stretches out of this game is unbelievable."
Underwhelming United?
Nev: "If I remember rightly, in Jose's first season it was a really bad game at Anfield on a Monday night. He went into the game with injuries and on the back of some bad results. There was a feeling that he couldn't lose the game otherwise things would start to go wrong quickly, like it had done for David Moyes for example, so it was a really dour game.
"The game this year at Anfield, I've said it before, a Manchester United v Liverpool game can be a draw, there can be few shots on target because both teams are tactically aware of each other and they are focused and concentrating to win.
"But it can never be boring and it can never lack the intent to win. The game at Anfield this season was unacceptable and bordered on games we've seen in recent weeks. Both teams towards the end accepted that a point was the right result, Liverpool stepped off the gas a little bit and United were bang average.
"It cannot be like that. It's got to be better. Jose Mourinho received a lot of criticism after that game, and rightly so, and to be fair, in the big games since, he has actually changed his formation and tactics to be more attacking."
A trip down memory lane...
Rio Ferdinand's late winner (Man Utd 1-0 Liverpool, January 22, 2006)
Nev: "Around that time was probably the worst we were at United. We hadn't won the league for three years, it was a real difficult period for the club.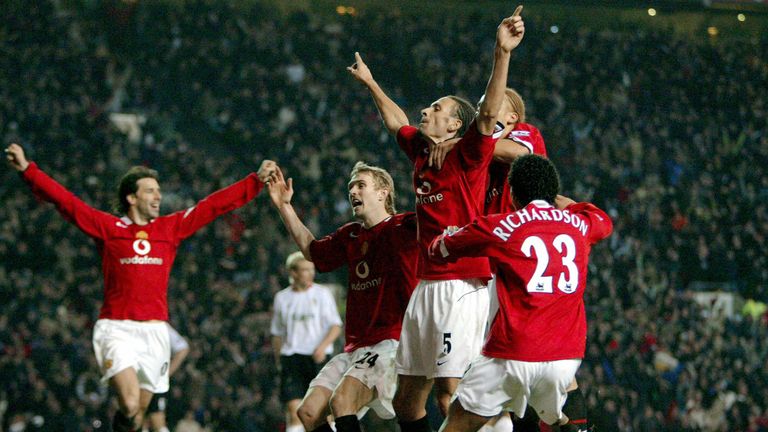 "The Liverpool fans had been giving me stick all night, singing about my mum with a song that wasn't particularly pleasant - I think Carra knows the words!
"I remember going down the right flank in the first half and them giving me loads, so I thought they could have a bit back.
"You knew you were going to get some stick, at Anfield it was worse because the fans are so tight and you can hear every single shout, particularly when you had a throw-in. It was a little better at Old Trafford because they were a little bit further away."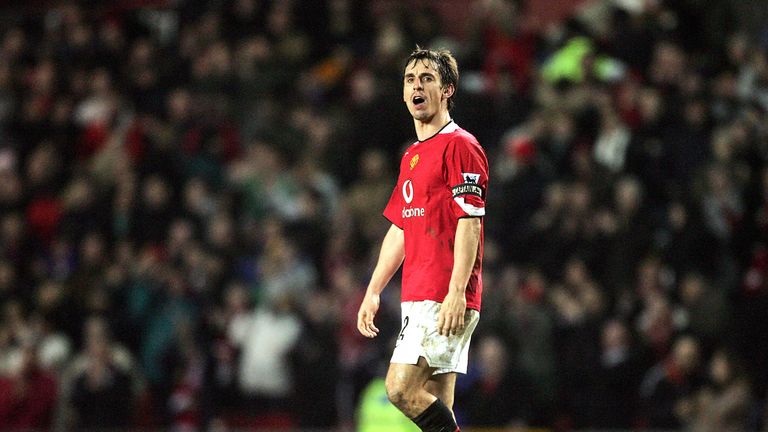 Murphy sparks Liverpool treble (Man Utd 0-1 Liverpool, December 17, 2000)
Nev: "I gave the free-kick away for that goal. I tried to control the ball on my chest and it rolled down my arm."
Carra: "As I mentioned earlier, there was a psychological barrier going to United, we hadn't beat them for a long time.
"To go to Old Trafford and win really kick-started our time under Gerard Houllier, and we won a few trophies that season.
"It also started a run of good results against United so it wasn't just beating them, it was believing you could beat them even though they were champions at the time going for cups and titles."
Watch Man Utd v Liverpool live from 11.30am on Saturday on Sky Sports Premier League.