Mohamed Salah would like to spend the rest of his career at Liverpool, but says his future "depends on the club".
The club have agreed a raft of new deals with senior players this year but Salah, who has under two years left on his contract, is one whose longer-term future is yet to be tied down.
Negotiations have not affected the 29-year-old's performances, with the Egypt international scoring 12 goals in 11 club appearances this season, helping propel Liverpool to second in the Premier League ahead of this weekend's Super Sunday clash with Manchester United.
Salah told Sky Sports: "If you ask me, I would love to stay until the last day of my football career, but I can't say much about that - it's not in my hands.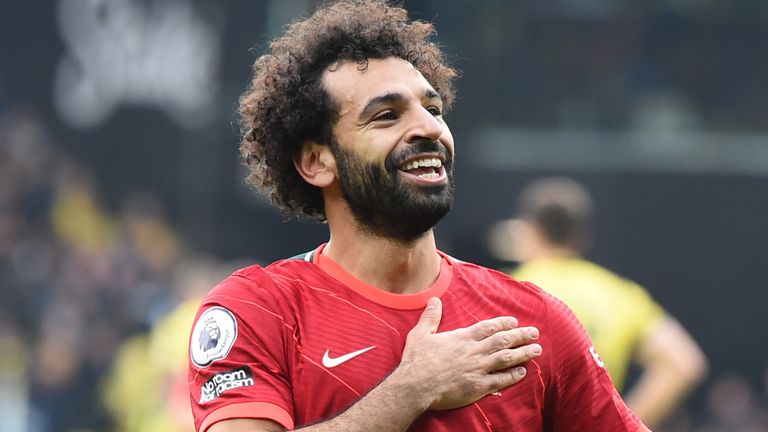 "It depends on what the club want, not on me.
"At the moment I can't see myself ever playing against Liverpool. That would make me sad. It's hard, I don't want to talk about it, but it would make me really sad.
"At the moment I don't see myself playing against Liverpool but let's see what will happen in the future."
Live Renault Super Sunday


'I knew I wanted to play here one day'
Salah's first taste of the Premier League came in 2014 when he was signed by Chelsea under Jose Mourinho. That period, however, could not be more different from his successful time at Liverpool and he says he felt the lure of the club long before joining.
He said: "I think when I was at Chelsea I came here and Liverpool were fighting for the title, and the atmosphere was unbelievable. And I said, 'Wow, I want to play here one day.'
"That's why when I was in Rome and there was talk between the clubs, I said I would love to play there, the atmosphere is unbelievable and I wanted to come back to England to prove people wrong, I didn't have my chance there with Chelsea, and I wanted to come back. Also when I was young, I was playing with Liverpool on the PlayStation! So there was emotion between me and the club."
'In my head, I'm the best player all the time'
Salah will go into Sunday's clash at Old Trafford having become the first Liverpool player to score in nine successive appearances, having found the net in Tuesday's Champions League victory over Atletico Madrid.
The Egyptian welcomes Liverpool manager Jurgen Klopp's assessment that he is "the best player in the world" at the moment, and says that the top spot has always been his aim.
"It sounds great to me but I think it's always opinion," Salah said. "I can't say I'm the best player in the world - some people agree, some people not.
"I'm just happy about my performance at the moment, but I would always say it's opinion.
"It's always the ambition to be the best player in the world. I don't have to lie. It's something that drives me to work really hard and just try to be the best version of myself.
"In my head, I'm the best player all the time. I'm trying to have that confidence in my head. It doesn't matter if some people agree with you, some people not."
How has Salah improved?
After scoring 22 goals across 34 Premier League starts last season, Salah left improvement a tough challenge but the Egyptian has managed it so far in 2021/22, scoring stunning solo goals against Manchester City and Watford, and netting seven goals in his opening eight league appearances this campaign.
So what's changed? He said: "I'm always looking at where I can improve. The goal against Man City was my right foot, a tight angle; I'm always practising after training, before training in the gym.
"I'm always thinking, if I'm in this situation, what can I do? How can I finish well? How can I pass the ball to someone to score? The staff here work with me well to practise after training - finishing, cutting inside with the left foot. I'm not thinking I can relax, I'm always looking to improve.
"I'm just trying to help the team. I like to win things, I love the club and I hate the word that we are 'underdogs' or something. We play for Liverpool. If you play for Liverpool, you can't see yourself as the underdog. No, see yourself as a champion all the time, to win things. Hopefully we all believe that."
And which of his two wonder goals was his favourite? "I don't know!" he laughed. "I can choose City because they are a tough team, some of the best defenders in the world, it was 1-1… I'll choose that one over Watford."
Analysis: Salah deal makes business sense
Sky Sports News reporter Vinny O'Connor:
Jurgen Klopp has hailed Salah as the best in the world over the past few weeks and you just wonder, listening to the player, whether that has played a part in things as well.
Salah is right when he says that it's effectively up to the club now as for a player like him, with the numbers he's producing at the moment, would want parity of pay with the best players in the world.
Liverpool must make a decision over whether they can match those kind of demands. The numbers certainly justify it and both Liverpool and Klopp expect Salah to play well into his thirties while having an impact as well.
In that regard, a deal would make business sense as well. There's some way to go in terms of that contract negotiations but it's good news for the supporters that he is at least speaking of the desire to end his career at the club.
'Salah and Ronaldo back up the talk'
Sky Sports' Gary Neville:
"Cristiano was the first person I'd ever heard say that he wanted to become the best player in the world. It was quite unusual to hear it as everyone talks about the team and the collective.
"To hear Mohamed Salah say it in his interview is refreshing but I think you can say these things when you're delivering, and these two [Salah and Ronaldo] have delivered now consistently.
"Ronaldo for 10-15 years and Mo Salah for five or six years and beyond. They're absolutely deadly. They're ruthless and they're clinical. Their standards have always been exceptional and their output has always been good."
'Pursuit to be the best drives Ronaldo and Salah on'
Sky Sports' Jamie Carragher:
"Without a doubt there are similarities. Mo Salah was answering the question from Patrick Davison and he'd answered before Pat had finished it. He wants to be the best in the world, while Ronaldo knows all the stats in which he's top in the Champions League.
"There's a drive in him to be better than Lionel Messi and in Mo Salah to be better than anyone else in the Premier League. Can Salah get to the sort of numbers we saw from Messi and Ronaldo in their pomp in La Liga?
"Of course, these players play for their team but they play for themselves as well and that's not a criticism. That's what drives them on. They're never injured as well.
"They tend to play on if they are as they're always thinking they've got a chance of getting another goal or an assist. The numbers matter to them so much and I just can't wait for Sunday."
Essential Football Podcast: Carra's big-match preview
On the latest Essential Football Podcast, Pete Smith is joined by Jamie Carragher, Michael Bridge and Oliver Yew to preview another bumper weekend of Premier League action.
PART 1 | Jamie Carragher's big Manchester United vs Liverpool preview
PART 2 | Michael Bridge on West Ham vs Spurs, and why Dele Alli my need a fresh start
PART 3 | Arsenal vs Aston Villa on Friday Night Football and Brighton vs Man City on Saturday Night Football: City look devastating again, Cole Palmer focus
Follow Man Utd vs Liverpool on Sky Sports
Follow all the build-up to Manchester United vs Liverpool across Sky Sports News and Sky Sports' digital platforms, including exclusive interviews and expert insight.
Coverage will begin on Sky Sports Premier League and Main Event from 4pm on Super Sunday, following West Ham vs Tottenham; kick-off 4.30pm. David Jones will be joined by Graeme Souness and Jamie Redknapp in the studio, with Jamie Carragher and Gary Neville on the gantry with Martin Tyler for co-commentary.
You can also follow all the action from Old Trafford across our dedicated live blog across Sky Sports' digital platforms, including in-game clips and free match highlights shortly after full-time.
Watch all the post-match analysis and interviews on Sky Sports Premier League, plus read the latest features, pundit and manager reaction on SkySports.com and app.