Sky Sports' Geoff Shreeves sat down with Manchester United star Paul Pogba to discuss comparisons to N'Golo Kante, his best position and much more...
Paul Pogba is tired.
Required to perform a drugs test after the Anderlecht game he travelled back separately from the team and didn't return until 5am. He is understandably less talkative than normal in our interview.


He was as faultlessly polite and punctual as always, but just offered much shorter answers and was less enthusiastic than usual.
It's a disappointingly mundane chat with such a charismatic figure until I ask: "You said in midweek don't judge me on just goals and assists, so what should you be judged on?"
His eyes widened, his chest puffed out and he delivered an impassioned rebuttal of the criticism he has faced covering: N'Golo Kante, his midfield position, his lack of goals, emojis, dancing, haircuts, social media and being "worth" £100 million.
"I've heard Kante is a top, top midfielder, which I agree with. He is a top-class midfielder for what he does. But he doesn't score many goals, does he? They don't speak about this.
"They speak about what he does on the pitch. He gets the ball, he passes the ball and he makes the game. Me, I try to do this.
"I score more goals than Kante but they still say Kante does this and does that. If you want to speak about scoring goals, you should judge every midfielder the same way.
"They only speak about the transfer and about the money. I wanted to say, in real life for a normal person, nobody can be worth £100m.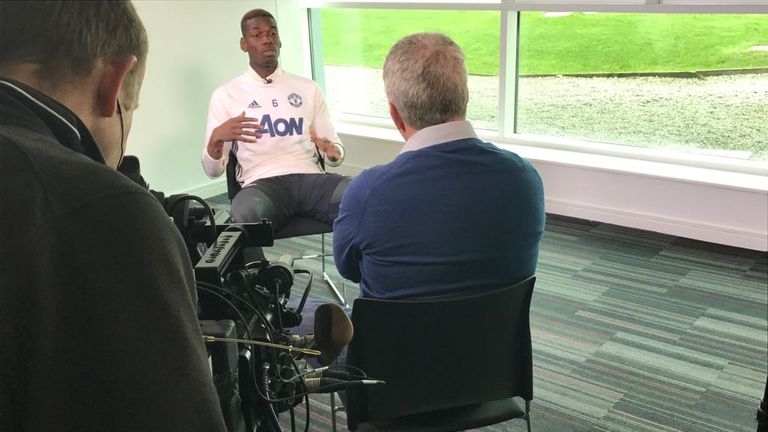 "But if you go back years ago to Neymar, Gareth Bale, it was crazy. It is just the time, the generation is different. They put more money in but in a normal life you cannot say a player is worth £100m or £80m.
"In the football world it happens and now it's done, it is finished. The transfer is done, we cannot talk about this anymore. We have to focus on the pitch and speak about football.
"That's why we love football, it's not about the money or about the hairstyle or the dancing. We want to see beautiful goals, great tackles, fair play and all this stuff.
"If they want to talk about me, that's fine. There's no problem with that but they cannot compare emojis and haircuts with football. What is on the pitch and what is outside the pitch, we don't mix these.
"I just want to play, whether it's on the right or the left. I give 100 per cent all the time. The most important thing is to be a midfielder first, not scoring goals. You have to make the game, make an assist for the team and if you can score it's a plus for the team."
Boy, did he get that off his chest.
It wasn't said with anger or rancour but clearly these subjects touched a nerve. In short, he was telling his critics to stop admonishing him for not scoring goals when they don't apply the same to Kante, who is playing in a similar role.
He also doesn't want to be judged by his upbeat, happy persona off the field, arguing he is as serious and professional as any player at the appropriate time.
"When I am playing I give everything," Pogba added. "It's not like I want to score an own goal or I don't play my best.
"I am playing, I give my best and I want to win every match. When I lose a game I'm not smiling, doing videos and dancing.
"But after the game is finished you have to think about life. You cannot only think about the past, about the game you lost. You have to look forward otherwise you will always stay at the same level.
"I am happy playing football, I am fit, I have two legs and two arms, so you have to smile and to be happy in life. You have a great chance to play football, to see the fans who love Man Utd. You have to show them that you're happy playing football for a big club."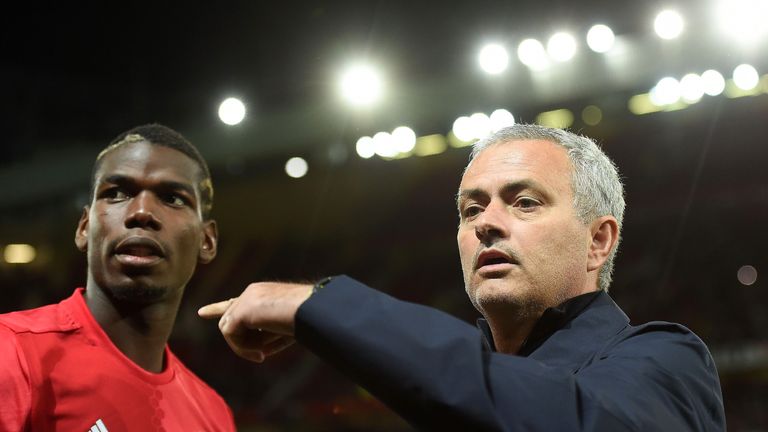 Interestingly, he refuses to appraise his first season back at Manchester United.
"Let us judge at the end when we know what we have achieved."
I strongly suspect that whatever Pogba's assessment may be, it will be searingly honest.
Watch the full interview with Paul Pogba ahead of Manchester United's game against Chelsea, live on Sky Sports from 3.30pm
New NOW TV customers: Grab a Sky Sports Month Pass and watch the race for silverware hot-up, kicking off this Easter Sunday with Man United v Chelsea. All for just £25.