As Manchester United's pre-season tour of the United States reaches its conclusion in Miami, Sky Sports News reporter Vinny O'Connor examines whether Jose Mourinho's pre-season frustrations are justified.
This was not the same Jose Mourinho we saw in Ann Arbor. With a sweatshirt draped over his shoulders, smiles for his coaching staff and players, there was a relaxed air to training in Miami rather than one of frustration.
At one point he broke off to record, what looked like, a video message into a phone, but never did he become detached. The mood very different from the one he exuded in the media room of Michigan's Big House on Saturday evening.
Obviously a 4-1 defeat by Liverpool did not help. Jurgen Klopp's praise of his own youngsters (two of whom now look set to leave, Sheyi Ojo and Pedro Chirivella) also contrasted starkly with Mourinho's assessment that Manchester United are operating with less than 30 per cent of the squad he intends to use this season.
However, the frustration Mourinho vented goes back much further than a pre-season that has not gone to plan. The source of his angst comes back to recruitment.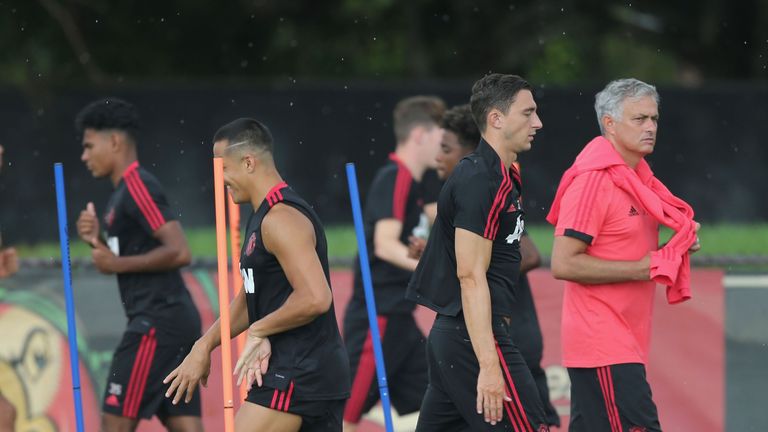 Over the past year, Mourinho has seen Paris Saint-Germain spend £200m on Neymar and £166m on Kylian Mbappe. On top of that, Liverpool have broken the world-record transfer fees for a goalkeeper and defender in the space of six months.
Yes Manchester United have spent an initial £89m on Paul Pogba. Yes Manchester United have spent £75m on Romelu Lukaku. In real terms though, is that really competing with PSG? Is that creating a squad with strength in depth?
Liverpool may have finished six points behind Manchester United last season, but their recruitment drive appears to have given Klopp a more rounded squad compared to one at Mourinho's disposal.
The solution is clear, at least from Mourinho's point of view. He wants more investment in his first-team squad.
United have signed Fred, Diogo Dalot and Lee Grant for a total spend of over £70m, but that has failed to strengthen the problem areas Mourinho believes he needs to address if he is to not only keep the likes of Liverpool at bay, but also close the gap to Manchester City.
He has identified five players he feels can do that, a list he submitted months ago. He says there is a chance of getting two but believes only one will arrive at best.


Centre-back is the key area he is looking to strengthen. Sky Sports News understands Barcelona defender Yerry Mina is his favoured choice.
However, the pursuit of Leicester centre-half Harry Maguire seems to highlight a disconnect, a lack of synergy between manager and those responsible for recruitment.
With nine days to go until Deadline Day, it is ultimately that dynamic that will determine what frame of mind Mourinho will be in when United kick off the new Premier League season against Leicester on Friday Night Football.