Jose Mourinho frustrated with Manchester United's transfer activity
Mourinho confirms he wants two more summer signings but indicates the club will likely only bring in one
Last Updated: 29/07/18 1:57pm
Jose Mourinho has voiced his frustration at Manchester United's lack of transfer activity this summer.
Mourinho has signed Fred, Diogo Dalot and Lee Grant during the transfer window, which closes on August 9, and confirmed his desire to recruit two more acquisitions but only expects one at best.
Sky Sports News understands United have approached Leicester to sign Harry Maguire while fellow centre-backs Yerry Mina and Toby Alderweireld are understood to be other options.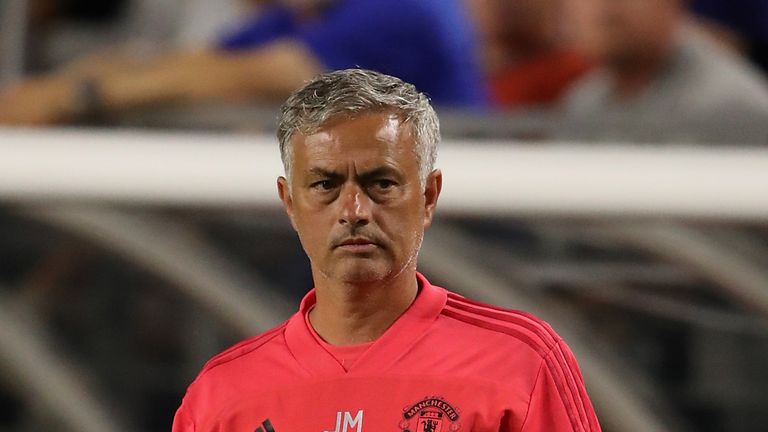 I think I am not going to have two. I think it's possible I am going to have one.
Jose Mourinho
"I would like to have two more players," Mourinho said, after his side were beaten 4-1 by Liverpool in the International Champions Cup.
"I think I am not going to have two. I think it's possible I am going to have one. It's possible.
Mourinho: Matic to miss start of season
"I gave a list to the club of five names a few months ago and I wait to see if it is possible to have one of these players.
"If it is possible it is possible, if it is not possible it is not possible. If it is possible, good, if it is not possible we keep fighting, working and believing in the players that we have."
According to Sky sources, Anthony Martial has told Mourinho he wants to leave the club, with Chelsea, Bayern Munich and Borussia Dortmund keen to sign him.
Matteo Darmian is another player who might leave Old Trafford this summer after the defender reiterated his desire to secure improved playing time, with Napoli interested in his services.
United open the new Premier League campaign on August 10 against Leicester at Old Trafford - a match you can watch live on Sky Sports Football.
Mourinho was also critical of the referee Ismail Elfath after their pre-season friendly defeat to Jurgen Klopp's side in Michigan, saying he had come to officiate the wrong sport.
"The referees they come by mistake - they were called by the baseball federation, thought it was a baseball game," he said.
"They arrived here and it was soccer and they had to be in a soccer game. So, it was good fun."
Get Sky Sports' dedicated football channels for over 500 live matches this season - find out more