Jose Mourinho's attitude may be exaggerated for media, claims Clinton Morrison
Keeper Lee Grant defended Mourinho's attitude
By Liam Grace
Last Updated: 31/07/18 2:43pm
Jose Mourinho's current downbeat demeanour at Manchester United may be exaggerated for the media, says Clinton Morrison.
The United boss has vented his frustration on a wide range of topics during the club's pre-season tour of America - ranging from a lack of transfer activity to some of his squad returning late from the World Cup - while also singling out players including Antonio Valencia and Anthony Martial for criticism.
However, new signing Lee Grant spoke out in defence of his manager on Tuesday and Morrison agreed with his former team-mate.
"He [Mourinho] might be so frustrated with the media but in the changing room he might be saying something totally different to his players," Morrison told Sky Sports News.
"As Lee Grant said, and I know Granty, he would be telling the truth, it looks like from the outside it is not a happy camp but from the inside it might be a very happy camp.
"He's been very frustrated, Jose Mourinho. Over the last few years, it has gotten worse and worse. He looks like he hardly wants to speak to the media."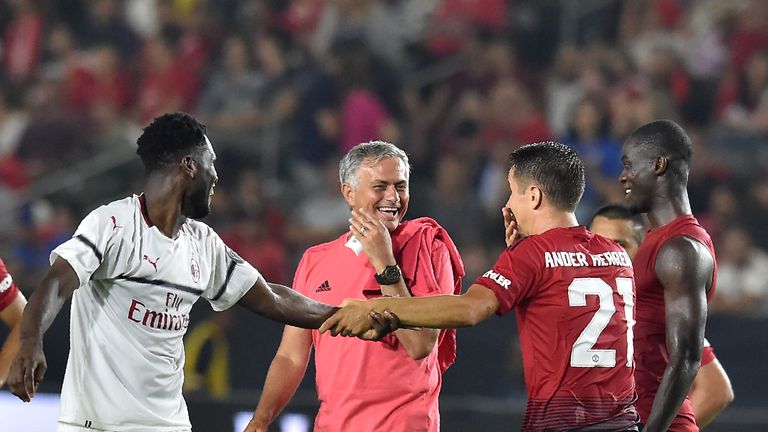 Morrison says United possess outstanding talent and has downplayed the team's defensive fragility.
"They have got talented players at Manchester United, do not forget that," he said. "Paul Pogba was outstanding at the World Cup, so was Romelu Lukaku. Jesse Lingard had a very good World Cup as well.
"Alexis Sanchez has had six months now to adjust at United, they have Marcus Rashford too. The list goes on and on.
"They have got a really good team. Maybe in one or two areas defensively they would like to strengthen but their squad is really good.
"As I said last season, I think if Pep Guardiola was managing that team they would have won the title.
"It's how to get the best out of your players. At the moment, Jose Mourinho probably is not doing it but he's still one of the best managers because of his CV and he has won lots of trophies."
United continue their pre-season preparations against Champions League winners Real Madrid on Wednesday.
Get Sky Sports' dedicated football channels with our new season offer to watch over 500 live games this season. Find out more.
MUTV is the only place to watch all of Manchester United's pre-season matches live, and hear first on new signings. Click here to find out more, or go to Sky channel 418 and press red.