Antonio Conte says the Premier League stands out for its competitiveness and quality across all teams.
The Chelsea manager, who has enjoyed fine form of late with the Blues, has his side sitting second in the Premier League table having finished 10th last season.
After arriving in the summer, Conte says he did not realise how tough the Premier League was, and insists the spread of quality makes it unique.


Conte told Sky Sports: "This league is very tough. When you play in this league you understand that. It has good players, great talent and a good intensity, good passes.
"It is also very difficult to manage here. Yes, you may be winning 1-0, 2-0, but the game is open until the end, and it is important to concentrate until the end.
"You try to prepare to face the Premier League, but when you play in this league, you understand how tough it is. In every team there are a lot of good players, this is the main difference with other countries."
Chelsea saw off Everton 5-0 before the international break, and face Middlesbrough at the Riverside on Sunday, live on Sky Sports 1 HD.
Conte's moved to a back three after the 3-0 defeat by Arsenal in late September, and Chelsea have scored 16 goals without conceding since, but the Italian says his success of late is down to more than just tactics.
"This formation, 3-4-3, was a good option. We started with a 4-2-4. This formation, 3-4-3, was in our plan during the pre-season, and it was a good option. In the squad I saw we had a lot of players who could adapt to this system.
"I think it is important for the coach to find the right fit for the team. In this case, I think this formation is very adaptable for the squad.
"Now I am pleased for the performances, for our work, training, commitment, work rate, and it's important to keep it this way."
Eden Hazard has been in fine form for the Blues after a torrid season in 2015/16, but the notion that the Belgian is doing less defensive work in the new system has been denied by Conte.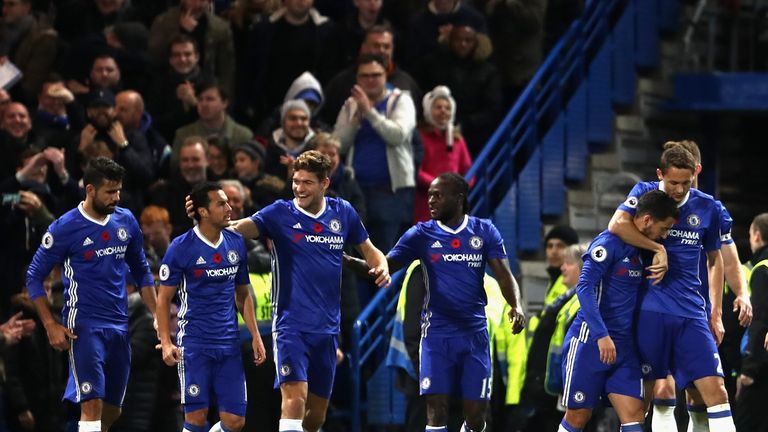 "It's not true. Without the ball, it is important for Eden to help the team and win it quickly, and he is helping the team a lot. He is improving a lot for me without the ball. I am very pleased for this.
"Eden, you can see, is playing fantastic football. I think in this formation we can exploit his characteristics in the best way.
"But now, he must continue in this way, it is important for him and for Chelsea."
Upgrade to Sky Sports now to watch Man Utd v Arsenal this Saturday and get the first six months half price!