Liverpool are poised to sign Serbian midfielder Marko Grujic after Red Star Belgrade confirmed they have accepted a £5.1m bid for the 19-year-old.
Grujic has been the subject of a number of bids after a string of fine performances for Red Star, who are 25 points clear at the top of the Serbian SuperLiga, with both Anderlecht (£1.5m) and Stuttgart (£3.7m) failing with offers.
The move looked to have hit a stumbling block when the player's father revealed he had confiscated his son's passport because of concerns about a move to England.
"I will not let them ruin my child," he told Serbian paper Blic. "His passport is with me and I pronounce that Marko is not going anywhere."
But Red Star have confirmed in a statement on their website that a deal has been struck with Liverpool, with Grujic to stay in Belgrade on loan until the end of the season.
Liverpool have not confirmed the transfer, but the deal is expected to go through in January.
Grujic's father said he had been pressured by the club to do the deal because of financial problems at Red Star and the statement confirmed they had sold reluctantly.
"Everyone at Red Star wanted Marko Grujic to play here for 10 years, but the financial situation of the club dictates a different decision," the statement read.
"We wanted to respect the desire of the player's father to stay until next summer and we agreed to pay Liverpool for a loan of six months. Income from the transfer solves most of its financial problems."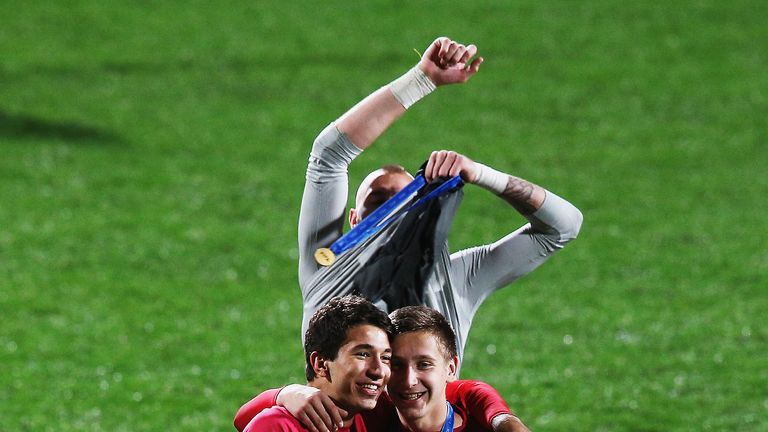 Red Star are also entitled to 10 per cent of any fee from a future transfer.
The statement added: "Marko Grujic should continue to develop at one of the biggest clubs in the world.
"We are convinced, just like Liverpool, that he has the qualities to have a great career in England."