Liverpool have become England's most successful team against top opposition since Jurgen Klopp took charge - but how does that compare to Manchester City's record?
Title favourites City host Liverpool live on Sky Sports this Saturday - but it's the Reds who have become the dominant force against top teams since Klopp replaced Brendan Rodgers at Anfield in October 2015.
Under Klopp, Liverpool have won a table-topping 47 per cent of league games and claimed 33 points from 18 head-to-heads against Tottenham, Manchester City, Arsenal or Manchester United - only losing one fixture to United in January last year.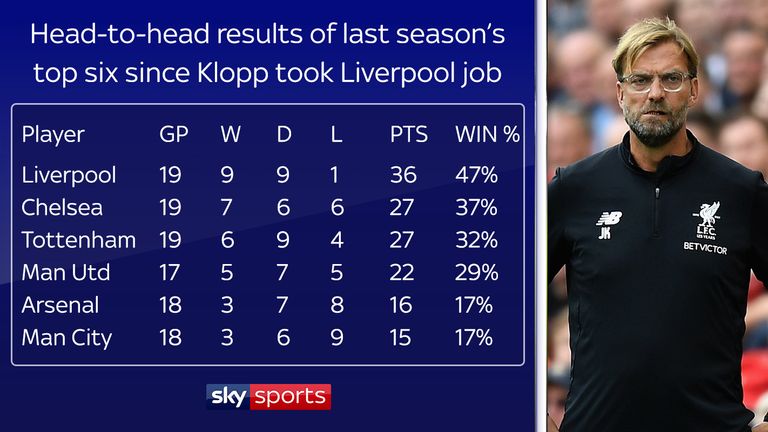 Their nine victories have included three scalps over Manchester City, three against Arsenal, two over Chelsea and one against Tottenham.
So Liverpool's favourite top-six opponents in recent times have been City and Arsenal, winning three out of four league contests against both sides - notching their 14th goal against the Gunners under Klopp during a 4-0 demolition at Anfield last month.
That victory was only the second time any of the six teams have won a head-to-head by a four-goal margin over the last two years - following Chelsea's 4-0 win over Manchester United in October last year.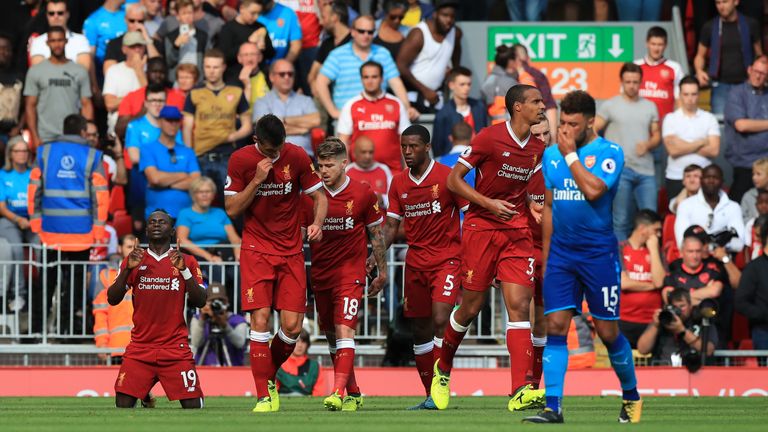 Despite suggestions of defensive frailties in Liverpool's defence, Klopp's rearguard have only conceded 17 goals from head-to-heads during the period - fewer than any other top team.
Liverpool have also blown the opposition away with a table-topping 35 goals and, furthermore, Klopp's record against top opposition has improved season on season.
The Reds collected 13 points from head-to-heads under Klopp in 2015/16, before claiming 20 points last season - a tally only surpassed by Chelsea over the last five years when Jose Mourinho masterminded a 24-point haul in 2013/14.


In contrast, Manchester City's title tilt last term was seriously hindered by their poor record against top teams - only winning two out of 10 head-to-heads and losing four.
In fact, City also have the worst record of all the teams since October 2015, only picking up 15 points from 18 fixtures against their biggest five rivals - winning three games to record a lacklustre 17 per cent win rate.
During that time, City have lost to Liverpool on three occasions, Chelsea twice, Tottenham twice and suffered single defeats against Arsenal and Manchester United.
Can Liverpool extend their record against Manchester City when they travel to the Etihad? Watch Manchester City v Liverpool live on Sky Sports Premier League from 11.30am on Saturday