Liverpool manager Jurgen Klopp says, on current form, Mohamed Salah is the best player in the world after the Egyptian shone in Saturday's 5-0 win over Watford.
After scoring one of the most memorable goals of recent years in the draw with Manchester City two weeks ago, Salah was at it again at Vicarage Road, scoring a breathtaking effort and setting up two other goals in the 5-0 win over Watford.
It was Salah's 10th goal of the season - he has scored in Liverpool's last eight games.
Klopp was in no mood for dampening down the praise afforded to Salah, calling him the best player in the world.
He told BT Sport: "His performance was massive today. The pass for the first goal was great and the second goal was special. He is top. We all see it. Who is better than him? We don't have to talk about what Messi and Ronaldo have done for world football and their dominance. But right now, he is the best."
When asked for his assessment of the overall performance, Klopp added: "It was good! I cannot say differently. After the international break, it is hard to find the rhythm after playing different systems, but the boys were so good despite only having one session before today. I think Watford had ideas, but we didn't let them play. The goals were really brilliant, there was great attitude, energy and character."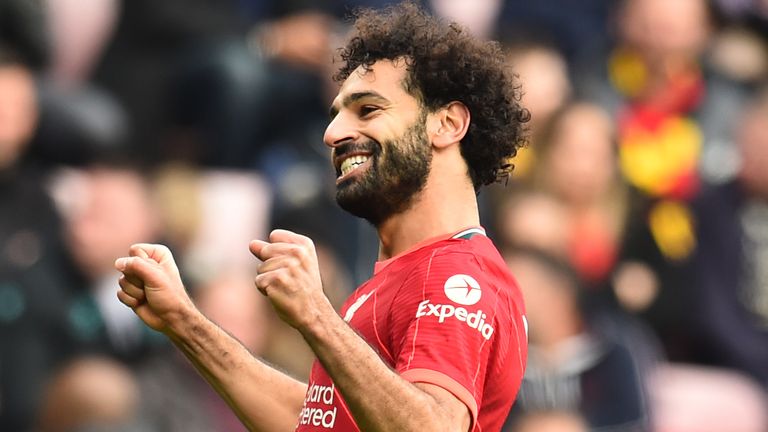 Klopp even suggested that there could be more to come from his Egyptian star.
He added: "He is in his age where you can still improve, and he's doing that constantly. You saw the first goal that he set up for Sadio today, that is an outstanding pass. He brought that, I don't know, from the summer break. After that, he started doing these kinds of things.
"How I said, we don't have hours and hours and hours to train different things. But the boys improve their game by themselves. The consistency he delivers, all this kind of stuff, maybe people just now start seeing it - it was always there. He plays for us for five years now but it's absolutely incredible the way he performs since he's here.
"He's in the top, top five since he is at Liverpool pretty much. And now he is the best in that moment. The big thing between Cristiano and Messi was that nobody had a doubt about it for years, but Mo is already on the top level for years as well and there's still a lot to come from him because of his desire. He just wants to perform on a top-class level."
Salah's stunner: In his own words
Salah now has 12 goals and six assists in his last 15 Premier League appearances with his personal form hitting new levels of greatness. At times, he was unplayable in the win - it was a performance that deserved a goal of such beauty.
When asked if he has ever scored a better goal than this one, he told BT Sport: "In the last game, maybe! I don't know which one was better, this one or the City one. Every time I'm in the box, I'm trying to give the ball to someone to score, or I score by myself. It's always about the team. I always try to play for the team. The most important thing today is we scored good goals, all of us in front scored. Hopefully, we can carry on like that.
"Sometimes I don't have luck to score goals. I'm just trying every time to give 100 per cent from what I have and trying to help the team. Sometimes I have luck, sometimes not. But I'm feeling confident at the moment, I feel like I'm scoring goals, helping the team to get points, which is the most important thing."
In pictures: Salah's stunning goal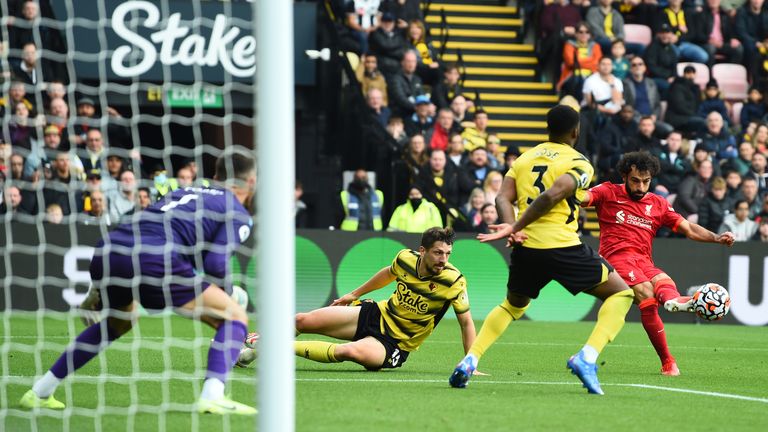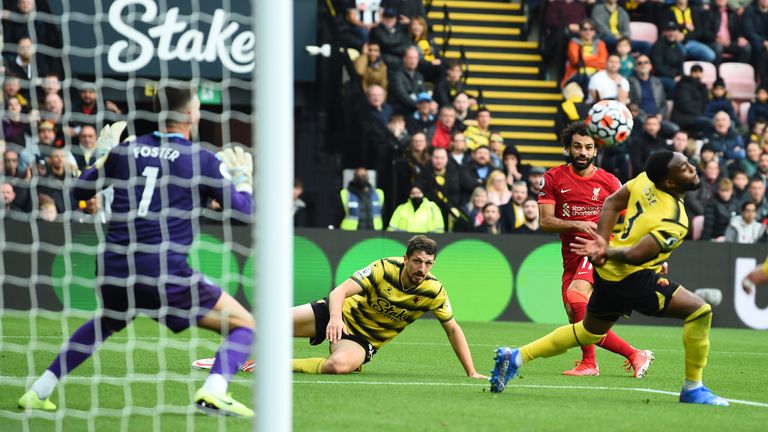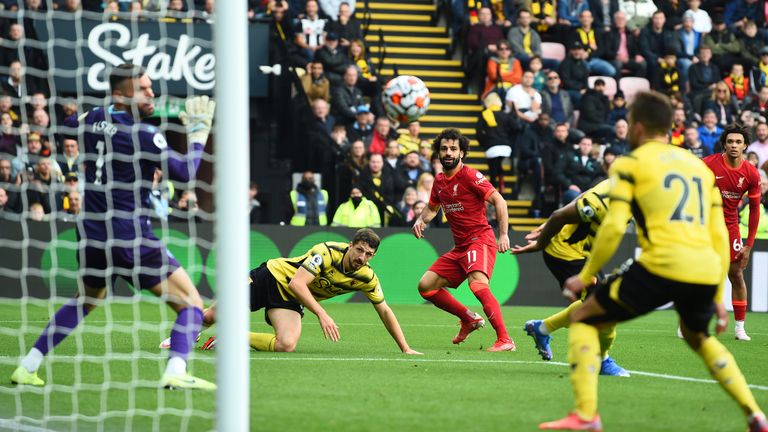 Neville: Salah is special, ruthless, clinical
Sky Sports' Gary Neville:
"I feel he could be [the best in the world] at this moment in time because when I look at Kylian Mbappe, Neymar, Lionel Messi or Cristiano Ronaldo, they're players who have been the best for the past five to 10 years, but they're just not quite at the level right now that they'd ordinarily be at.
"Salah right now is at a level that's really high and has been for the past three or four seasons. He's a special player. He's ruthless, clinical and so single-minded in terms of scoring goals. At this moment in time, he could be."