Theo Walcott leaves Arsenal with a sense of unfulfilled potential
Last Updated: 17/01/18 11:52pm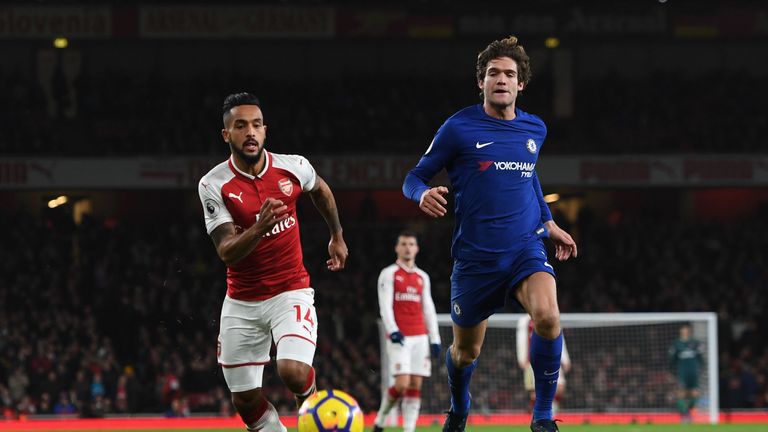 Theo Walcott has completed his £20m move from Arsenal to Everton. What legacy does he leave at the club he joined at the age of 16? His achievements are admirable but the sense of unfulfilled potential is impossible to ignore, writes Nick Wright.
Theo Walcott collected Alexander Hleb's pass, skipped inside Gavin McCann and clipped a looping cross towards the far post as red shirts poured into the Aston Villa box. Jlloyd Samuel could not get enough on his header under pressure from Robin van Persie, and the ball fell at the feet of Gilberto Silva, who steadied himself and rifled a diagonal finish past Thomas Sorensen.
The passage of play which led to Arsenal's first goal at the Emirates Stadium is packed with familiar figures from the Premier League's past, but one man endures. Walcott was a fresh-faced 17-year-old making his Arsenal debut as a substitute for Freddie Ljungberg that day against Aston Villa. Twelve years on, and their longest-serving player is finally embarking on his next chapter.
A lot has happened since August 2006, but at the time there was a certain symbolism to Walcott creating the goal which kicked off Arsenal's new era. With stadium debts to pay off and the Invincibles gradually dispersing, Arsene Wenger was turning his focus to youth. Walcott, together with Cesc Fabregas, was seen as the project's great hope.
Wenger's vision for the future did not materialise and the same can be said of Walcott's perceived potential, but his achievements at Arsenal demand considerable respect nonetheless. He has made more appearances for the club than Thierry Henry and he is not far behind Dennis Bergkamp. Last season, he became only the 18th player in the club's long history to reach three figures for goals scored.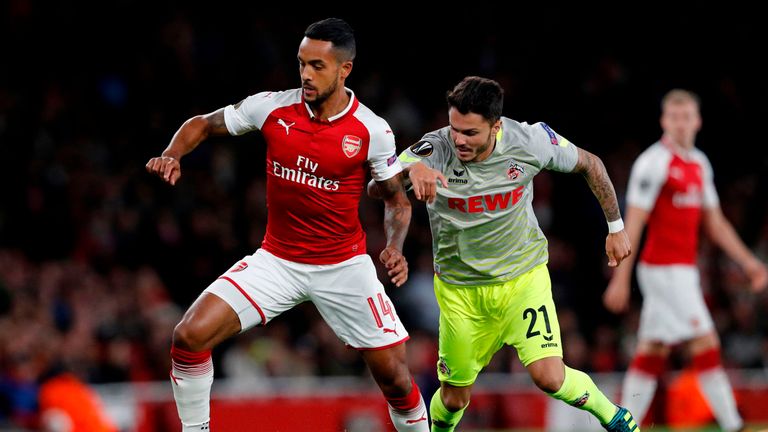 There have been memorable moments along the way. Walcott scored his first goal for Arsenal in the 2007 League Cup final against Chelsea when he was still only 17, he came off the bench to terrify Pep Guardiola's Barcelona in 2010, and he played a key role in Arsenal's second consecutive FA Cup triumph in 2015, breaking the deadlock against Aston Villa with an emphatic half-volley at Wembley.
At his best, Walcott was a lethal attacker with the pace, unpredictability and finishing ability to turn a game in an instant. The problem for Arsenal, however, was that they did not see nearly enough of him at his best. Since top scoring for Wenger's side with 21 goals in 2012/13, Walcott has only featured in 88 out of 174 Premier League games.
Injuries have come at cruel moments. In January 2014, Walcott was in the form of his life, enjoying a rare run of games in his favoured striker role. But after he was stretchered off following an electrifying display in a 2-0 win over Tottenham in the FA Cup third round, it emerged he had ruptured his anterior cruciate knee ligament.
Walcott would not play again for 11 months, missing England's 2014 World Cup campaign and watching Arsenal's FA Cup final triumph over Hull City from the stands. It was exactly a year after the incident until he started another game. It was not until the final day of that campaign - when he scored a hat-trick against West Brom - that he played his way into Wenger's FA Cup final team.
Walcott's injuries have undoubtedly held him back but they do not excuse the inconsistency which dogged him for so much of his Arsenal career. His tendency to drift out of games could be maddening. It exhausted the patience of many supporters and frequently cost him a regular place in Wenger's team.
He fought his way back in on previous occasions but it was difficult to see a way back after he was abruptly dropped in April of last season. Walcott had featured prominently up until then, scoring 19 goals in all competitions, but he seemed to irk Wenger when he questioned Arsenal's desire following their 3-0 loss to Crystal Palace at Selhurst Park.
And so, in what should be the peak of his career, Walcott played just 64 minutes of Premier League action in his final six months at the club. There were goals in the Europa League, but his anonymous showing in the shambolic FA Cup defeat to Nottingham Forest goes down as his final start in an Arsenal shirt.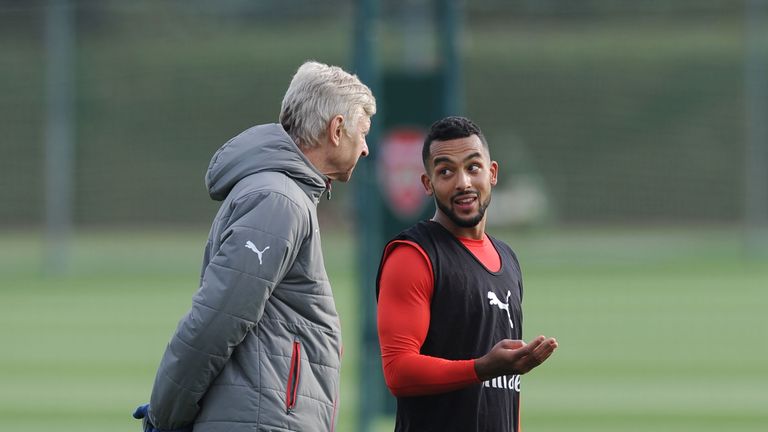 It is a sad end to a career which promised so much. "I think he should have moved on a year ago," says Sky Sports pundit Charlie Nicholas. "He was always behind Alexis Sanchez and Mesut Ozil, but when the likes of Alex Iwobi came in ahead of him he should have accepted it was time to go.
"He should have said that to the club in the summer. Because as much as he's struggled to fulfil his potential, this season has been the biggest waste for him. He has been in his comfort zone for too long and it is time he manned up and moved on while he still has something to offer elsewhere."
Out of the comfort zone and in the new surroundings of Everton, it's now time see if Walcott can improve his fortunes away from Arsenal. His place in their history is assured, but thinking back to that opening day at the Emirates Stadium is a reminder that his legacy is not quite what it could have been. It's a cause for regret on both sides.