Unai Emery says Arsenal must improve, but is remaining calm
Arsenal were beaten 3-2 by Chelsea on Saturday
By Gerard Brand
Last Updated: 18/08/18 10:25pm
Arsenal manager Unai Emery insists he is calm about his side's start to the season, but knows they must improve.
Emery has now lost both of his opening games as Arsenal boss, going down 3-2 at Chelsea on Saturday after an opening-day defeat against champions Manchester City.
The Spaniard, who took over from Arsene Wenger in the summer, is remaining positive, but is under no illusions that the balance in defence and attack needs working on.
Chelsea pip Arsenal after thriller
Feature: Emery has so much to do
He said after the defeat: "We need to improve, and to be competitive each match, and know, or learn in the match.
"We conceded more moments to Chelsea in the second half. Our process is continuing. [We want to] improve things, the balance in defensive and attacking moments, and with young players and passion. Today we finish the match with two midfielders, 22-year-old Lucas and 19-year-old Mateo.
"Firstly, I am calm when I look at my team creating chances. But we need to continue working. I know that maybe you have one moment where [Chelsea] do not score the three chances. I am calm with that.
"I think we need to give them, the players, calm. And to continue working. I know we need to improve things, I know we need to push the players to work, but for me there are many positives from the first match against Man City.
"I want to do the balance with the attacking and defensive moments, because I think we conceded a lot today to Chelsea, and I think also in the second half we needed to keep the control in the match, with the ball and the positioning."
Regarding Mesut Ozil, who had a quiet game at Stamford Bridge, Emery is adamant he is happy with the German's performances on match days and in training.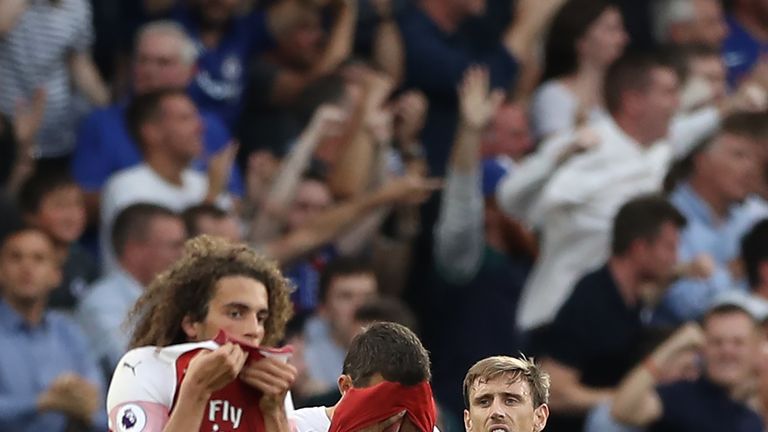 Emery also says Arsenal need players of Ozil's quality to play to their limits, but insists he has worked hard so far.
"We need his help, with his quality, and also I want to push him to be competitive every match," said Emery.
"Today I am happy with him, because he worked. I then decided to change because I think we needed in the middle some more push, to not let Chelsea progress easy with the ball, to not defend so deep.
"But I am happy with Mesut, and we are going to do with him the same work, the same help, and demanding also for work every day.
"At the moment, what he is doing I am happy with. He is one player who I am sure who will do a good season."