Mauricio Pochettino: Tottenham know my commitment, I've rejected plenty of offers
Watch Arsenal vs Tottenham Hotspur on Super Sunday - with guests Jose Mourinho and Sol Campbell - from 4pm on Sky Sports Premier League; kick-off 4.30pm
By Calum Wilson
Last Updated: 31/08/19 10:47am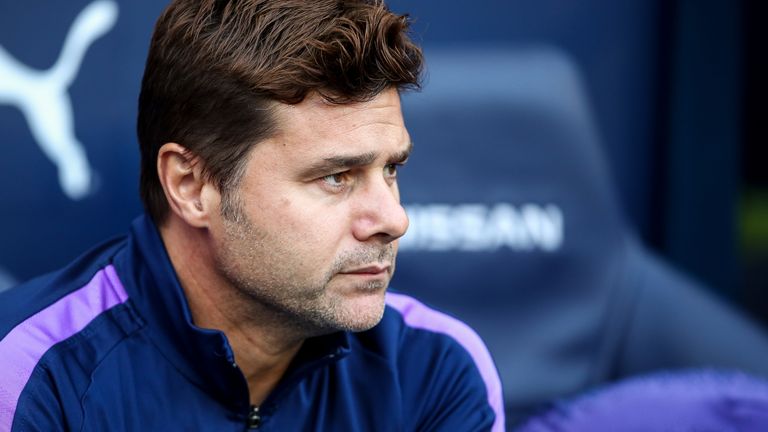 Mauricio Pochettino has reiterated his commitment lies with Tottenham after revealing he has turned down plenty of job opportunities elsewhere.
The Argentinian gave a stern response to questions about his future at the club, ahead of the North London derby with Arsenal live on Sky Sports, describing rumours that he could leave after Sunday's game as "stupid".
Following Tottenham's shock 1-0 defeat at home to Newcastle last weekend, Pochettino met with chairman Daniel Levy for dinner in an effort to gain "better communication" between the pair and set out "a plan for the future".
Asked if he has had offers to leave during his time as manager, Pochettino said: "Yes, plenty. From everywhere. Daniel [Levy] knows."
He added: "Daniel knows very well our commitment to the club is massive. It is more than normal. Sometimes it is tough to explain but I think that is normal for different managers.
"If you ask [Pep] Guardiola, if you ask [Jurgen] Klopp and all the best managers, they will have received calls from different clubs. That does not make it special to me.
"I don't want it to be used to say: 'Look how good I am because I said no'. My commitment is with the club."
When pressed to explain more about those offers and whether he was ever close to leaving Tottenham, Pochettino said: "No I wasn't close. Last year when I signed the contract here it was because I wanted to help the club to finish the move to the new stadium and not create an issue.
"In this moment it was easy to say: 'After four years it is good to try and find another challenge' and move on but we showed our commitment.
"It is because I care about the club. I care about Daniel and our personal relationship.
"We knew it was going to be a difficult summer. We knew it was going to be impossible to sign players and move players. That is why we need to all be on the same page to have a plan for the future.
"I am very happy to be here. I am very proud. Five years ago we started a project and now we are one of the best clubs in the world. Now it is about trying to find a way to keep being competitive for the present and the future."
Who paid for dinner?
Pochettino says his dinner with Levy, which assistant coach Jesus Perez also attended, was "very positive" and vital to make sure they were all "on the same page".
"It was a very good exercise to have better communication and to make things clear," Pochettino explained.
"These are not personal intentions. The intention was to help the club. The intention in my posture, my speech or my decisions are always to try and make the best for the club. This is our principal objective.
"It is good to listen to the club and Daniel."
But, the key question is: Who settled the bill - Levy or Pochettino?
"I don't know because when the bill arrived we were gone," the Tottenham manager joked.
Arsenal vs Spurs: Evolution of a rivalry
The north London derby is the capital's stellar fixture and one of the most passionately-contested clashes of the season.
After Arsenal's dominance in the modern era, Tottenham supporters will feel they have gained the upper hand over their rivals with three successive finishes above the Gunners since 2016/17.
This season, Spurs have suffered an unconvincing start, while Unai Emery's Arsenal produced back-to-back wins before being outplayed at Liverpool.
Click here to take an interactive look at how the competition between the two London clubs has evolved throughout the Premier League years.
Watch Arsenal vs Tottenham live on Sky Sports
Arsenal vs Tottenham is live on Super Sunday from 4pm; kick-off is at 4.30pm. Sky Sports customers can watch in-game clips in the live match blog on the Sky Sports website and app. Highlights will also be published on the Sky Sports digital platforms and the Sky Sports Football YouTube channel shortly after the final whistle.