Harry Kane has said to play with Manchester City's Kevin De Bruyne would be a "striker's dream".
City have already been heavily linked with the Spurs striker, who has told Tottenham he wants to leave the club this summer, and his remarks on De Bruyne, made to Gary Neville's The Overlap YouTube channel, will only fuel speculation that Kane may prefer to move to the Premier League champions.
"When I watch De Bruyne play he's a special, special player and some of the balls I see him put in for City are just a striker's dream if I'm honest," said Kane. "He's an outstanding player with the ball, off the ball, pressing, but his delivery is as good as I've ever seen to be honest."
Sky Sports reported earlier this week that Kane wanted to remain in the Premier League and the 27-year-old confirmed to Neville that he has no plans to play abroad.
"Of course there's always the option of maybe moving abroad one day but I don't think that really interests me in the near future," said Kane.
The Overlap is a new YouTube channel from Gary Neville in partnership with Sky Bet.
Kane reflects on Pochettino relationship
Kane and Mauricio Pochettino spent five-and-a-half years together at Spurs, but the former insisted it wasn't all plain-sailing at the start of his reign.
"Mauricio was great from the moment he came in. He came in and I was a starter and I was straight in the team but it actually took a little two-three month period. I had an injury the season before at the end of the season, I came back to pre-season a little overweight.
"I just wasn't as sharp as I could've been. He was the perfect guy for me to come into because we worked so hard, training was so tough. We did a lot of work in the gym. I was at a real development stage of my career. I was kind of just developing into my body and things like that and with that extra training, extra gym work, his guidance in that aspect," Kane said.
"He gave me a lot of confidence. I'd been playing in the Europa League with him, scoring goals and waiting for that opportunity in the Premier League. Thankfully the goal at Villa away. I scored that deflected free-kick - from then, I obviously pretty much started every game with him.
"We built up a real good relationship. We understood each other, not just football but personally as well. We had some great years and great moments and obviously would've loved to have won something with him, won a trophy with him. It didn't quite happen but I will always cherish the relationship and the years we had together for sure."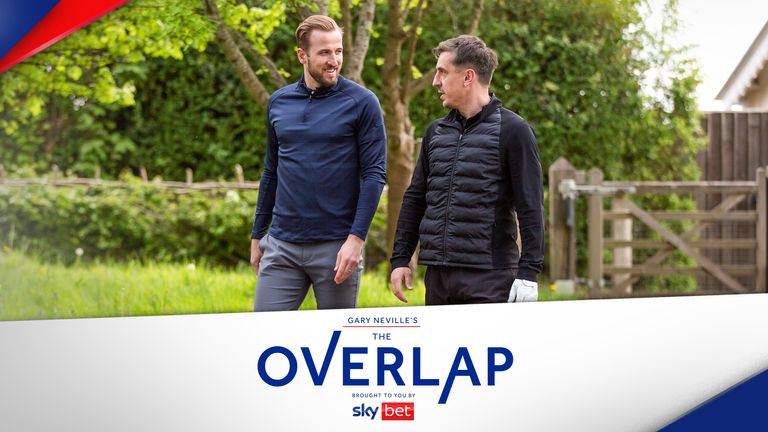 Lack of leaders under Jose
Jose Mourinho came to Spurs in November of 2019, but it was this current campaign where he really got the best out of Kane. A steady 22 goals and 13 assists later, it is fair to say he did just that, but what were the frontman's thoughts?
"It was pretty much completely different if I'm honest. In the style of play, the way they set up, the tactical training we would do. Obviously Mauricio, we would do a lot of gym work, it was gym based whereas Jose wasn't so much into that but Jose obviously expected us to be men and act like men on the pitch, have leaders on the pitch.
"To be honest, that's probably where it didn't quite work out with Jose we didn't quite have enough leadership that we needed at the time. The club was in a difficult stage - with Mauricio getting sacked it's never easy for a new manager coming in. I think with Jose I had a great relationship with him - we got on from minute one.
"I think we understood each other, we had a similar mentality and how we saw stuff on the pitch, off the pitch and mentality in training so we kind of built that relationship. Again it's a shame we couldn't go on to win things but I've been lucky enough to work with Mauricio & Jose, they're two incredible managers that have only helped me in my career for sure.
"It was more on the pitch, this is what we need to do, this is how we need to set up. Training on the pitch, then he almost left you to be professional outside of it, he didn't look after us and babysit us. We still had gym sessions that sports science guys would put on but he wouldn't, he kind of expected that almost. We're professional footballers, he shouldn't have to tell us to do the gym, it should be a given."
Streetwise Spurs
Tottenham were certainly more dogged, cute and resilient in their all-round play under Mourinho, but does Kane believe that he was constantly looking to instil this within his players?
"Yeah, I think so. Like I said Jose's got so much experience in the biggest of games at the biggest of clubs and that's what I mean by saying we had a similar mentality in that aspect.
"Do anything to win, and that's the game. Jose just wanted to win. That was the mentality he was trying to put into the players at Spurs, do anything to win and I think like you said we did become more streetwise, but maybe there was relationships that didn't quite work there. From my point of view, he was great for me.
Mourinho sacking: 'Jose's a winner'
Jose Mourinho was sacked just six days before Tottenham's Carabao Cup loss to Manchester City, which came as a shock to more than most across the country.
"I was surprised, I mean I've said that before. I was surprised at the timing of it. Like you say, it was the decision of the club, Daniel would've had his reasons for doing it but I was surprised obviously.
"Jose's a winner, we know Jose's record in finals and things like that. I said before, we found out maybe five minutes before everyone else did. Whether it was something they thought about for a while or it was just an in-the-moment decision, I'm not too sure.
"We found out not long before everyone else. I understand chairmen have to make tough decisions in tough times so I've never knocked someone for doing anything because I'm not in their position and I don't know all the ins and outs, but I was surprised.
"Ryan Mason has come in, full credit to Mase, I think he has done incredibly well to handle the situation. It's not easy coming in when a manager has been sacked - it's his first role in first-team management. He's played with a lot of us, so it isn't easy coming in and being a manager, but he hasn't tried be to like this power hungry manager. He's just come in and been himself and I think the boys have really taken to that," explained Kane to Neville.
Country over club
Heading into Euro 2021 with England one of the favourites for the competition, Kane expresses just how much it means to pull on the England shirt and represent his country on the greatest stage of them all.
"I love my country and I'm extremely proud to play for my country so it means everything to me. People ask me if I'd rather win the World Cup or the Premier League and I've always said the World Cup.
"To win something with England, for me, would be a moment I would truly never forget and it'd be one of the proudest moments of my life so I'm excited to have the opportunity to do that. I'm just a very passionate man about my country, country comes first.
"It is probably unusual in modern-day football but it's just the way I am, the way I've been brought up. I used to love watching England play growing up. I used to go to the pub with my family and sing all the songs. I'd shed tears when we go out. Putting on the England shirt for my debut was the proudest moment of my professional career without a doubt and now to be captain and lead the boys out is just a real special feeling every time I do it."
The Last Dance
The England captain has netted 22 Premier League goals this campaign. While he is recognised for finding the back of the net, and in the hunt for another Golden Boot with Mohamed Salah, Kane tops the charts for assists, but where did he take inspiration from in order to add this to his game?
"It's the first time I've told anyone this, but do you know what it was? I was watching the Michael Jordan documentary, I watched him and how he developed his game to either attack or defend. He literally wanted to do everything for the team and I've gone into this season thinking I want to improve, I want to get better. How can I do that?
I've always dropped as a player, I always wanted to drop into the hole but I guess it was more that I wanted to be involved in the game as much as possible. Sometimes as a number nine you might not touch the ball for five or 10 minutes if we're under pressure or can't quite get the ball into the final third.
"I just said to myself I want to be involved as much as possible. If I have to drop into midfield I would do that and it almost worked well with Jose because he saw that in my game pretty early and he made it clear to the wingers or the other attacking players that if I drop, they have to run - they've got to create that space.
"The relationship with Heung-min Son just blossomed and every time I got the ball, he was running in behind and I think it caught a lot of teams out early on in the season. My game differed a little bit but like I said I always back myself as a passer or someone who can play a long ball, through balls so yeah it's a part of me that I just wanted to improve and get better at - I saw the opportunity to do that.
"That's just off watching (Michael Jordan) and maybe a little bit of inspiration of how he became the best player ever. Even down to the corners and the defending, I like defending in training, I like to see maybe what it's like as a defender going up against an attacker so I like to see different body positions, but I back myself as a defender.
"I feel like I can play most positions on a football pitch so when I'm defending corners, I feel confident that if the ball comes, I'm heading this away and if I block a shot, it's not as good as a feeling when scoring a goal - I won't go that far but I just want to be involved in the game. I want to do as much as I can to help the team and I feel like I've done that this season.
"It's one of them but I'll always back myself to score goals even when I had five or six more assists than what I had scored. I've always known the goals were there, but it isn't like I just dropped deep and would then stay there. I'm dropping deep to then create space for myself a lot of the times to then go in and arrive late into the box.
"Sometimes as a number nine, for the centre back if they're always in front of you, the crosses are coming, he's there and I have got my arms on him but if I've dropped into midfield, played it out wide and then ran into the box and there's someone else in the box, it's like where is he and who do I pick up?
"In that aspect, I was always comfortable that I would still score goals. To have the assists is something that I've added to my game and it's nice to have that and be on top of that leaderboard as well," said Kane.
The European Super League...
As we are all aware, the European Super League came out of nothing but was disbanded almost as quickly thanks to the reaction of fans across the board and of course Gary Neville who helped with the charge. From a player's perspective, what were their thoughts though?
"We didn't know a thing about it so we were as surprised as anyone else - we woke up and were going in to this Super League so again I agree, I didn't like the idea of it.
"I think just the competitiveness, what are you playing for? If you're not winning the league, what are you playing for? There has to be some reward for being in the top four or top six, so that aspect of it I just really didn't like so I'm happy with the outcome.
"I'm sure there's going to be some sort of second wave probably. I think they really underestimated the reaction of what it was going to be like for the players and fans. Again, we'll have to wait and see but I'm happy that it didn't go through," Kane reiterated to Neville.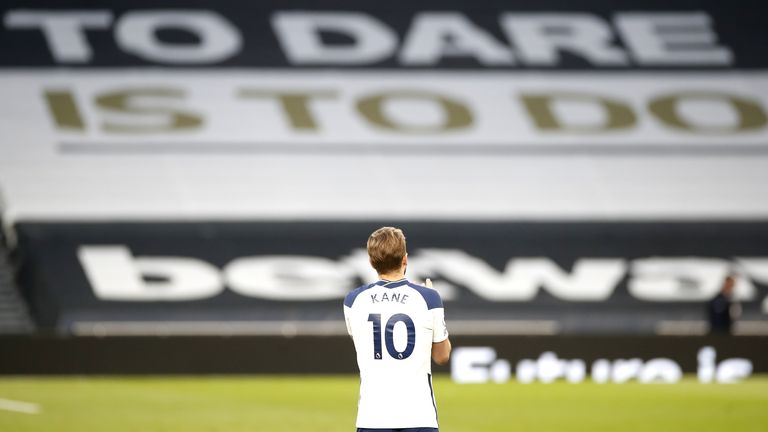 In the interview with Neville which was filmed two weeks ago, Kane said he did not want to end his career with any regrets and reiterated his desire to win trophies "season in, season out".
The 27-year-old has previously spoken of his desire to win trophies - something Spurs have been unable to do during his time at the club - and Kane said: "I don't want to come to the end of my career and have any regrets. I want to be the best I can be.
"I never said I'd stay at Spurs for the rest of my career and I've never said I'd leave Spurs. People might say, 'he's desperate for trophies, he needs trophies', but I feel like I've still got almost another career to play.
"I've got seven, eight years, kind of what I've already had in the Premier League. So I'm not rushing anything, I'm not desperate to do anything."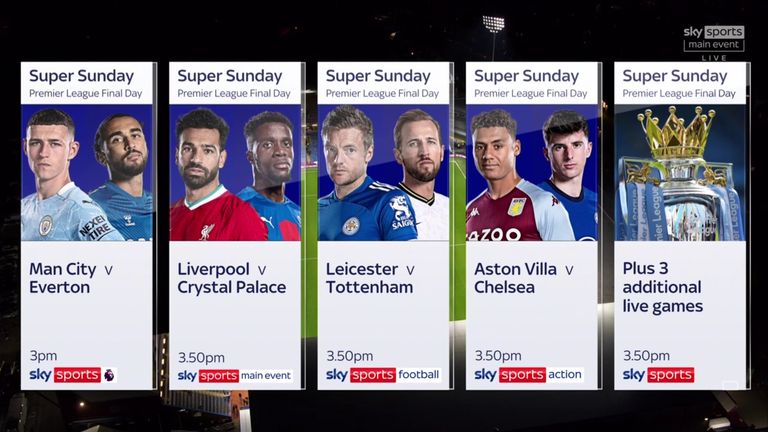 The race for a top-four finish in the Premier League will go to the wire, with seven games live on Sky Sports on the final day of the season.
Chelsea climbed up to third and dented Leicester's prospects of Champions League football with a 2-1 victory at Stamford Bridge on Tuesday, and Liverpool took advantage on Wednesday, leapfrogging the Foxes with a 3-0 win over Burnley to take control of their fate
Just one point and goal difference separate three sides heading into Sunday's finale - and you can follow all the drama with Sky Sports.
Liverpool vs Crystal Palace, Leicester vs Tottenham and Aston Villa vs Chelsea will all be live on Sky Sports channels as the season reaches its climax and the Sky Sports cameras will also be at the Etihad to see champions Manchester City lift the trophy after taking on Everton.
Live Renault Super Sunday


All games kick off at 4pm on Sunday May 23:
Man City vs Everton - live on Sky Sports Premier League from 3pm
Liverpool vs Crystal Palace - live on Sky Sports Main Event from 3.50pm
Leicester vs Tottenham - live on Sky Sports Football from 3.50pm
Aston Villa vs Chelsea - live on Sky Sports Action from 3.50pm
West Ham vs Southampton - live on Sky One from 3pm
Arsenal vs Brighton - live on Sky Sports Arena from 3.50pm
Fulham vs Newcastle - live on Sky Sports Mix from 3.50pm
- All games will be available on the Red Button on Sky Sports Premier League and Main Event.