Tottenham boss Andre Villas-Boas has no regrets about turning down PSG
Andre Villas-Boas admits it was flattering to be approached by PSG, but has no regrets about staying with Tottenham.
By Patrick Haond
Last Updated: 26/09/13 5:01pm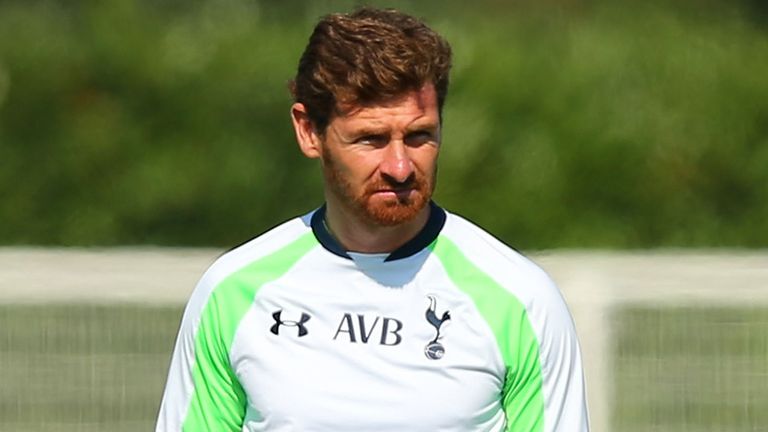 Following Carlo Ancelotti's departure to Real Madrid, PSG considered a number of names, one of which was Villas-Boas.
The Spurs boss admits that he was tempted by a move to the French capital but he is happy to have remained at White Hart Lane.
"PSG? I have a very good relationship with chairman Nasser al-Khelaifi, I talk regularly with him," Villas-Boas told French daily L'Equipe.
"With Nasser we have mutual respect. The fact PSG contacted me was known but I wanted to stay a second season at Tottenham, building on the job I did last season and spending two seasons in the same club for the first time in my career."
The Portuguese coach says the fact Spurs took on board his opinions on matters such as the appointment of Franco Baldini as sporting director played a big part in him staying.
"The club listened to me on several decisions, notably hiring sport director Franco Baldini. I wanted to go on with the project here," he continued.
"I was attracted by the PSG project, indeed I believe PSG is attractive.
"If other people like the way you coach, it is flattering - but Tottenham is a very great club. PSG is experiencing structure change that Tottenham has already done. Tottenham is one step ahead.
"Considering the last two years of investments at PSG, the ambition is to win the Champions League, our ambition is be in it."
Despite his contact with al-Khelaifi, the Spurs boss says PSG's interest never got as far as to him having to turn down a firm approach.
"Did I receive a concrete offer from PSG? We never reached that step in our talks," he said.
Bale departure
Villas-Boas also had to deal with further upheaval at White Hart Lane this summer as star man Gareth Bale moved to Real Madrid for a world-record fee after months of wrangling.
"With the departure of Gareth Bale, players take on more responsibilities," he said.
"They know if they are good, people will more talk about them. So they have good reasons to shine."
And Villas-Boas admitted that while Bale may not yet be as good as Cristiano Ronaldo, he could be.
"He has the potential. But Ronaldo already confirmed that during his four years at Manchester United before he left," he said.
"Gareth only exploded in one year. Considering his potential, he could have the same influence, but it will depend on the way he adapts. At Real, he won't be the star as he was here."
Asked if Bale was worth the world-record fee, he added: "That is the market. He could have cost much more."
Villas-Boas admits he is tired of being likened to his compatriot Jose Mourinho, having followed the same path from Porto to Chelsea and also being part of his back-room staff earlier in his career.
"Comparisons with Mourinho are difficult to accept for several reasons," he said.
"I learnt with Jose Mourinho, but I am completely different with my character, my working methods and my communication.
"We have different philosophies. Of course Jose has been very important in my career, he gave me experience I could not get with anyone else. We have a great professional relationship, but as soon as we parted I started to do things my own way.
"My philosophy is to have attacking teams that have initiative in the game, that like to keep the ball. Any match we play to win it and sometimes we pay for that."
Villas-Boas admits he was disappointed not to have worked more closely with Mourinho during their time together.
"I was not Mourinho's number two, I was part of his staff in several clubs, but I never was his assistant," he said.
"That is one of the reasons why we parted. I thought I could give him a lot more, but he didn't feel the need to have someone beside him."
Chelsea lessons
The former Chelsea boss admitted that he learnt a lot from his short stint at Stamford Bridge, but he did change his methods after his spell in West London.
"Chelsea was a good experience to me because it allowed me to understand there are things I could not do," he revealed.
"I was the same coach I was in Porto. I wanted the team to follow my direction but I didn't find enough support to follow that direction.
"That experience taught me a lot and now at Tottenham I do things a different way. It is a matter of dynamics: if you win on the weekend, the leaders will follow you. And at Chelsea you are quickly under big pressure.
"Now I manage things a different way with key players. At Chelsea, I treated everyone the same way. But to make such decisions you have to get the club's support and you can't find it everywhere. At Porto, you get it.
"Chelsea was an experience to have. It made me stronger. I failed indeed. I had to win and I failed. Was it an impossible mission? It could have been possible, but indeed maybe it was impossible."
Villas-Boas admits Spurs' ambitions for the future were the main thing that persuaded him to take the White Hart Lane job, as he had a lot of options.
"I had contacts with a lot of teams, but I had a good talk with Tottenham and I felt there was something great to achieve: new stadium project, a chairman who wanted to develop his club," he said.
"The objective is to stabilise the club in the English football elite so that means playing in the Champions League regularly. Last year, we failed. Sometimes we were very strong but we had a gap in March and April."