Newcastle United boss Rafa Benitez in the dark over investment stories
Last Updated: 01/10/17 10:50pm
Newcastle United manager Rafa Benitez says he is in the dark over reports claiming the club are in negotiations with a number of potential investors.
Newcastle drew 1-1 with Liverpool at St James' Park on Sunday afternoon, a result that sees Benitez's side move up to ninth in the Premier League.
However, when asked if he knew anything about stories claiming Newcastle owner Mike Ashley is attempting to move the club forward, the Spaniard was tight-lipped
"I could not hear anything during the 90 minutes, I was just concentrating on the nose and [Philippe] Coutinho and Co!" said Benitez after the match.
As for the game itself, it was the home side's resilience in responding to Philippe Coutinho's long-range opener - thanks to Joselu's 36th-minute equaliser - that most pleased Benitez.
"I liked the way they were working, the understanding of what we needed to do and against a good team," he said.
"We knew we needed to do this and that, but we could not as they are a good team and were on top of us. But more than anything, the team spirit.
"I was really pleased to play this type of game as when you see where Liverpool is now, the fantastic support that they have, the quality of the squad, a great manager, so a lot of things you can see from them that is positive.
"And really pleased to get a draw with them and hopefully we can continue and then go to Anfield and get something more."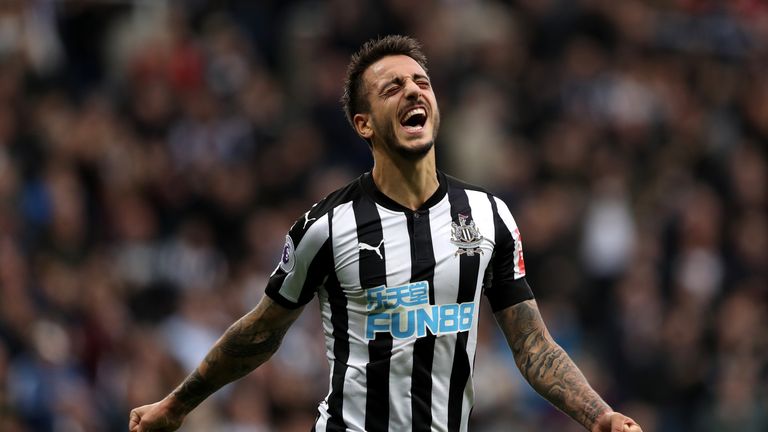 Former Liverpool midfielder Jonjo Shelvey created Newcastle's leveller with an inch-perfect through ball that Joselu tucked away.
And the England international will now be given more opportunities to feature for the club, according to his manager.
"It is not fair just to talk about one player, everybody was working very hard and Jonjo was one of these players," said Benitez.
"So if he is working like today, then he will have more chances for sure."