Rafa Benitez says Newcastle dinner with Mike Ashley was 'pleasant'
Newcastle players didn't hold crisis meeting ahead of Man Utd trip on Saturday - Benitez
By Zinny Boswell
Last Updated: 05/10/18 4:21pm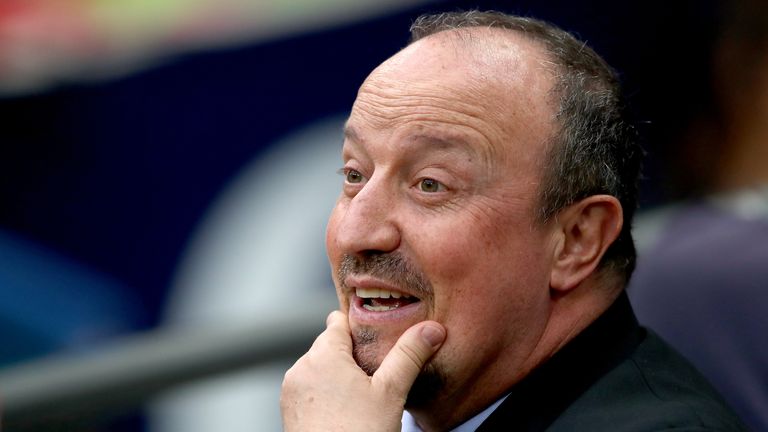 Rafa Benitez says Wednesday's dinner with Newcastle owner Mike Ashley and the first-team squad was a "pleasant" affair, in which "everything was discussed", but refused to offer any details of conversations.
Ashley took Benitez and the squad to dinner in Newcastle - for pasta and pizza - on Wednesday in an attempt to establish a better working relationship.
Benitez fined £60k for ref comments
Despite it being just the fourth meeting between Benitez and Ashley during the Spaniard's two-and-a-half-year spell in the north-east, the Newcastle boss insists the dinner held no significant importance for his or the club's future.
"It was a pleasant dinner - that's it," said Benitez, ahead of Saturday's Premier League trip to Manchester United.
"Everything that we were talking about will stay between us. Normally, in all the teams I have been, we used to have some kind of dinner with the owner or the president. It is something very common in football.
"I will not talk too much about that, because we have to concentrate on the game. We have a very important game to play. As I said, it was a pleasant dinner, we talked about everything and now we have to concentrate on football.
"There was a good atmosphere, the players are fine, everybody was relaxed and that's it."
Benitez, whose deal expires at the end of the season, was pressed on whether the topic of a contract renewal was discussed.
The former Liverpool and Real Madrid boss, with a smile on his face, said: "We were talking about Manchester United - how difficult [it will be], and what we have to do to beat them."
Benitez, however, denied claims the squad held their own crisis meeting in a bid to improve performances after failing to win in their opening seven Premier League games of the season.
Dubravka: Newcastle need team meeting
Asked if reports were correct, he added: "It is not true. We had a normal meeting like every Monday, watching the clips and the videos of what we did right and what we did wrong.
"It was a normal meeting, we didn't have any special meeting."