Gabriel Jesus was Manchester City's two-goal hero, scoring a late winner over Swansea on his full home debut. The performance justified his selection ahead of Sergio Aguero, but what is it about Jesus that Pep Guardiola prefers? It's a pressing issue, writes Adam Bate...
Could this be the end for Sergio Aguero? "It could well be," said former Manchester City striker Niall Quinn when asked on Sky Sports. "I don't like saying it as he's been like a god to those Man City fans over the years." Aguero has been a god but Jesus has arrived now.
Gabriel Jesus has certainly made a stunning impact. After netting his first goal on his first Premier League start against West Ham in midweek, he added two more in the home win over Swansea - scoring a stoppage-time winner to confirm his new fan-favourite status.
City's long-time first-choice striker Aguero had joined him on the pitch by that stage and Pep Guardiola has been keen to stress that the Argentine has a role to play. "Everyone knows that we cannot achieve our goals without his contributions," he said in midweek.
But for now those contributions are having to come from the bench with City's new front three of Jesus, Leroy Sane and Raheem Sterling in impressing form. Guardiola says the trio are "the future of the club" but what is Jesus doing right now that Aguero is not?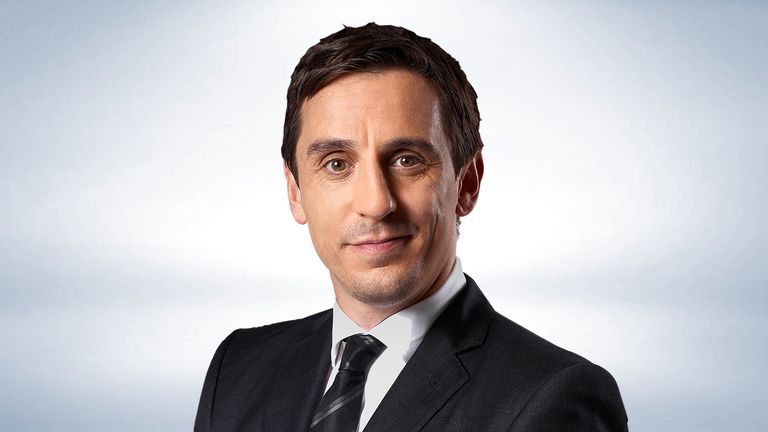 He's got more movement than Aguero. Aguero is a sensational player but you can see already that Pep Guardiola is taking this more in the direction of the team he wants. Maybe Aguero isn't quite a fit for him.
"He's got more movement than Aguero," says Sky Sports pundit Gary Neville. "Aguero is a sensational player but you can see already that Pep Guardiola is taking this more in the direction of the team he wants. Maybe Aguero isn't quite a fit for him."
Former City defender Andy Hinchcliffe identified this trait on co-commentary. "If people are wondering why he is starting ahead of Sergio Aguero maybe it is his work rate off the ball more than anything," added Hinchcliffe. "Does he work harder than Aguero?"
The Premier League tracking data suggests so. In Jesus' first league start at West Ham, his energetic display was reflected by the fact that he made 72 high-intensity sprints. Aguero has matched that in only one of his 18 Premier League appearances this season.
Jesus also covered more ground in that game - 10.88 kilometres - than Aguero has in any appearance this season or last. Against Swansea, the 19 year old topped it by running 11.12 kilometres. It's movement more typical of a midfielder and brings a fluidity to City's work.
Running comparison between Manchester City's strikers
| | | |
| --- | --- | --- |
| 9.79 km | Distance covered / 90 | 11.32 km |
| 59 | Sprints / 90 | 73 |
The contrast with Aguero, who also has a reputation for being a nonchalant trainer, is stark. So far the young Brazilian averages 23 per cent more sprints per 90 minutes than Aguero and runs 16 per cent further than his new team-mate.
"He never stops running," said Quinn. "He never stops putting people under pressure." Guardiola has spoken of the importance of the strikers in stopping the "first press" because it helps to win the ball back quickly by disrupting the quality of the opposition's build-up.
"You know that when their defenders have three or four seconds … then the ball will be good," explained Guardiola. "When the strikers are the best defenders and the defenders are the best players in the build-up then you are a strong team."
For 45 minutes against Swansea on Sunday, City looked like a Guardiola team. But when things started to go wrong they needed another way. Forget fluidity and defending from the front, they needed a goal. That's what Aguero so often delivers.
Live Monday Night Football


On the evidence so far, Jesus can do it too. That means he can expect to stay in the side. Asked if Jesus would continue as City's striker against Bournemouth, Guardiola told Sky Sports: "What do you think? Of course, yeah. But it's not just about the goals."
It's not just about the goals. Jesus has a long way to go to surpass Aguero in that regard and perhaps it is not yet the end for one of the club's all-time greats. But it is the start for a new City striker. One who can score goals and play the way that Guardiola wants.