Kevin De Bruyne wants Manchester City to win Premier League against Manchester United
By Zinny Boswell
Last Updated: 15/03/18 7:38am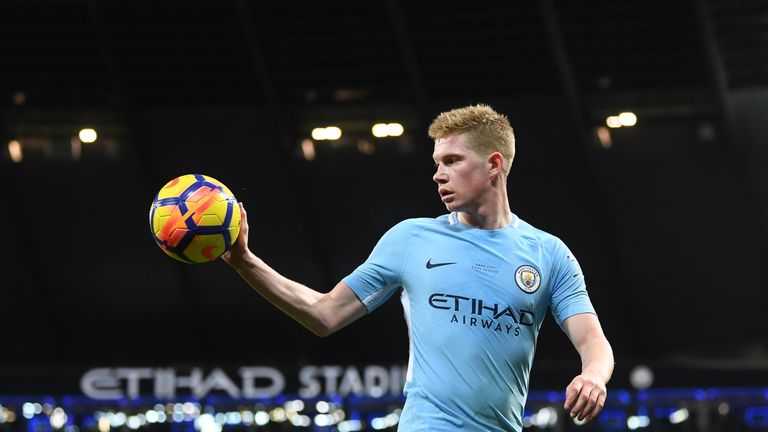 Kevin De Bruyne is hungry to win the Premier League title with a win against rivals Manchester United.
Manchester City are 16 points ahead of United and know that if they are victorious in their next game against Everton that a win over Jose Mourinho's side on April 7, live on Sky Sports, would clinch the title.
However, the Belgium international - who has 11 goals and 19 assists in all competitions - is not underestimating the threat posed by Everton.
"I think all of City would like that - to try and win that game for the title," said De Bruyne. "But if it's not, it's not.
"To go to Everton is a very hard game, we know that. They are probably already safe, so we will see.
"But it seems so long now to that game. I just hope everybody comes back healthy to play the last part."
De Bruyne has heaped praise on his midfield partner David Silva following his double in the 2-0 win over Stoke on Monday and believes the 32-year-old is undervalued.
"The thing is we don't have competition," said De Bruyne. "I'd prefer it if he scores even more, it helps us.
"But everybody is doing their part. One day it will be me, on another day it will be David.
"Obviously I'm very satisfied with the way I'm playing, I feel I'm playing really well. But I don't need to score or give assists, I just need to do my thing to help us win games and in the end I will be very happy.
"David is unbelievable to play alongside, he's very underrated, and that means a lot considering his standards."