Raheem Sterling is a key figure in one of the most exhilarating title races ever. He's one of the top performers in the Premier League this season, too. And, at the same time - and most importantly - he has renewed his efforts to tackle racism in football.
Meeting him at Manchester City's training ground, perhaps surprisingly, he is laid back at the prospect of his team being four games away from retaining their Premier League title, unfazed by the pressures of Wednesday's crucial trip to rivals Manchester United.
Sterling is really enjoying his football right now - "everything is falling into place really well," he tells me. But he also knows that he is a powerful voice in the fight against racism.
Sterling has backed a manifesto, calling for change in how football's authorities deal with racism and discrimination. This is not someone who wants to be seen as a spokesman or a figurehead - but a young man who is determined to make the most of his opportunity to make a difference. And he wants to see action.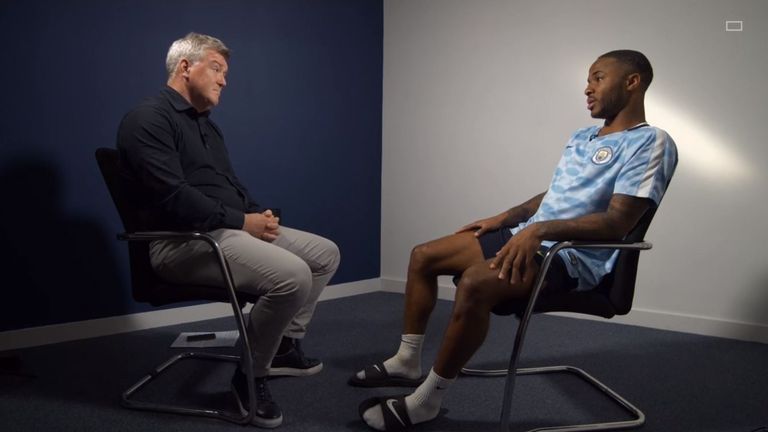 "It's not any disrespect to Kick It Out but the campaigns, with the T-shirts and stuff, I feel it shows people what you're trying to say but what is actually being put in place? We need to help people like Kick It Out push it a bit more," the 24-year-old says.
"The other day the Premier League suggested to post this blackout thing. Again, it was just like 'OK, it goes on social media. Then people see it. But what does that do? What does that actually do? What is the outcome of that?'
"Is it a campaign for three days and it blows over or are we going to do something that says, 'this is what we're doing and from now on. This is how it's going to go'.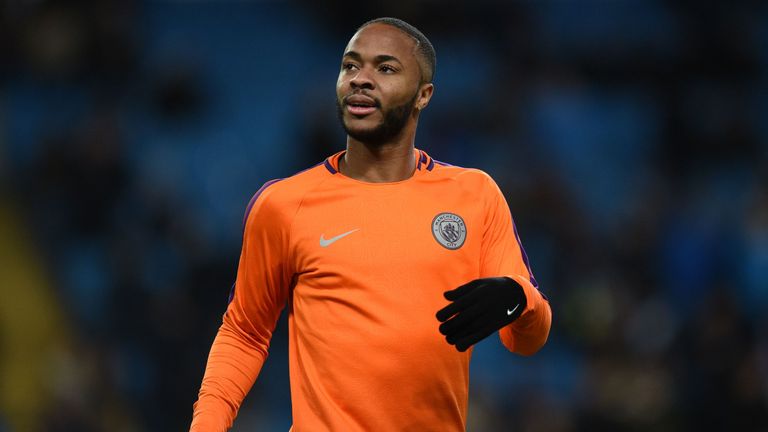 "Is it a campaign for three days and it blows over or are we going to do something that says, 'this is what we're doing and from now on, this is how it's going to go'."
"That's what we, every player who has been in this situation, would like. I don't think these social media posts, these T-shirts are doing anything. It's not going to change anything.
"It needs to be at first within football - because that's where I am and I can't say about in everyday walks of life - to help people in our environment. And for people that have been suffering these things to have something that they know when they go on the football field that no one will dare to even chat one word at them. That's what I'm aiming for."


Sterling accepts it is not always easy for black players to speak out but says he is keen to shine a light on the problems he and others have suffered in the game - and has called on the authorities to introduce severe punishments for anyone guilty of racism in football.
"No one really says anything. No one expresses their feelings," says Sterling. "And I think that's wrong.
"But, at the same time, no one really wants any backlash or if any of it went wrong. But when I wanted to say something it was purely just to get people on the outside to understand what it's really like for some of these players.
"I probably had it lightly because I haven't had that many experiences growing up. It was more, as I keep explaining, when I came up north.
"But speaking to players like Fabian [Delph], growing up in Leeds, Bradford, and then telling me about some of their experiences, it's crazy to know some of this stuff happens here to 15, 16-year-old kids.
"We have an opportunity and a chance to make something that's not just now but that, in 10 years' time, players know when they get on a football field that stuff like that can't happen.
"That's what we need to put in place. Something that makes people think more than twice."
When it comes to talking about football and his performances on the pitch, Sterling is all smiles. And why wouldn't he be? He has matched his career-best season goal tally and been nominated for PFA Player of the Year, after helping Manchester City win the Carabao Cup, reach the final of the FA Cup and battle for the Premier League title with Liverpool.
Get a Sky Sports Day Pass for one-off payment of £8.99
Get 2 football channels for the price of 1
Given he was 23 at the start of this season, Sterling also qualifies for the Young PFA Player of the Year award, which he's also been nominated for. He finds that strange - "I feel a bit older than that!" - but he won't be eligible next year. He is now making the transition into senior pro and has become a key figure for Manchester City.
What's driving his continued improvement? First, there's the competition the City squad brings. "From a young age, whenever I've had competition, I don't like being the one who isn't really involved," he says. "You always want to push each other and that's what happened when they got Leroy [Sane] in, Bernardo [Silva] and now Riyad [Mahrez]."
Sterling is also relishing working under boss Pep Guardiola. "It's a really good feeling knowing he has that much trust in you," Sterling says when I tell him he has been Guardiola's most-used player this term.
"It just shows how much he trusts I will try to do my best and give my best. If it's not goals, it's trying to run and help and do my running for the team; tracking back. Every little detail he watches, it's not just attacking but also defending.
"I remember scoring a hat-trick against Watford and we won the game 3-0. He was telling me what exactly I could do better. There's nothing better than that. These things push you to do even better."
So how is Sterling preparing for Wednesday's huge clash with United? He's calm and he sees the bigger picture.
"We can't treat this game any differently," he says. "It's going to have pressure, we know that, we know what's going to come with it. But it can't be any different from when we play bottom of the league or mid-table or top four.
"It has to be the same preparation, nothing changes and the game will take care of itself. It's when you start over-thinking and stressing too much that's when faults and mistakes come in play. But if you take it as a game you know you need to win and you do everything to do that, you'll be fine.
"If someone said this to us at the start of the season, that with four games to go you have to win four to retain the Premier League, I think everyone would fast forward and come to that stage.
"It has been fantastic to compete again on all fronts, because no one has done that in a while, and it just shows how much we dedicate on the training field and on match days.
"When you go to Old Trafford you know exactly what it's going to be like. On the day anything is possible. It's called Theatre of Dreams for a reason."
Pep Guardiola on Sterling's battle against racism
"Always for these kind of issues we need a person, an image, to help us to put in perspective what's happened. I like it. To change something, you have to be someone, to lead us, to do what you have to do. At a young age like Raheem, to be doing that means a lot. Especially as a human being, he's mature.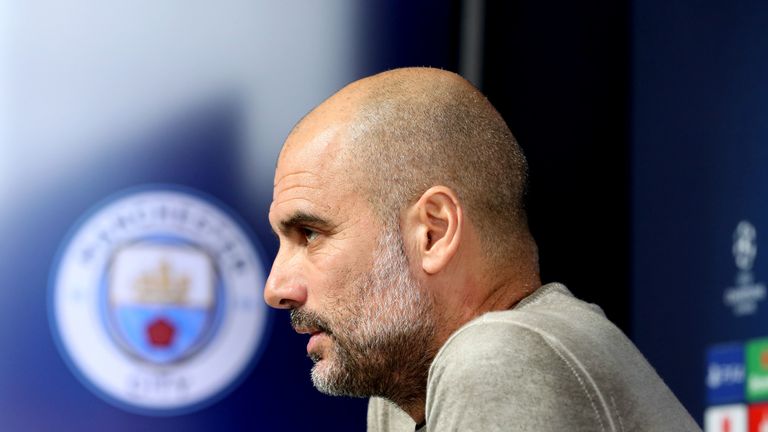 Always for these kind of issues we need a person, an image, to help us to put in perspective what's happened.
"Always as a person (he) was a fantastic and awesome guy, beloved in the locker room. When a guy is beloved in the locker room, it's because he's a nice guy. The locker room shows everything in a person.
"Of course, we're getting older and the players and the people improve and learn from the situations, and Raheem is not an exception. I think he has developed (into a leader), his confidence on the pitch and off the pitch, being a father and these kind of things always help.
"He can do better too, of course. But of course the step he has done in the last years is massive."