Javi Gracia exclusive interview: A quiet revolution at Watford
"We have to adapt. We have to vary our approach for every game. I believe our team do that to perfection."
Last Updated: 31/08/18 7:25pm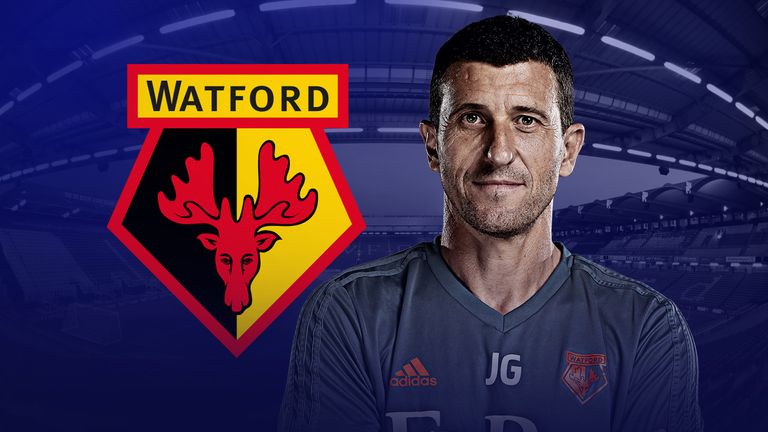 Watford were tipped to struggle this season but they face Tottenham on Super Sunday hoping to make it four wins from four. Nick Wright met head coach Javi Gracia to find out how he has transformed them, why pragmatism is the key to his philosophy, and why he is aiming high.
It is a sunny afternoon at Watford's London Colney training ground and Javi Gracia smiles broadly as he walks into a small meeting room adjacent to the first-team training pitch. He is delighted not just by his team's flying start to the season, but by the news that this interview will be conducted in Spanish. "My English is still very limited," he tells Sky Sports.
In reality, Gracia's English has improved considerably since he took over from Marco Silva nine months ago, but his modesty is one of the traits which typifies the quiet revolution he is overseeing at Watford. The club were expected to struggle after a dismal finish to last season. Instead, they are level on points with Liverpool, Tottenham and Chelsea.
It started with a 2-0 win over Brighton on the opening day. Since then there have been similarly impressive victories over Burnley and Crystal Palace. Watford have scored more goals in their first three games than they managed in the final 10 of last season. Only Liverpool have conceded fewer. It all adds up to the best start to a top-flight campaign in their history.
"We know it's just the start, but of course we are very happy to have managed three wins out of three," says Gracia. "It's never simple - even less so in the Premier League for a team like us - but when you work like the players did in pre-season, you always have the feeling of being able to win every game. Now we need to see for how long we can keep up this level."
It was then, during pre-season, that Gracia - the first manager to survive a summer at the club since 2014 - began to see the foundations for Watford's improvement coming together.
"I give a lot of importance to last season," he says. "It helped us start with a better knowledge of everything - of the team, of the competition - but pre-season was the moment where we could really work and dedicate time to our preparation. The more time you can spend with your players, the more your team will start to reflect what you want on the pitch."
Watford made seven new signings in the summer, with Richarlison the headline departure, but their strong start is defined by stability. Ben Foster is the only one of the new arrivals to start a Premier League game so far, with Gracia careful to strike the right balance. Crucially, he has also fostered a sense of togetherness that did not exist before.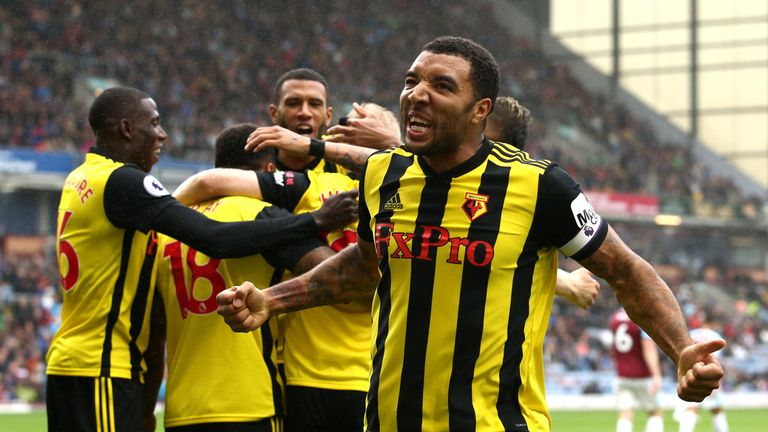 "What I am seeing from this squad, how they are enjoying every second of training and every second of the games, is very different to what we had last year," he says.
"Pre-season was very good for us. We worked on what we wanted to work on and we had very few injuries, so the majority of the players completed pre-season without even missing a session. The time we all spent together, at the training camps or here at the training ground, it all helped. We have got to know each other very well."
Players who struggled for confidence and consistency last season are now shining in the new campaign. Troy Deeney and Andre Gray have formed a deadly partnership up front, Roberto Pereyra and Will Hughes are impressing in midfield, while Christian Kabasele is marshalling the back-line brilliantly. For Gracia, though, the key is in the collective.
"We could highlight a lot of individuals, guys who are scoring goals or playing well, but what's most important is the good understanding and atmosphere that now exists in the squad," he says. "You have to have good players, that's the base for competing well, but you also need good people who understand and respect each other. The attitude has been excellent."
Gracia on the Deeney-Gray partnership
"Last year we didn't use them together a lot, but I always had the idea in mind when the league started this season, and it's gone well. They are playing at a very high level, not only offensively, but in their defensive work. That's what allows a team like Watford to play with two strikers."
That attitude has helped Gracia get his ideas across since the start of pre-season, which is all the more important given he is not wedded to any one particular way of playing. Instead, he places adaptability at the heart of his managerial philosophy. His approach, he says, varies from game to game, from opponent to opponent.
"Above all, I like to play well. But playing well is a broad term which can be interpreted in different ways. Personally, I like my teams to be balanced. My mission as a manager is to get the best out of the players that I have, and you have to adapt to do that. I can't take over a team and say, 'No, I want to play like this, I like to play 4-3-3 and I am always going to play 4-3-3'.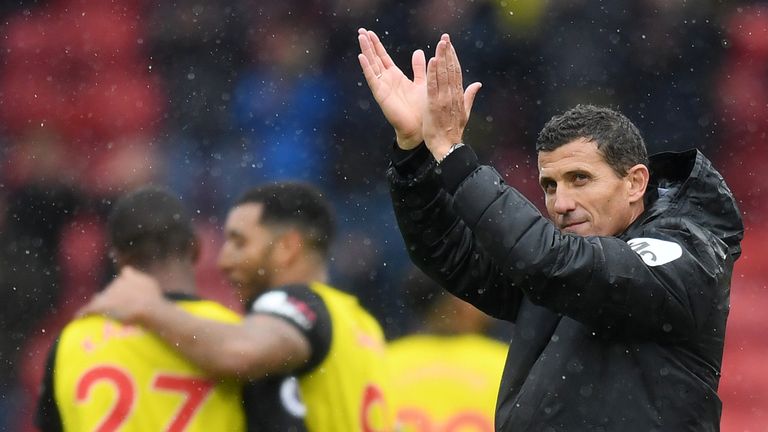 "That's not what a good manager does. Of course, I like to have possession. I like attacking football. But there is no attacking football if you don't defend well or you don't apply that to the whole team. That balance is necessary to compete and to win. If we don't win, my job will only last for three, four or five weeks. It has an expiry date.
"So I think you have to be flexible and see what characteristics your players have. You have to know how to face every team and be able to adapt to different situations. At Watford, I want us to vary our approach in every game. I believe our team now do that to perfection."
Gracia's comments come at a time when style is a hot topic in the Premier League. Rafael Benitez was criticised for Newcastle's negative approach in their recent defeat to Chelsea, while Unai Emery's tactics at Arsenal prompted a heated debate between Sky Sports pundits Gary Neville and Jamie Carragher on Monday Night Football.
"My view is that everyone has to adapt," says Gracia. "In my career as a coach, I have adapted constantly. I have worked in Spain, in Greece, in Russia and now in England… I think anyone who says they don't have to adapt is lying."
Gracia adds the last line with a mischievous grin, but he is entitled to be confident in his methods. In his first season in charge of Malaga, he took four points from two games against Barcelona. The year after that, he went unbeaten home and away against Real Madrid. Even last season at Watford, there was a memorable 4-1 win over Chelsea at Vicarage Road.
So is he planning his next surprise against Tottenham on Sunday?
"There is always a plan," he says, grinning again.
"I think we are facing a fantastic team and when I say team, I really mean team. They were not reinforced by signings in the summer, so they have maintained the same base as before and that gives them a lot. You see it when they play. They have a lot more understanding between each other because they have spent a lot more time together.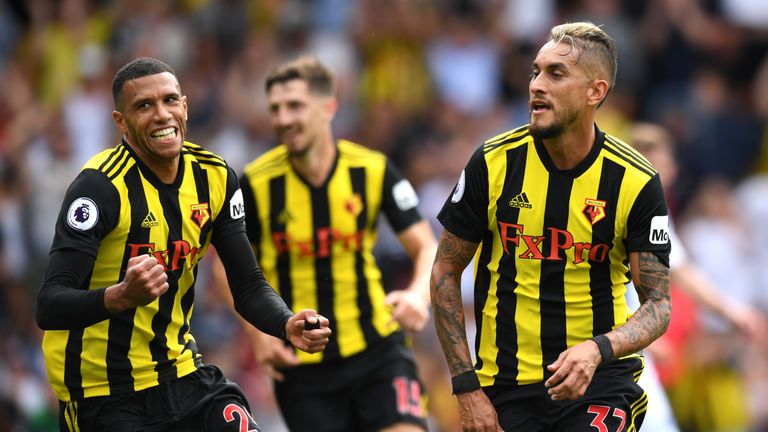 "I have a good relationship with Mauricio [Pochettino]. As a manager, he is at a very, very high level, and his coaching staff too. His team is very hard-working, very organised, and very varied in attack. Their players change positions, they are so dynamic. It's a team and a style of play that I like. We will have to give our absolute best to get a result."
Watford have largely passed under the radar despite their strong start, but that is likely to change if they do exceed expectations again on Sunday.
"It doesn't bother me that people don't talk about us," says Gracia. "I would like all the players and everyone at the club to get recognition when they do things well, but no more than anyone else. Personally, I feel the same with or without it. The results alone are good enough for me to be happy. I don't need anything else."
For now, he is simply happy with life at Watford and excited for what the future might bring. Gracia has never stayed for longer than two years at any club, but his family moved over from Spain to join him in England this summer, and he is enjoying the stability both on and off the pitch.
"Right now, I can only say that everything is very positive, but we go step by step," he says.
"It's like I told the players from the beginning: There is no more ambitious objective than trying to win every game. If you give your maximum and achieve the fundamental goal - which is to remain in the Premier League and stabilise the team - why not be more ambitious? Why not try to improve your position and see how high you can go?"
If you're reading on skysports.com comment below to get involved in the debate, but please adhere to our House Rules. If you wish to report any comment, simply click on the down arrow next to the offending comment and click 'Report'.