Ref Watch: Should West Brom have been awarded a penalty against Arsenal?
Last Updated: 26/09/17 12:06am
Should West Brom have been awarded a penalty against Arsenal? Dermot Gallagher has his say on Monday Night Football.
Incident: Jay Rodriguez raced onto Gareth Barry's long ball over the top and into the penalty area, only to be felled by Shkodran Mustafi in the box. The forward sprung to his feet before getting a shot away and Petr Cech produced a superb save to tip the ball onto the post. The rebound fell to Jake Livermore on the penalty spot and he steered his effort wide of the gaping goal. West Brom appeal for a penalty but referee Bobby Madley gives a goal kick.
DERMOT'S VERDICT: Wrong decision.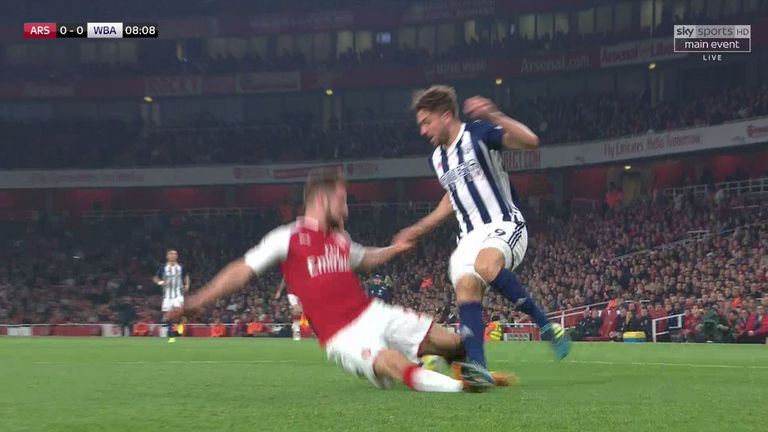 DERMOT SAYS: "I think it should [have been a penalty]. There are a few issues - has he seen it? I'm not sure he has seen it at first because Laurent Koscielny comes across him.
"The second thing is, is he trying to play advantage? What I would say is if he's playing advantage I don't think it's the wisest decision. However, if Cech hadn't have saved the shot and it had gone in we would have said it was a brilliant advantage.
"And then, of course, the third thing is it comes out to Jake Livermore and he can also put it in the net so it's almost too late to go back if he has played advantage. The simplest thing would have been to have given a penalty.
"It's not as easy as that on the day though, he's decided to go against that. I think stick to basics, give a penalty and we wouldn't be having this conversation."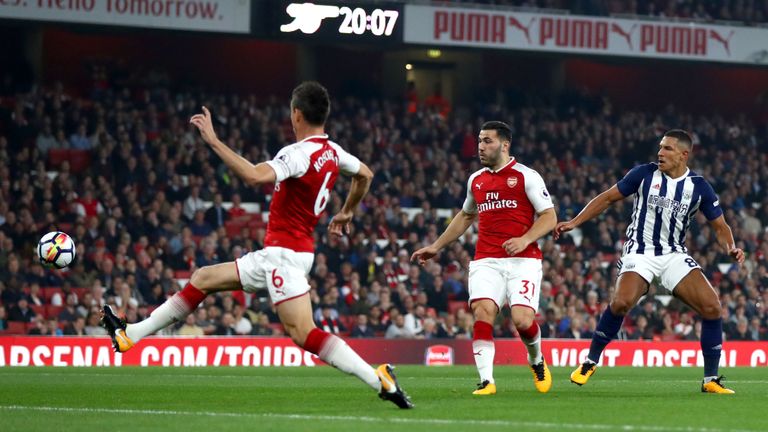 When asked whether referee Bobby Madley could have brought play back and given a penalty, he said: "The simple answer is yes but it's a bit more difficult because it didn't materialise to lose an advantage.
"As I said, Cech made that great save, the ball hits the post and it comes out to Livermore, who also has a shot at goal, and you say at what point can I bring it back? Once it's gone that far, the answer has got to be no."
Jamie Carragher was in the MNF studio and he agreed that West Brom should have been awarded a penalty, and thinks if Rodriguez had stayed down he would have been given it.
CARRA SAYS: "The referee may not have had a 100 per cent view of it," the former Liverpool defender said. "But I think he can see enough of it. Maybe he can see half of it.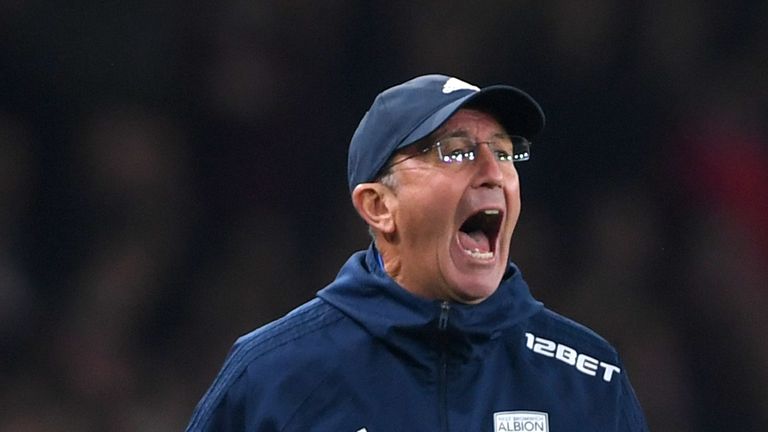 "But I've said all season, and for years now, players don't help referees, by diving, going down easily. What's happened here is the referee has not helped the player.
"That's a penalty. The player has been too honest, if you like, and the fact he gets up I think makes the decision for the referee. I think if he stays down he probably wins a penalty."
Should West Brom have been awarded a penalty by referee Bobby Madley against Arsenal? Tweet us your view at @SkySportsPL.