How did Norwich reach the Premier League?
Last Updated: 28/04/19 2:09pm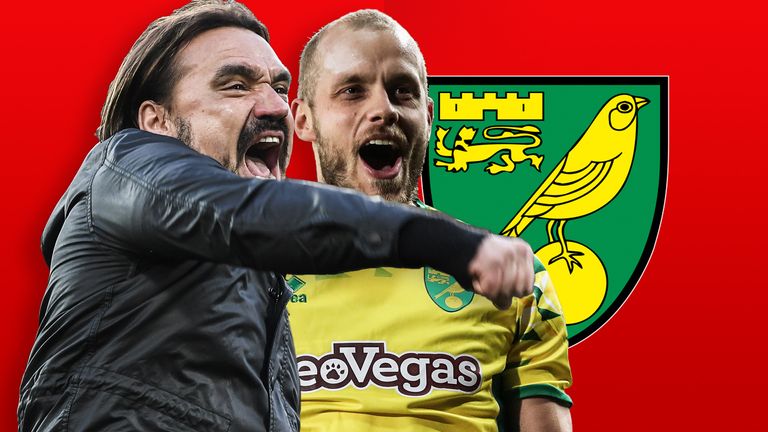 Norwich have won promotion to the Premier League after beating Blackburn 2-1 on Saturday.
The Canaries, however, were not among the favourites to prevail in the Sky Bet Championship this season. So how have they managed to do it, and will they cope back in the top flight?
We take a look at the key factors behind their success...
Patience with Farke
It seems incredible now that there was a point, even earlier this season, when time seemed to be running out for Daniel Farke.
After an indifferent first campaign saw the club stumble to a harmless mid-table finish, Norwich picked up just five points from their first six games in 2018/19, and had to score late to nick a draw against fierce rivals Ipswich in early September.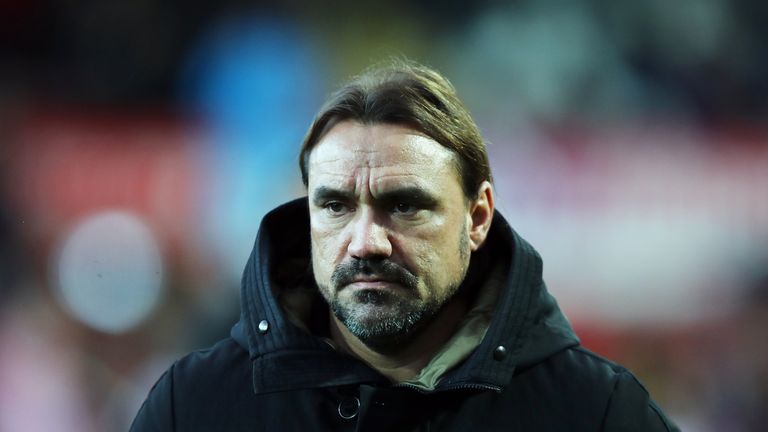 "If we had sacked Daniel at any time during last season, it probably wouldn't have been a surprise," Norwich sporting director Stuart Webber told Sky Sports earlier this season. "The supporters would not have complained. The local media would not have complained. If the club had listened to the noise, then both Daniel and I would have been sacked a long time ago, but luckily the club stuck with it.
"Sometimes, to get success, you have to go through that period because if it was easy to win by playing the football we want to play with young players and smart recruitment from abroad, then everyone would do it. People are quick to judge but it needs a bit of time. We are trying to sort a big mess out here, which we didn't create, so give us a chance."
Norwich had already lost three games before that draw with Ipswich, but those came against West Brom, Sheffield United and Leeds - who currently occupy the other spots in the top four.
After that, however, came an incredible run that saw them lose just two more games in 2018. By November, they had hit the top of the table, and it was a spot they would only occasionally relinquish between then and all but securing promotion.
It is a lesson in patience that other clubs in the second tier and below could well learn from.
Impressive recruitment
Norwich had financial issues heading into this season as parachute payments had begun to run out, meaning big money could no longer be spent on signing players - even despite the hefty sales of James Maddison and Alex Pritchard last season.
Perhaps their most important signing of all was bringing in Webber from Huddersfield as sporting director in 2017. He appointed Farke and has also been responsible for player recruitment since.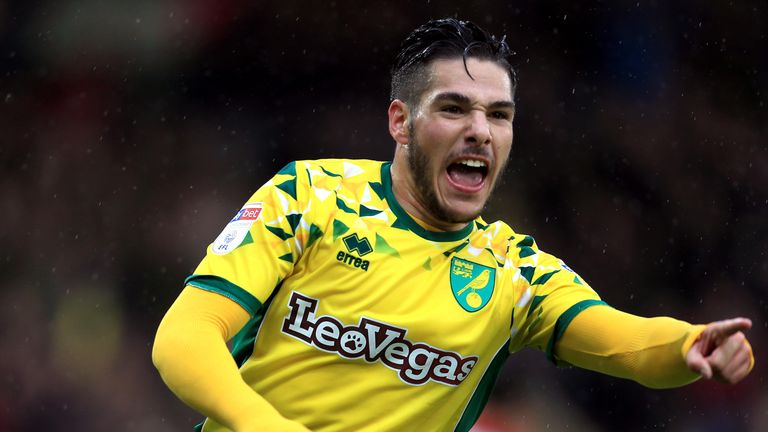 Last season saw the club use their knowledge of the German market to bring in Onel Hernandez, Christoph Zimmermann, Tom Trybull and Marco Stiepermann - all of whom have become pivotal first-team players - while last summer saw the arrivals of Emi Buendia, Moritz Leitner and Tim Krul to help complete the puzzle.
Very few of those signings made many top-10 lists at the start of the season of players to watch out for, but most have proved inspirational and look well set for a shot at the Premier League.
One particular acquisition, however, has probably proved more important than all the others...
The Pukki factor
Teemu Pukki was the first to admit that his last spell in the British Isles was slightly underwhelming. He spent just over a season at Celtic five years ago and managed just nine goals in 37 games before slipping off to Brondby.
There was no real fanfare when he joined Norwich on a free transfer in the summer, but he has been an absolute revelation in the Championship, netting 28 goals in 42 games so far.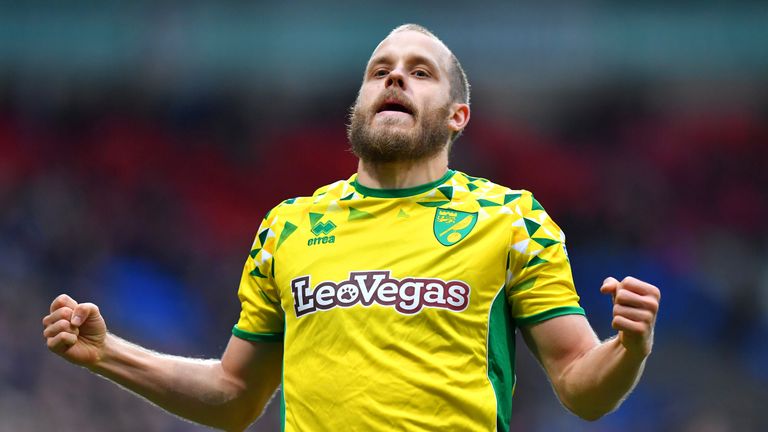 He is almost unrecognisable as a forward from his time in the Scottish top flight, and in an interview with Sky Sports last month he admitted there are several factors that have shaped his rise, including an inspirational coach in Denmark, his new-found work ethic, and becoming a father for the first time.
It remains to be seen whether he will be anywhere near as prolific in the Premier League, but he has broken records for Norwich this season. He has netted more league goals than any striker for the club since Chris Sutton managed 25 in 1993/94.
Faith in youngsters
It is not just shrewd recruitment that has been behind Norwich's success this season, with young players also proving pivotal to their campaign.
Three players in their back four are academy graduates. Jamal Lewis (21) and Max Aarons (19) have been superb at full-back, with both making the Championship Team of the Season and Aarons winning the EFL Young Player of the Season.
"I don't see any reason why they can't make the step up to the Premier League," said Sky Sports pundit and former full-back Andy Hinchcliffe earlier this season. "From working under Daniel Farke, they will be very tactically aware and they will have good knowledge of their positions. It is not about age, it is about how good you are.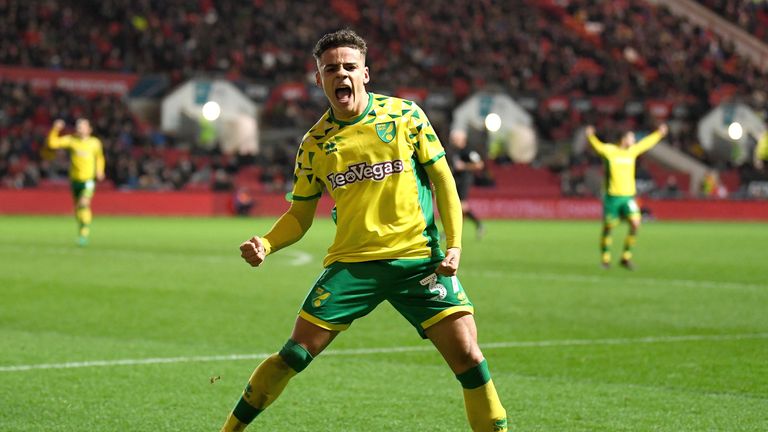 "Coaches need full-backs to stretch the play and it is a huge pat on the back to Norwich and their youth set-up that these two have developed the way they have, because they look so comfortable already."
Elsewhere, Ben Godfrey (21) has been excellent in central defence and has also scored crucial recent goals against Bristol City, Rotherham and Reading, and Todd Cantwell (21) has featured regularly in midfield.
Norwich have a category one academy and have a huge catchment area for youngsters. Their work has caught the eye elsewhere, with a 17-year-old leaving Arsenal's youth setup for Norwich's last month - something you simply can't have imagined happening as recently as last year.
"I'm delighted to be here, and it's the best move I could have had," teenager Josh Martin told the Norwich website after leaving the Gunners. "I had been at Arsenal since I was eight, so since I was very young.
"I came here because they (City) are giving young players opportunities, and they are a team on the up so I think that's the best opportunity you can get."
With promotion now as good as confirmed and a bright future on the horizon at Carrow Road, you can't imagine he will be the last.
How will they cope in the Premier League?
The structure of the club has improved significantly since Norwich were last in the Premier League in 2016, but you feel they are now in a much better position than they were then to last more than a season in the top flight.
For one, promotion will allow them the opportunity to hold on to many of the players that would have caught the eye of top-flight clubs - particularly Aarons and Buendia - and the relative youth of their squad means there is plenty of room to improve.
There will always be question marks over the relative inexperience of their side, and whether Pukki has what it takes to score goals in the Premier League, but the club's recruitment structure is hugely reliable and you would back any player that arrives during the summer to thrive.
Whether they struggle to stay up or not, their commitment to young talent and free-flowing attacking football will make them a fascinating addition to the Premier League.