Norwich City have clinched promotion to the Premier League with five games to spare, sealing an immediate return to the top flight.
Even before the Canaries' 3-1 defeat Bournemouth at Carrow Road on Saturday night, the failure of Brentford and Swansea to win in the lunchtime games meant Norwich's return to the Premier League had already been secured.
Thomas Frank's Bees played out a goalless draw with Millwall at the Brentford Community Stadium, while the Swans fought back from two goals down to secure a point in a 2-2 draw with relegation-threatened Wycombe in South Wales.
It has been an extremely impressive campaign from Norwich, who stuck by boss Daniel Farke following their disappointing relegation last season. They have been comfortably the best side for the majority of the Sky Bet Championship season, and have become the first team since Newcastle in 2017 to seal an immediate Premier League return via automatic promotion.
Farke: No one will take my good mood away
Head coach Daniel Farke on Sky Sports Football:
"When we returned to the dressing room, we were disappointed, but you have to put it to bed pretty quick and I'll tell you what, no one will take away my good mood today. We are back in the Premier League. It's a fantastic achievement and what the lads have delivered this season is outstanding. For that, we are in a really good mood.
"This game was proof of why I love this team so much. I think the lads were fantastic; absolutely greedy, absolutely sharp. In the first 20 minutes, we were all over them, pressing, counter-pressing and we scored a world-class goal and my gut feeling is that, if it had been 11 vs 11, it would have been a pretty long night for Bournemouth.
"Bournemouth are a fantastic side and also one of the favourites for promotion. They have unbelievable experience and once they are in overload, it's difficult against them.
5 - @NorwichCityFC have been promoted to the Premier League for the fifth time since its foundation in 1992 - no side has won promotion to the competition more. Singing.

— OptaJoe (@OptaJoe) April 17, 2021
"We are much better prepared as a club, that's for sure. The promotion two years ago was fantastic because it was a bunch of young lads and no one expected us to be near the top six and we won this league with nearly 100 points, nearly 100 goals and also a fantastic brand of football. But as a club, we were not prepared for the Premier League level.
"Last year [in the Premier League] was still important for us as a club because we could invest in our infrastructure and the academy, we could sort out all the financial problems out and extend some contracts of young players. We didn't risk the future of our club with spending an unbelievable amount of money for a self-funding club.
"Promotion is done but these lads deserve to be in the history books of Norwich and, of course, we want to be there with back-to-back title wins. I'm not sure if this has happened at Championship level before. Two record seasons for the club would be something historical and these lads deserve everything so we will go for it."
How the players reacted
Here's what some key members of the Norwich squad had to say when they spoke to Sky Sports after the defeat to Bournemouth...
Emi Buendia: "It's unbelievable to be promoted again. It was a tough and hard season for every one of us and to get promoted with five games to go is unbelievable. I'm very happy.
"I think the structure of the team was clear at the start of the season and the new signings in the summer were the difference to two years ago. At the beginning, we were struggling with some results, but then we were flying.
"Everyone knows I love to play with Teemu. Normally, I give him the assists, but today he made a brilliant pass for me. I enjoy every minute with him."
Teemu Pukki: "It's a big thing. We really wanted to prove ourselves again and today we are finally back in the Premier League. Two years ago, we were the underdogs and maybe no one believed in us, but it has been different this year and we were favourites to win.
"We have improved this year and we are the best team in the league."
Kenny McLean: "We have deserved promotion, 100 per cent. Tonight, the way we started was outstanding and we were well on top, but it wasn't the officials' night, as well as ours. We'll try and put it to bed and enjoy ourselves, but there are still some games to go and we want to finish strong.
"We've been more resolute and strong defensively this year and the front boys have done what they do. Promotion is deserved because, up until now, we've been head and shoulders above the other teams in the league."
Todd Cantwell: "It's massive and it's not an easy task to get relegated from the top division and then bounce straight back up. It's disappointing this evening, but can can go home smiling knowing we've gone up.
"I'm sure the fans won't be too disappointed about tonight, but we want to win the title and we've got a big game on Tuesday to focus on now."
Analysis: How Norwich bounced back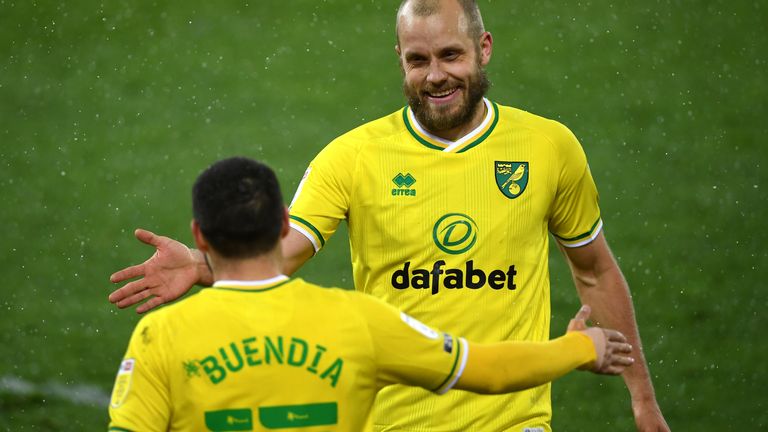 Norwich City reporter Connor Southwell @pinkun
'It hasn't come as a surprise but it is very impressive.'
Those were Daniel Farke's words on the success his side have conjured up this season. They have dominated the Championship and, in the end, cruised to promotion. Behind the scenes, this was part of the plan. But even the eternal optimists didn't predict a campaign as successful as this.
Last summer, as Todd Cantwell was pictured sobbing on the turf of Carrow Road, City had lost 10 consecutive top-flight games. Their season had swirled down the plughole in a painful and dejecting fashion.
Many feared a hangover. Many feared Farke wouldn't be able to reproduce the brand of football that captured supporter's hearts two years ago.
With candid words and savvy recruitment, City began to play with freedom. They retained the swashbuckling Max Aarons and the wizardry of Emi Buendia. They convinced the prolific Teemu Pukki to stick around.
This hasn't been easy.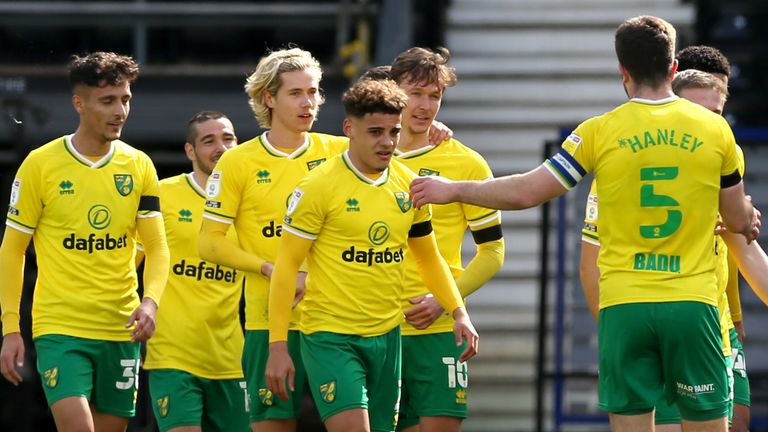 There were just six weeks between the end of a horrible Premier League campaign and the beginning of the new season. Given Farke's style relies so heavily on the implicit trust of his squad, to construct one of the best teams this division has ever seen is no mean feat. Farke lifted his team to produce football the division has seldom seen before.
There has been a defensive base. Ben Gibson injected real quality into the backline before the injury last month that ended his season.
Oliver Skipp has been the heartbeat. He's resembled a terrier in the heart of the Canaries' midfield. The only real shame is that a full Carrow Road has been absent throughout.
Will this time be different? Can they prove self-sustainability works at the top table of English football? There are so many questions yet to be answered, but right now both Norwich and Farke will allow themselves to enjoy the moment.
Fan view: What promotion to the Premier League (again) means...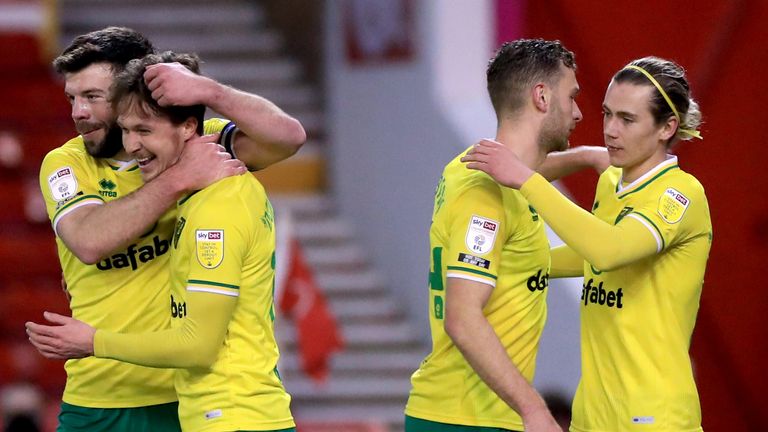 Clare Thomas, Along Come Norwich:
In a season with no fans to share the joy that promotion to the Premier League brings, perhaps it is fitting that Norwich City go up. Let's face it, we have been here before. In fact, we stand on the precipice of becoming the team to do it more than any other. We've achieved it every which-way-and-how, each time a wonder.
Winning the Championship just two seasons ago means the emotions of such success, and being able to share them together, are happily still very fresh. It's a little like having déjà vu. And although we long to be a part of it all again, perhaps it has made watching this season's successes from afar easier to bear.
I say déjà vu. Actually, this season's performance has been very different to those in our last Championship outing. Less swashbuckling, more controlled determination. Free-flowing football slightly tamed by more defensive nous.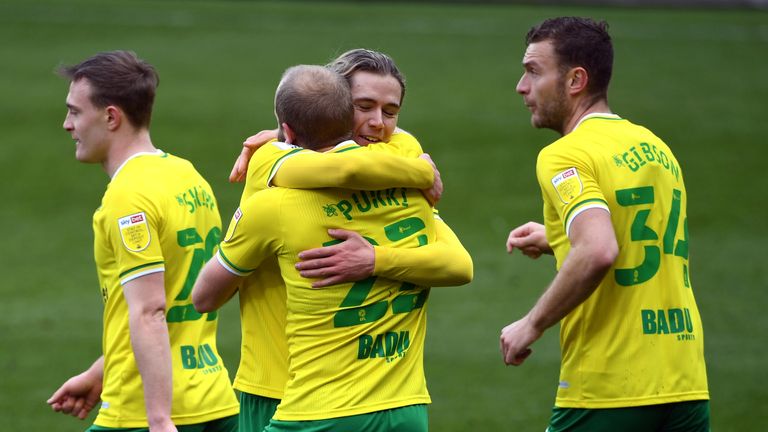 Promotion was very much part of the plan, which brought a different pressure. We feel vindicated that we stuck with Daniel Farke and didn't veer from our path. The board communicated clearly with the fans what the long game was and we all bought into it. This success is a united effort, even though we are apart.
So we seem destined for the Premier League once again. I can't say I'm looking forward to it after recent experience but, with more money and knowledge in the bank, we're cautiously optimistic that things will be different this time.
There is a lot to love about the Championship. But it's time for Norwich to throw away the yo-yo and give the Premier League a good crack.
Saying that. Probably see you all back in The Championship next year then...