From Anfield dreams to a 'deep depression', QPR's Jack Robinson bares all
By Lewis Jones
Last Updated: 27/11/17 11:31am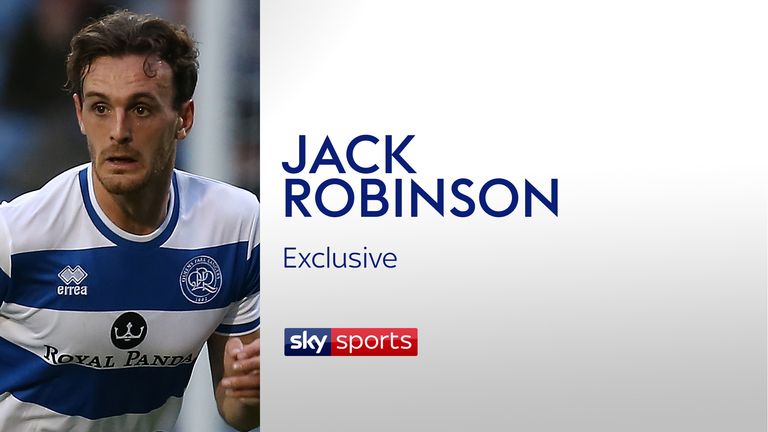 No footballer will have ridden the football roller-coaster quite as brutally as Jack Robinson.
The born-and-bred scouser walked out at Anfield for Liverpool at just 16-years-old with the world at his feet, but years later found himself incapable of even walking to the shops due to a debilitating knee injury that slipped him into what he called a "deep depression" and almost retirement at the tender age of 23.
"The two-year mark came when I just couldn't get my knee right…I was very close to giving up," he admits.
Life in football can change quickly though - and just five months after debating whether to pursue a different career, Robinson is the bedrock of a QPR defence that will try to shut out Brentford in the Sky Bet Championship on Monday night - a game live on Sky Sports Football.
He has made 14 appearances this season for the west Londoners - double the amount of games that he managed in two years - and his importance to the team was illustrated by manager Ian Holloway awarding him the captaincy for the recent clash with Derby - an honour Robinson describes as "one of two career highlights."
The other is easy to work out as he reminisces about the moment in question in his strong Liverpudlian accent.
In 2010, at just 16 years and 250 days old, he became Liverpool's youngest ever debutant.
"I remember being at a party on the Friday when I got a phone call saying 'you're playing for Liverpool tomorrow' - I left the party in order to go home and rest," he recalls.
"I got three minutes at the end, I came on left wing for Ryan Babel. I'd never played there before.
"I remember in the first five seconds, getting the ball off Lucas and turning before finding Steven Gerrard. He took on three players and hit the post.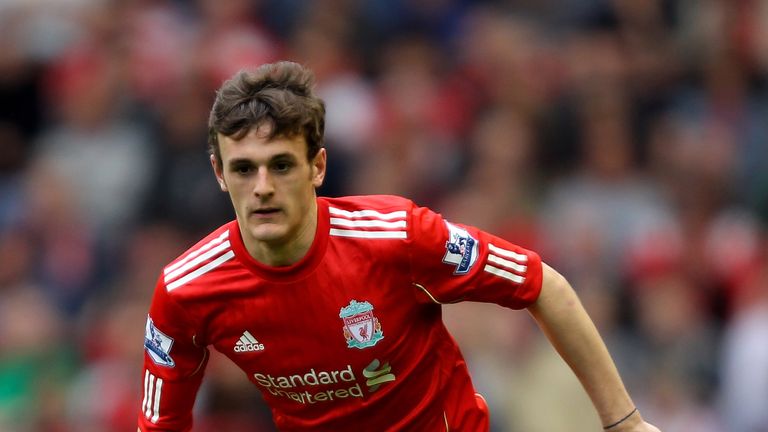 "I nearly got an assist with my first touch!"
That word 'nearly' crops up regularly when discussing Robinson's subsequent career on Merseyside.
As many young British players find when trying to make it at a top Premier League side, opportunities were thin and time was rarely on your side in an ever-changing landscape under different managers. Roy Hodgson, Kenny Dalglish and Brendan Rodgers all were hired during Robinson's time at the club.
Robinson is not bitter and does not possess any regrets about making just 10 first-team appearances for Liverpool - the club he grew up supporting.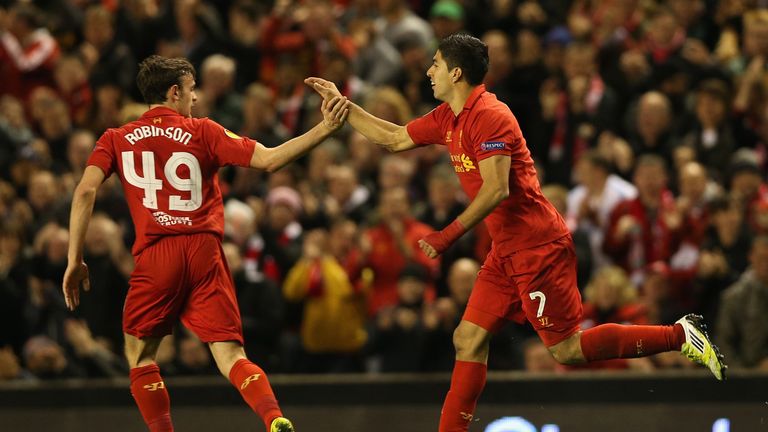 It is a tag he carries around with great pride, especially when he gets back to watch them, usually via tickets from fellow youth-team product Jon Flanagan.
However, he feels being such a die-hard Red did him little favours when trying to earn a regular spot.
"I just couldn't get into a rhythm," he said.
"Being a fan for so long to then being around the players on a daily basis - I couldn't really come out of my shell. I was nervous around them. It was very daunting. I was always thinking 'you need to prove yourself' instead of relaxing and playing my game."
One of those players sprinkling the starstruck-dust, Jamie Carragher, remembers Robinson standing out because of his "aggression and a lovely left foot" - but felt his introduction to the first-team environment may have come too soon.
He said: "That is part of playing for one of the biggest clubs in the world, dealing with big personalities and egos - it's about character not only ability. Sometimes you can get in too young. Some aren't mature enough to deal with certain situations - as you get older you're able to deal with it.
"Unfortunately that's part and parcel of playing Premier League football.
"It is difficult, but playing 10 games for Liverpool is a lot more than a large majority of the kids growing up dreaming of playing for the club. He should be proud of that."
Robinson left Anfield in 2014 after realising it wasn't working out for him under Rodgers.
QPR - then managed by Harry Redknapp in the Premier League - snapped him up on a four-year deal but immediately sent him out on loan to Huddersfield, a decision Robinson calls "weird" and "frustrating".
A knee issue emerged half-way through that season - one that required surgery to reattach a cartilage to the bottom of his thigh bone. Two years of frustration passed - further inflamed by a hamstring injury that restricted his progress.
Our conversation turns towards the dark days during his rehabilitation.
"It was a very tough time in my life," he explains.
"The area where I live in Surrey is so quiet. That was all adding to the stress. Going back to the house, where I was just sitting about. I was isolated. Not being able to walk to the shops just in case the knee swelled up again. I was sitting on the couch from the minute I got back from football until you go in again.
"It was like a sad film. Me looking out of the window at the lads training.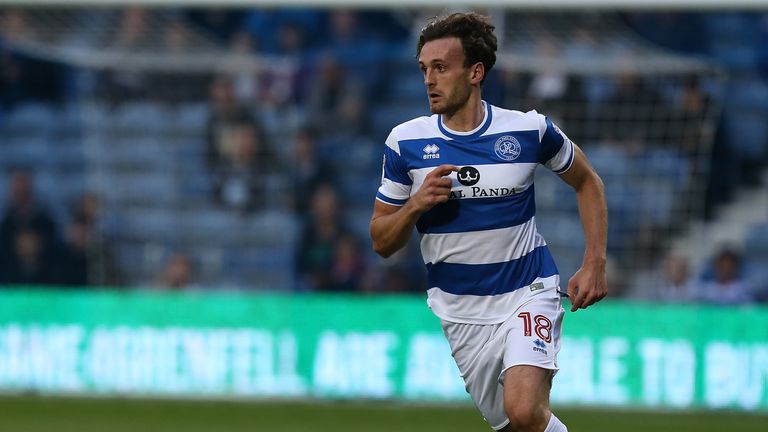 "It takes its toll on your mind. Not having friends or family around you to break up the bad times.
"I was in a deep depression when I was injured."
Like most people fighting depression, Robinson found strength in opening up to others. A report published earlier this year said that the PFA receives 15 to 25 calls a week from players and former players suffering from mental health and well-being issues.
Robinson uses his own personal experiences as an example of how sharing experiences and thoughts is vital when trying to fight the demons. It's a subject he feels strongly about, taking the same lead from fellow professionals such as Chris Kirkland, who have also suffered from depression.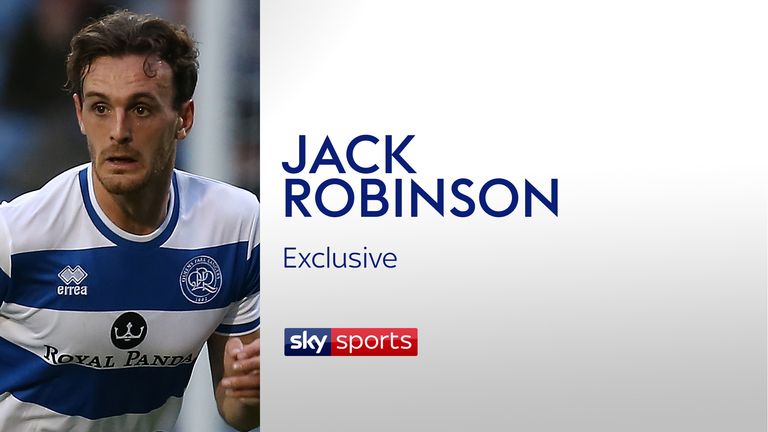 It was the end of last season when my knee was massively swollen and it just wouldn't go. I was very close to giving up.
Jack Robinson
"People do struggle but it's finding that help to talk about things in order to get things off your chest and break down why you're feeling like this," he said.
"People speaking about it will encourage others to get help.
"I personally got help myself just to get things off my chest. The therapist helped me talk about things to understand the injury and what I wanted to do going forward."
That show of mental strength is reaping rewards on the pitch this season, where Robinson - more known as a left-back - has been given his chance at the heart of the QPR backline.
Although possessing a tasty left-foot and electric pace, playing centre-back has always been Robinson's preferred position.
Despite lacking in size, his aggressive nature, good positioning and willingness to put his body on the line has earned him plenty of admirers in W12 this season.
In fact, if you squint, it could be well Carragher playing in those blue and white hoops.
It's an observation that Robinson acknowledges with great pride.
"I actually base my game on Jamie Carragher - I like to defend in his style," he said.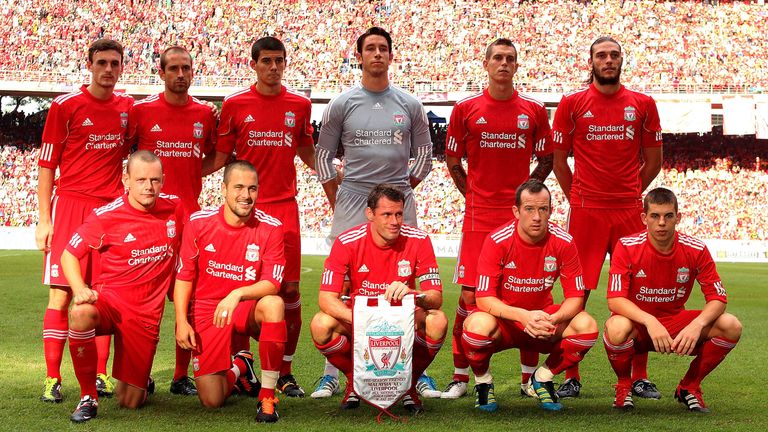 "Training with him helped my game. Seeing how he positioned himself, how he reacted to the ball coming into the box and his determination - that's how I wanted to be. That time with him was a huge influence on my game and still is."
When asked if Carragher was aware of his former team-mate's desire to imitate his style, he said: "I didn't know that!
"He was aggressive, I was aggressive.
"He's not the biggest of fellas, neither was I, considering some of the size of other centre-backs like Rio Ferdinand and John Terry.
"I had to be clever and use my brain - that's what Jack will have to do. He's going to be up against physical strikers in the Championship, probably a bit of a size mismatch, but it's all about staying switched on, staying focused and reading the game really well.
"He has great intensity, aggression and a will to win. Other defenders want to get on the ball and show how good they are but the main part of the job that will never change will be stopping the ball going in the net, keeping clean sheets and making it as tough as possible for the opponents.
"I'm delighted to hear how well he's doing at QPR and that he's back playing."
With Carragher given Monday night off, the floor is Robinson's to be the scouse star in front of the cameras.
Don't miss the Sky Bet Championship clash between QPR and Brentford on Monday, live on Sky Sports Football and Sky Sports Main Event from 7.30pm