Marcelo Bielsa makes his eagerly-awaited Leeds bow on Sunday with a home Sky Bet Championship game against Stoke, live on Sky Sports.
The Argentine is revered for his coaching philosophy that has brought about success and inspired several other managers. But he is also sometimes outspoken and did not last long in his previous two jobs with Lazio and Lille.
Ahead of his first game in charge of Leeds, we get insight from those who know Bielsa and those who are getting to know him at Elland Road...
'Leeds fans are in for a treat'
Spanish football expert Guillem Balague
"His teams have to attack, attack, attack. And when they lose the ball they have to recover it as soon as possible. This sounds quite familiar now, but he was one of the original ones doing this, which is why he is a little bit of guru. He applied a new way of thinking about the game.
"I think it's very unfair that he is called 'El Loco'. He is not crazy. He thinks of things in a different way and is eccentric in the way he relates to people and the game, and he is absolutely extraordinary in the way he approached the job at Leeds. He watched all Leeds games, but not just Leeds games, games from all the teams in the Championship to get to know players and teams and their ways of playing. He was then explaining how Leeds have been playing and how he could make them better.


"He does right in leaving early - as he did at Lazio and Lille - if he feels he is not going to be understood. I have the impression that there are enough people there who understand what he is trying to do.
"Leeds have taken a risk, there is no doubt after it. Leeds fans have to understand what is being done so they have to be pro-active in their approach to the game and enjoy the journey. It's not just seeing the result, try to understand why things happen, and he will explain. Leeds fans are in for a treat. It is the kind of approach that can take a while to settle."
'It was his way to test me'
Leeds owner Andrea Radrizzani
"He didn't pick up the call so we left a voicemail. When we called the next day he had already watched seven Leeds games. That was a good sign. He asked to have the opportunity to meet me in Argentina, which I think was also a way to test me to see if I was really keen. I took the plane to Argentina for 24 hours. It was a good day, we spent about 10 hours in the meeting room, learning about his mentality and his philosophy of football."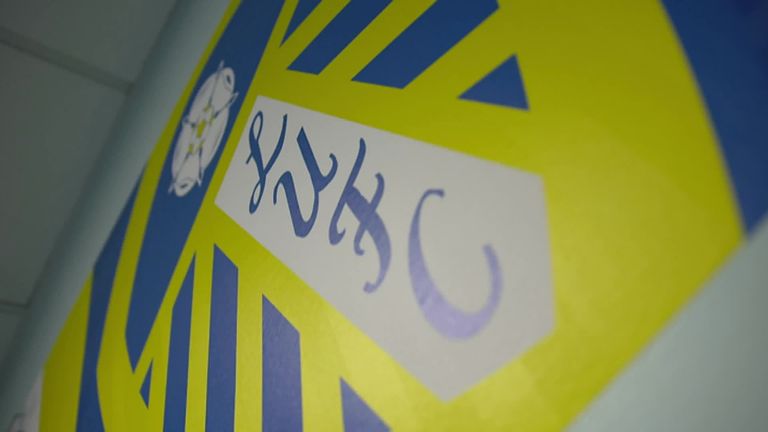 'He had drawings of the training ground'
Leeds managing director Angus Kinnear
"He has made a massive impact in a very short time and it has been felt through all levels of the club in terms of the standards he has imposed. I don't think I've met a manager, aside from Arsene Wenger, who is so clear on their football philosophy and so definitive with what they want. He is very demanding, there is definitely a sense around the training ground that he is not a man to be messed with.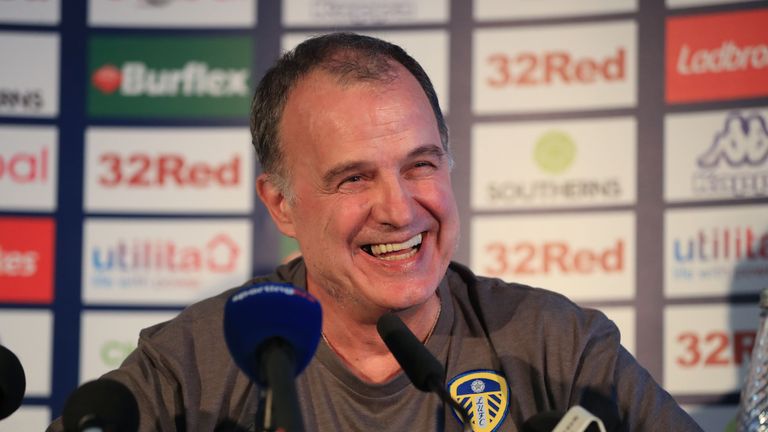 "One of the unusual things in the interview process was he had drawings of the whole training ground and he had updated them with how he thought the training ground had to work from a technical perspective to work with his football philosophy."
'The project is like Wolves'
Leeds winger Stuart Dallas: "He wants us to play quick, attacking football but also be aggressive when we are defending, on the front foot, first and second balls, and press high up the pitch. The boys have bought into it."
New signing Barry Douglas: "The project here is similar to what was happening at Wolves last season and that's very exciting. The way the manager is speaking about playing is going to suit me down to a T so hopefully we can complement each other and have success together.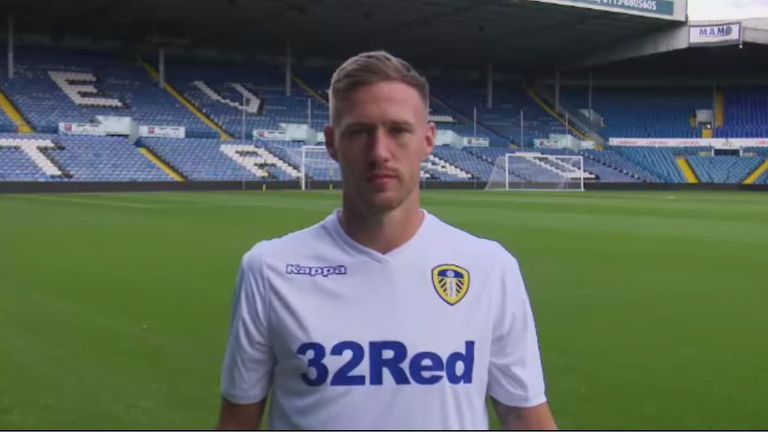 New signing Patrick Bamford: "I could see the project. I knew Victor Orta [Leeds director of football] from his time at Middlesbrough and he explained the philosophy and the idea behind bringing the new manager in and the kind of football they wanted to achieve and that sold it to be straight away."
Jack Harrison, on loan at Leeds from Manchester City: "It seemed like a great opportunity to work with Marcelo. I have heard a bit about him and spoken with Pep about him and it's interesting to see the similarities between their ideas and philosophies.
'It will be a big challenge'
Tottenham head coach Mauricio Pochettino, who played under Bielsa at Newell's Old Boys, Espanyol and Argentina.
"Marcelo is a great coach. I wish all the best to him. It will be tough to adapt his methodology to Leeds because he needs time. It will be a big challenge for him and he deserves to be in one of the best leagues. Of course Leeds is a big club and I hope that he brings Leeds to the Premier League and will be a fantastic success.
"I can talk very well about Marcelo because I know him from the age of 13. No-one can talk about him better, and that is a privilege to share a lot of years together with him. He was my coach for many years at different clubs. He will bring his football and his character and personality and I wish him all the best."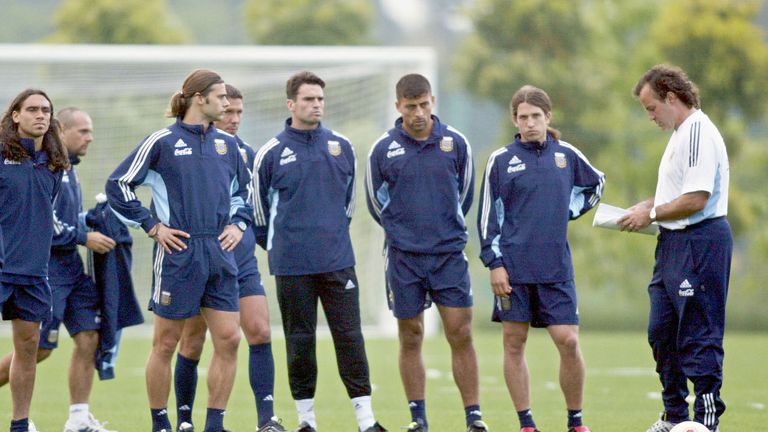 'He discovered Poch while he was sleeping'
Spanish football expert Guillem Balague
"Marcelo Bielsa discovered Mauricio Pochettino when he was asleep. There's a famous story that Bielsa decided with the technical director of Newell's Old Boys that they wanted the best youth around and they would travel everywhere in Argentina looking for talent.
"They did trials in the area where Pochettino lived and he couldn't make it. Somebody said afterwards 'you've haven't seen the best player, this centre-back who is 14 or 15'. It was 1am but Bielsa said let's go and they got to his house very late and knocked at the door. Pochettino's mum answered and then his dad, and Bielsa said 'we just want to see your son.'
"'Where is he? Sleeping? Can we see him?' 'Yes, this is the bedroom'…Bielsa says can I see his legs, so the blanket was moved around, and he says 'yes, a footballer's legs, he will be an international'.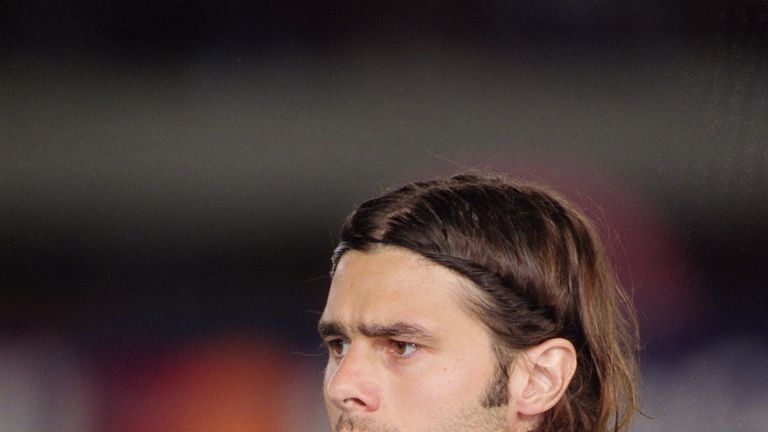 Marcelo Bielsa discovered Mauricio Pochettino when he was asleep.
"Pochettino had no idea about this but went to a trial because he realised Bielsa wanted him. After five minutes at the trial Bielsa said 'OK, you can go'. Bielsa said go to the offices of Newell's Old Boys and sign for us.
"In the period between when he retired as a player and became a coach, Pep Guardiola travelled to Argentina and sat in Bielsa's villa, talking non-stop for 11 hours. They went through football, to the cinema, to arts, back to football. From that they developed a respect for each other which you can see when they talk about each other."
Watch Leeds v Stoke live on Sky Sports Football from 3.30pm on Sunday