Nottingham Forest owner Evangelos Marinakis has announced he has coronavirus - just days after he attended the club's home game against Millwall.
Marinakis, who was at Forest's home defeat by Millwall last Friday and Arsenal vs Olympiakos on February 27, said "the recent virus has visited me" in a statement on his official Instagram page.
The Greek businessman, who also owns Olympiakos and was at their Europa League tie at Arsenal on February 27, insisted he was now following the advice of doctors regarding self-isolation after contracting coronavirus.
Marinakis said: "The recent virus has "visited" me and I felt obliged to let the public know.
"I feel good as I take all the necessary measures and I discipline to the doctors' instructions. I strongly advise all my fellow citizens to do the same. I wish all a quick recovery."
Marinakis was in attendance for the 3-0 home defeat to Millwall in the Championship on Friday, but it is not known if he had already contracted the virus.
Sky Sports News is seeking confirmation from Forest about whether the 52-year-old met the team on Friday night. A crowd of 27,307 was in attendance at The City Ground.
An initial discussion has taken place between Forest and the EFL, and that those conversations will continue throughout the day to ascertain the situation.
The Championship side released the following statement on Tuesday, and have indicated they are seeking medical advice on the matter: "Nottingham Forest can confirm that owner Evangelos Marinakis has tested positive for the coronavirus.
"Mr Marinakis was diagnosed after showing the first symptoms on his return to Greece yesterday afternoon. During his short stay in Nottingham last week he did not show any symptoms of the virus.
"The club are seeking advice from medical professionals and the relevant governing bodies to ensure the correct measures are taken.
"Until this time the club will be making no further comment."
The EFL said it was working closely with Forest to see if any steps needed to be taken following the news, but its statement confirmed matches across the three divisions would continue as normal for the time being.
An EFL spokesman said: "The League is in dialogue to fully ascertain the set of circumstances that existed when Mr Marinakis visited the club last week and in conjunction with the club will make a determination on what measures are to be taken - if any - when full details are known.
"We understand the club is taking the appropriate steps to mitigate risk in line with relevant guidance provided by the health authorities. The Government guidance remains unchanged on the position of EFL matches taking place as scheduled."
'Arsenal staff in contact with Marinakis; but no reported symptoms'
Following Arsenal's Europa League last-32 tie against Olympiakos, the Gunners have confirmed staff did come into contact with him during last month's second leg at the Emirates, but have not reported any coronavirus symptoms since.
An Arsenal spokesperson told Sky Sports News: "Our home match with Olympiakos in the Europa League was played on Thursday 27th February and none of our staff who came into contact with Mr Marinakis on that matchday have reported any symptoms since.
"We continue to follow strict protocols with regard to coronavirus. We're following the Government health guidelines and have additional procedures in place to protect our players and staff.
"This has included regular deep cleaning of areas used by players at Emirates Stadium and our training centre."
'The priority now is to look after the welfare of our players and staff'
A Linfield player has also been tested positive for coronavirus.
In a statement, the Northern Ireland champions said: "Linfield FC can confirm that one of our players has tested positive for corona virus.
"This club is taking advice from the relevant authorities and will provide an update when we have further details."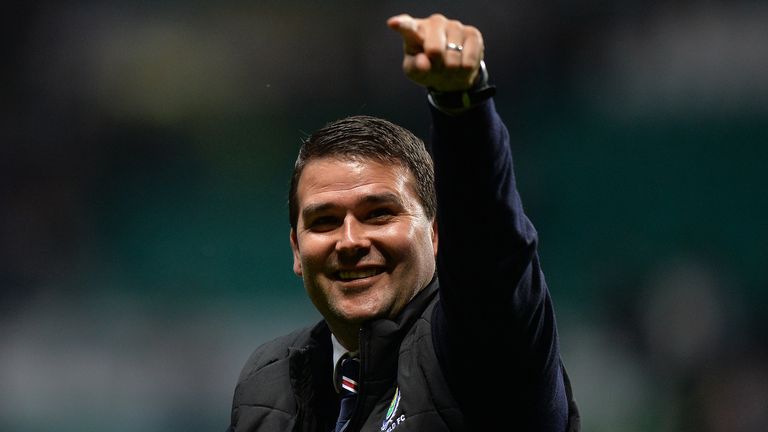 Their chairman, Roy McGivern, said: "Very unpleasant news that one of our players has tested positive for Covid-19. The priority now is to look after the welfare of our players and staff.
"Issues around football will be addressed in due course."
It has also been announced Windsor Park, Linfield's home stadium, has been closed for 48 hours for a deep clean.
Health authority advice is for two weeks self-isolation if in contact with someone with coronavirus so their fixtures may be suspended.
The Irish FA have said: "Having been made aware that an individual who recently used some of the facilities at the National Football Stadium at Windsor Park has subsequently tested positive for COVID-19, the Irish FA has taken the decision to conduct a deep clean of the premises with immediate effect as a precautionary measure.
'We have instructed staff members to work from home for the next 48 hours and will continue to update them, as well as our partners based at the stadium, regularly."
Coronavirus: Key sporting developments
Chelsea's Champions League last-16 second leg game against Bayern Munich at the Allianz on March 18 will be played behind closed doors, as will Barcelona's decisive match with Napoli on the same night. PSG's match with Borussia Dortmund on Wednesday is also being played behind closed doors
Manchester United's Europa League last-16 first-leg match at LASK on Thursday will be played behind closed doors. Wolves' Europa League tie at Olympiakos in Greece on Thursday - as well as Sevilla vs Roma - will also have no spectators inside the stadium
All La Liga games for at least the next two weeks will be played behind closed doors following updated advice from the Spanish authorities
All Ligue 1 and Ligue 2 matches until April 15 will be played behind closed doors amid the outbreak, the French League (LFP) said on Tuesday
The Republic of Ireland's Euro 2020 play-off against Slovakia in Bratislava on March 26 will be played behind closed doors. Germany's international football friendly against Italy on March 31 will also be played behind closed doors
The Bosnia and Herzegovina Football Federation has confirmed ticket sales for this month's Euro 2020 play-off match with Northern Ireland have been suspended
The France v Ireland Six Nations match was postponed on Monday. As it stands, the Wales vs Scotland match is the only game in the final round of the Six Nations due to go ahead as originally scheduled, after the Italy vs England game in Rome was postponed last week
All domestic sporting action has been suspended in Italy after prime minister Giuseppe Conte announced at a press conference that the whole country would be on lockdown from Tuesday morning
Tennis tournament the BNP Paribas Open at Indian Wells was due to start in California on Monday but will now not take place