Chris Hughton wants to cut Fulham's Aleksandar Mitrovic's supply
Serbia forward has scored three Premier League this season
By Shona Duthie
Last Updated: 30/08/18 3:18pm
Brighton boss Chris Hughton plans to stop the supply to in-form Fulham forward Aleksander Mitrovic when the sides meet on Saturday.
Mitrovic has scored three Premier League goals this season, including two in their 4-2 win over Burnley.
The 23-year-old scored 12 goals last season for Fulham and Hughton is aware of the chances he creates and believes the supply to him needs to be cut off.
He said: "It is the same with any payer that is in form - it is not about stopping one individual. It's about making sure you have a good enough hold in the game that enables him not to have the service he would get if they are in good form.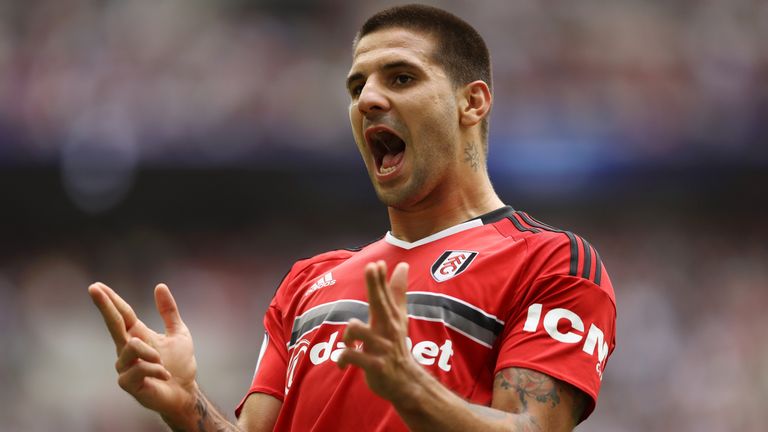 "He has started the season very well. I think he has had that continuity from last season. He obviously feels very much at home there.
"We have to make sure we stop the supply to him because we certainly know how dangerous he is."
Hughton has been impressed with the London club's recruitment over the summer but is hoping for another high-level performance from his side before the international break.
"There is pressure on all games," the former Norwich City boss added.
"Going into the international break, you know you won't be playing for a couple of weeks, and for us a little longer as we play Southampton on the Monday night, there is always a better feel going into that international break knowing you have had a good result.
"We have had two games away from home, we got a wonderful result in our last game at home [3-2 win over Manchester United] so any extra pressure going into games it's one you welcome.
"It's a game that we will do everything we can to try and win - we are at home and we will try and work on the best elements we can. Any pressure that comes with it you have to welcome."