Cristiano Ronaldo, Gareth Bale and Karim Benzema stay not guaranteed, says Zinedine Zidane
Last Updated: 27/07/17 12:30pm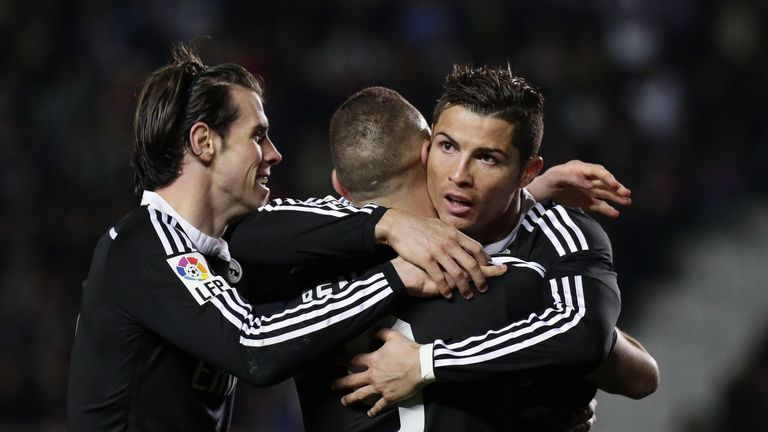 Zinedine Zidane hopes Cristiano Ronaldo, Gareth Bale and Karim Benzema stay at Real Madrid, but has acknowledged "anything can happen" before the transfer window closes.
With Kylian Mbappe linked with a move to the La Liga champions, there has been speculation that the star attacking trio - known as the BBC - could be broken up.
Bale has emerged as a reported target for Manchester United, while Benzema is reported to have been "offered" to Arsenal.
Speaking after Real's 4-1 pre-season defeat to Manchester City in Los Angeles, Zidane said: "I hope the BBC stay for this season. I hope everyone remains. I want everyone who is here now to stay...but anything can happen right up until August 31."
The Real head coach was also asked about interest in Monaco's Mbappe, with reports in Spain claiming a world-record £160m fee had been agreed.
"I'm the coach, you need to speak with someone else about whether or not it is worth it," said Zidane. "Nothing has happened till now, we have the squad we have."
Bale and Benzema both featured in the International Champions Cup as Real were beaten by Manchester City in their second pre-season match.
"I'm not happy with the loss, we didn't play badly," said Zidane. "But it's just a bad result, we've not yet finished our preparations. It happened, we lost, there's no point saying anything else about it. They were superior at key moments."