Eric Dier says Kieran Trippier worthy of David Beckham comparisons
By Husmukh Kerai
Last Updated: 09/07/18 3:34pm
Eric Dier believes England team-mate Kieran Trippier deserves the plaudits that have come his way for his performances at the World Cup.
Only Neymar (23), Kevin De Bruyne (16) and Luka Modric (14) have created more chances at the World Cup than Trippier (13), leading many to compare the Tottenham full-back to former England captain David Beckham.
Speaking ahead of England's semi-final against Croatia on Wednesday, Dier said: "He's had a fantastic tournament. I'm so, so happy for him I think it [recognition] is fully deserved.
"I think this season and last season but especially this season at Tottenham he has come on so much. Maybe that has been noticed as much as it should have been.
"It is not so much of a surprise but I think the level he has shown throughout this tournament has been incredible. His consistency - everyone is trying to compare him to Beckham, which is obviously fantastic for him.
"His delivery, aggression both offensively and defensively, I think he has been fantastic, his consistency has been incredible and I think he fully deserves it."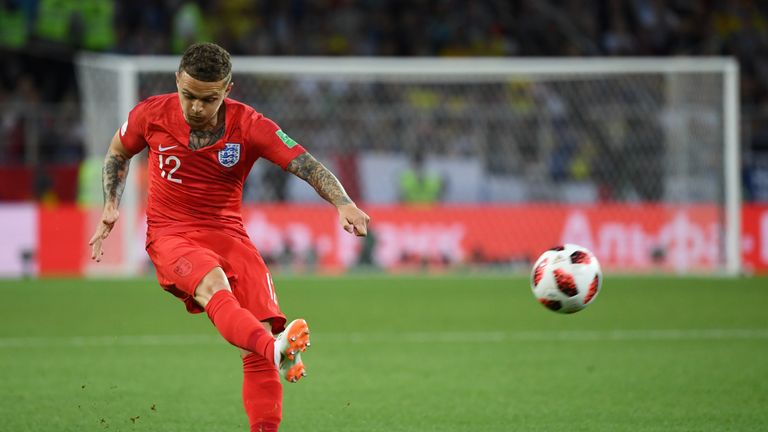 England have surpassed pre-tournament expectations by reaching the last four of the World Cup, but Dier insists the squad do not consider their achievements in Russia so far as success.
He said: "I don't think we've succeeded yet. Success is hard to define but in my eyes and I think everyone else back at the hotel will say this is not success yet.
"We're hungry for more and we want more. Hopefully we'll continue to show that on Wednesday. Since the game finished against Sweden we have switched our attention to Wednesday and we are still as focused as ever on that game.
"There has been no complacency, no talk of anything else other than Wednesday. We are so focused on that. We have just kept things the same throughout the whole tournament.
"We really enjoyed that moment [against Sweden] but at the same time we knew how huge that was for the country and English football.
"Having first won a knockout game and also a penalty shootout, those things were put to bed that night. It was a really big night in that sense and we enjoyed it but at the same time we know there can be even better nights the longer we go in this tournament."