England lack composure and creativity in defeat by Croatia
England suffered a 2-1 defeat by Croatia after extra time
Last Updated: 12/07/18 2:59pm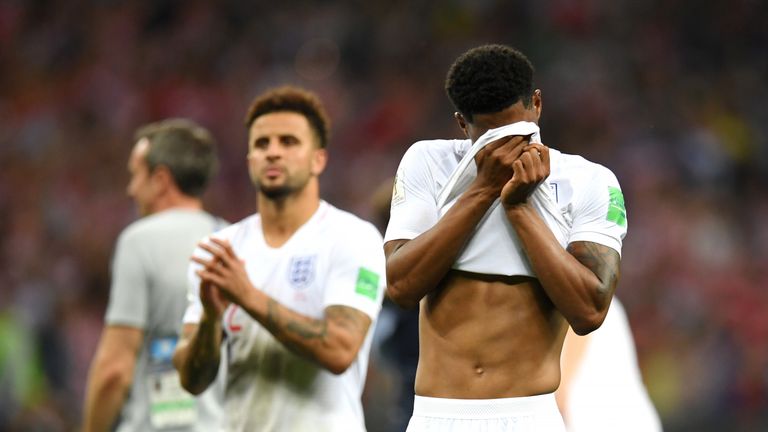 ​​​​​​​England's World Cup dream is over following a 2-1 defeat by Croatia, but what went wrong at the Luzhniki Stadium?
England were in complete control halfway through normal time, with Kieran Trippier's stunning free-kick giving them a well-deserved advantage, but everything changed after the break.
Ivan Perisic volleyed the equaliser midway through the second half, with Mario Mandzukic netting the winner in the second period of extra-time.
Composure lacking
England were impressively assured in the first half. Jordan Henderson, Dele Alli and Jesse Lingard were winning the midfield battle, Raheem Sterling's pace was striking fear into Croatia's defence, and John Stones was marshalling England's defence authoritatively. It seemed a World Cup final beckoned.
But when Croatia began to play their way into the game in the second half, England's composure deserted them. Simple passes went astray and Luka Modric was allowed to control the game. The little midfielder went from having just 22 touches in the first half to 44 in the second. Ivan Rakitic became similarly influential.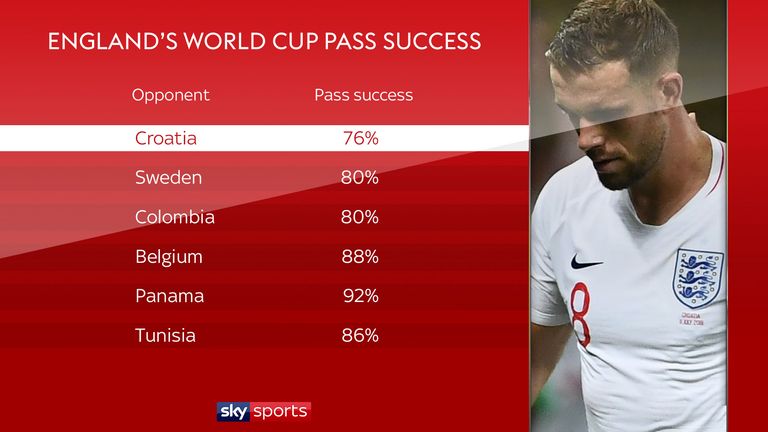 While Croatia stroked the ball from one side to the other, dictating the flow of the game and carefully probing for openings, England struggled to string passes together. There were occasional flashes of danger, such as the Trippier cross which almost fell for Kane in the 57th minute, but by the end of the game England had misplaced one in four of their passes.
"We stopped playing," conceded Southgate afterwards.
It was the first time in the tournament that their pass completion rate had fallen below 80 per cent and it proved costly. While Croatia had Modric to pull the strings in midfield, England lacked a player with the experience and guile to do a similar job. They could not get a foot on the ball when they needed it most.
"The best players in the final third always look ice cold," said Gary Neville on ITV. "They always slow themselves down and look like they have an extra moment to find the pass. We looked really rushed. When we were dribbling with the ball, we weren't quite in control it. We looked like we were taking it one step too far and we weren't ready to make the pass."
The creativity issue
England's lack of composure ties into their problems with creativity. They did create chances from open play in the first half, in truth, with Kane and Lingard spurning their best opportunities, but they were unable to break Croatia down after the break.
It has been a theme of the tournament. Trippier's free-kick was yet another example of England's extraordinary potency from set pieces, but the flip-side of scoring nine goals from dead ball situations it that they only managed three from open play.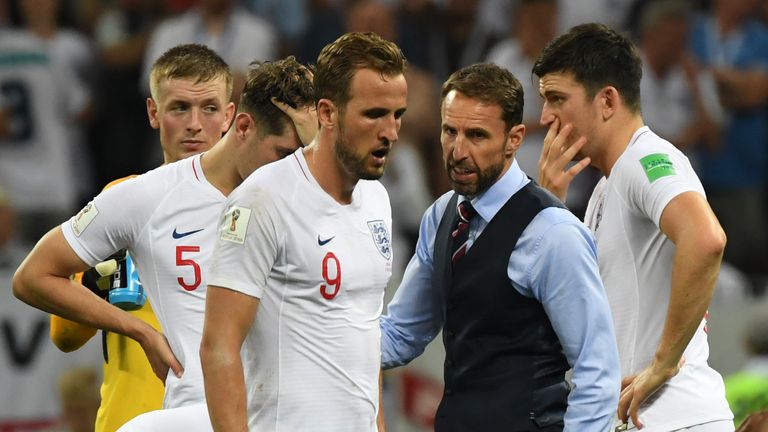 Harry Kane took matters into his own hands for much of the contest, dropping into midfield to try to make things happen, but he was unable to improve the situation. He only completed 55 per cent of his passes over the course of the game, and his withdrawn positioning ultimately reduced England's penalty box threat.
By the end, England had only mustered two shots on target in 120 minutes, both of which came from dead ball situations. The future is bright for Southgate's side, but creativity is certainly an area in need of attention.
Fatigued and out-flanked
Much of the pre-match discussion had focused on how soon Croatia would tire having played extra-time in each of their previous two knockout games against Denmark and Russia, but in the end it was England who suffered from fatigue.
It was most obvious in wide areas. Trippier and Ashley Young charged forward energetically in the first half, pushing Croatia back into their own territory, but they dropped deeper as the tie wore on, inviting their opponents onto them.
"The thing that shocked me most was in those wide areas, how they got stronger and we didn't," said Neville in the ITV studio. "We really struggled in those areas. For much of the tournament we were a 3-5-2, but we became a 5-3-2. We really started to narrow. When you're a three in midfield and you've got to cover the width of the pitch, you can't."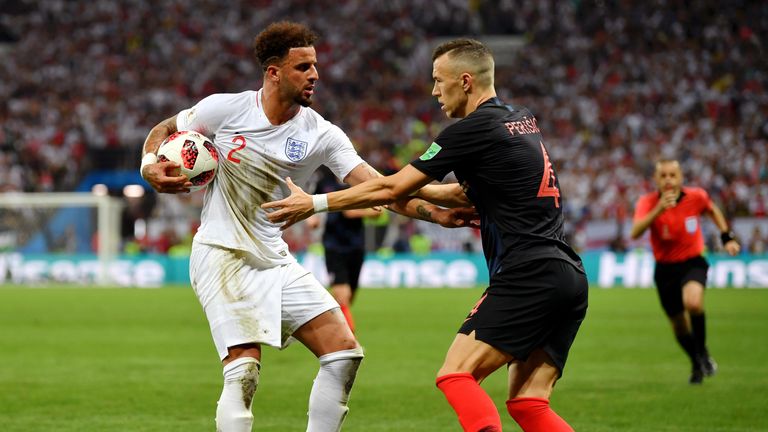 Henderson, Alli and Lingard suddenly had too much ground to cover, leaving gaps for Modric and Rakitic to exploit, and Croatia's full-backs also capitalised. It was right-back Sime Vrsaljko who crossed for Perisic's equaliser, and on the opposite flank, Ivan Strinic enjoyed the same kind of time and space. Between them, they sent in 14 crosses over the course of the game - nearly twice as many as Young and Trippier.
Croatia's full-backs offered constant support to wingers Ivan Perisic and Ante Rebic, who were just as impressive. Their powerful running unsettled England's defence in the second half and in extra time. Perisic was particularly dangerous, almost winning it for Croatia in normal time when his low shot bounced back off the post.
Southgate introduced more dynamism in wide areas when Danny Rose replaced Young at the end of normal time, but by that point Croatia had their opponents where they wanted them. England's fatigue was summed up by the sight of the exhausted Trippier trudging towards the tunnel with a groin injury. At that point, it was clear that England's race was run.
You can watch all of England's Nations League games against Croatia and Spain exclusively live only on Sky Sports. Find out more.
Comment below to get involved in the debate, but please adhere to our House Rules. If you wish to report any comment, simply click on the down arrow next to the offending comment and click 'Report'.